Deborah Ramirez's Lawyer Said Senate Republicans Aren't Meeting Them Halfway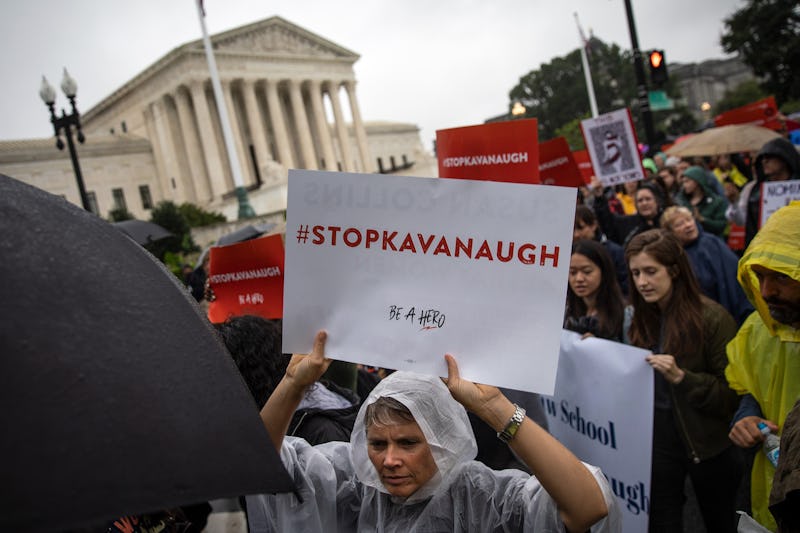 Drew Angerer/Getty Images News/Getty Images
As the battle to confirm Brett Kavanaugh to the Supreme Court continues at full speed, Deborah Ramirez's attorney John Clune told Anderson Cooper on Tuesday that his client requested an FBI investigation, and that Republican senators are not cooperating with Ramirez and the rest of her legal team in their attempts to communicate. Per Clune, Republicans have failed to participate in scheduled group phone calls, though Democrats have consistently been present.
Bustle has reached out to Sen. Chuck Grassley's office for comment.
"It feels like there's a lot of game playing going on now by the majority party," Clune told Cooper. Clune claimed that Republican senators have skipped meetings, and that they have set demands that he and Ramirez are not willing to meet. For example, he said, Republicans asked for a detailed list of evidence related to Ramirez's allegation against Kavanaugh, along with explanations for each item. But Clune suggested that they'd prefer to offer such information to trained investigators.
"Cross-examination cannot be a replacement for meaningful investigation," Clune said.
In a series of tweets earlier on Tuesday evening, Clune reiterated that the Senate Judiciary Committee had not been cooperating with him and Ramirez. According to Clune, the committee had failed to "meet all scheduled appointments." Per Clune:
Deborah Ramirez only came forward after being contacted by Ronan Farrow and carefully working through her memories only to ensure her accuracy. We reached out to the Senate Judiciary Committee to schedule a call to discuss how best to bring them that information and they have refused to meet all scheduled appointments. We have officially requested an FBI investigation and our client remains adamant that is the appropriate venue for her to discuss her trauma.
Clune further suggested that it didn't makes sense for the committee to brush them off, given that Ramirez was so willing to publicly confront her allegation.
"Ms. Ramirez is ready to swear to the FBI under penalty of perjury," Clune wrote. "Why won't the Senate Judiciary Committee welcome that?
In a report published with the New Yorker on Sunday, Ramirez detailed her allegation against Kavanaugh. She claims that, when the two were students at Yale University, Kavanaugh exposed himself to her after participating in a group drinking game. He put his penis in her face, Ramirez alleges, and she touched it when she went to push him away.
Ramirez claims that there were other people in the room when this allegedly happened, and she described feeling deeply ashamed. In part, she told the New Yorker, this was exacerbated because she was devoutly Catholic.
"I wasn't going to touch a penis until I was married," she told the magazine. "I was embarrassed and ashamed and humiliated."
Kavanaugh summarily denied Ramirez's allegation. In a statement to the New Yorker, he said:
This alleged event from 35 years ago did not happen. The people who knew me then know that this did not happen, and have said so. This is a smear, plain and simple. I look forward to testifying on Thursday about the truth, and defending my good name—and the reputation for character and integrity I have spent a lifetime building—against these last-minute allegations.
As of Tuesday evening, the Senate Judiciary Committee is scheduled to vote on Kavanaugh's nomination first thing Friday morning. It's not clear whether they will be willing to offer any hearing time to Ramirez or her allegations.