Deborah Ramirez's Sister Fiercely Defended Her For Going Public About Kavanaugh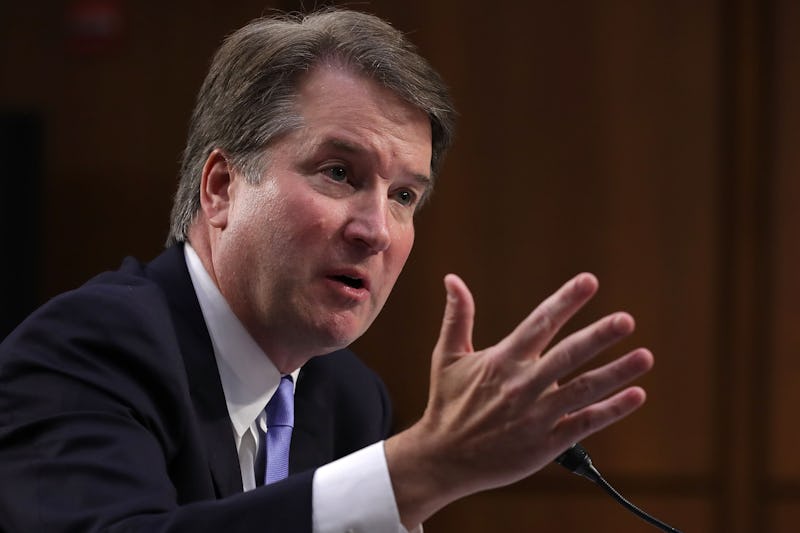 Chip Somodevilla/Getty Images News/Getty Images
Deborah Ramirez's sister is lauding her sibling's courage for speaking out about her sexual assault allegation against Brett Kavanaugh. In a statement to CNN on Monday, sister Denise Ramirez praised Ramirez's "bravery" for speaking out. "I am extremely proud of my sister," Denise told CNN. "This is not easy for anyone, but Deb has been tremendously brave and her honesty is above reproach."
In her accusation against the SCOTUS nominee, Ramirez alleged that the incident took place while she and Kavanaugh were students at Yale University. On Sunday, New Yorker journalists Ronan Farrow and Jane Mayer detailed the allegation, writing, "Kavanaugh had exposed himself at a drunken dormitory party, thrust his penis in her face, and caused her to touch it without her consent as she pushed him away."
The SCOTUS nominee has also denied Ramirez's alleged account as false. "This alleged event from 35 years ago did not happen," Kavanaugh said in an official statement, according to The New Yorker. "The people who knew me then know that this did not happen, and have said so. This is a smear, plain and simple."
It's the second allegation leveled against Kavanaugh, one week after after Palo Alto professor Christine Blasey Ford came forward to publicly accuse Kavanaugh of sexually assaulting her at a Maryland party when they were teenagers. In an official statement, Kavanaugh has categorically denied Ford's accusation.
Speaking of his scheduled hearing before the Senate Judiciary Committee, Kavanaugh said in a statement on Monday, "I look forward to testifying on Thursday about the truth, and defending my good name — and the reputation for character and integrity I have spent a lifetime building — against these last-minute allegations."
The White House issued a statement as well, denying Ramirez's allegation and calling it part of a "smear campaign" against Kavanaugh. Axios reported that the White House issued its statement saying, "This 35-year-old, uncorroborated claim is the latest in a coordinated smear campaign by the Democrats designed to tear down a good man. This claim is denied by all who were said to be present and is wholly inconsistent with what many women and men who knew Judge Kavanaugh at the time in college say."
The statement ended on this stance: "The White House stands firmly behind Judge Kavanaugh."
But others have publicly come forward to support Ramirez. According to Vox, at least 600 Yale alumnae have publicly supported Ramirez in an open letter. The letter does not corroborate Ramirez's allegation but highlights a culture of harassment and assault that women, the signatories say, are all too familiar with.
In the Yale alumnae letter, those who had signed the statement said they stood with Ramirez in their "shared experience" with sexual assault along with "all women who have faced sexual assault, not only at Yale, but across the country."
Like her sister, the Yale alumnae praised Ramirez for speaking up while also saying that she deserved dignity and privacy. "We commend her courage in coming forward," the signatories wrote. "We ask that she be afforded respect and security to protect her privacy, quality of life, and emotional stability."