Debra Messing Accepts Her Hollywood Walk Of Fame Star With A Crew Of Your Favorite Badass TV Women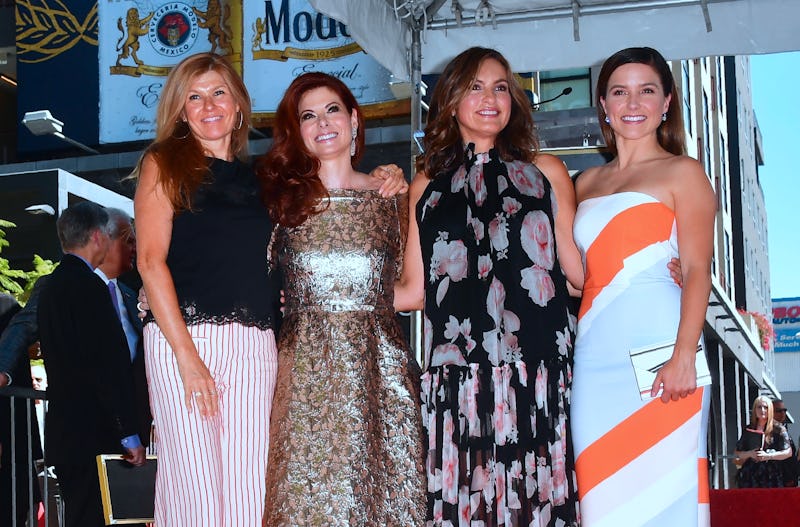 FREDERIC J. BROWN/AFP/Getty Images
One of TV's funniest actors was honored with a Walk of Fame star on Friday. Will & Grace's Debra Messing's Walk of Fame ceremony could be one for the history books — at least when it comes to an amazing woman being surrounded by her fellow female TV legends on her big day. Messing was honored with her friends Mariska Hargitay, Connie Britton, and Sophia Bush by her side. Plus, they all portray strong women on-screen too. From Hargitay's Olivia Benson on SVU to Bush's Brooke Davis on One Tree Hill to Britton's Tami Taylor on Friday Night Lights, Grace from Will & Grace is in good company with these icons by her side.
Bush even shared a beautiful ode to Messing's awesomeness on Instagram that will make you fall in love with this celebrity friendship. She wrote,
"Mariska spoke about what an incredible friend Debra is, and her magnificent heart. Max Mutchnick, one of the creators of Will and Grace, spoke about her Lucille Ball-level talent and whip smart wit. And a representative of the city hit the nail on the head, discussing her philanthropy. Debra is an angel in the city of angels."
Are you crying yet? Because it's totally OK to be crying. In addition to being surrounded by her group of talented friends, Messing's 13-year-old son Roman was also by his mom's side. While she's best known for her role as Grace — a role she's currently reprising on NBC's Will & Grace reboot — Messing is a Hollywood treasure. From her fun law show The Mysteries of Laura to guest appearances on shows like Seinfeld and NYPD Blue, Messing continues to be one of TV's most talented stars.
It's about time she got her own star on the Walk of Fame, and knowing her pals were by her side makes the honor all the more impressive. Bush's praise for Messing shows just how much of an inspiration the actor is. On Instagram, Bush shared a photo of herself with Messing, Britton, and Hargitay, and said it was an honor to be friend's with a legend like Messing. Bush's post continued,
"She has paved the way, through art, for people to see into worlds that are different than their own. She has opened hearts and minds, reminding us that we are all more alike than different, and made us laugh all the while. She has been a fearless champion for the less fortunate, the LGBTQ community, and those affected by HIV/AIDS. She is a triple threat, multiplied countless times over."
This is why the term friendship goals exists. Bush talks about Messing with the heart and passion of a true friend, and her words almost certainly made her pal's day all the more special. Britton shared her thoughts in her own post, writing, "What joy to see Debra Messing get her star on Hollywood Blvd today!! Always remember to never forget to dream your dreams."
Meanwhile, Hargitay posted two photos and lots of praise for Messing on her Instagram, and she captioned both photos with #squadgoals just in case you weren't convinced that these two were BFFs. Seeing women support each other is always wonderful, but there's something extra special about knowing these Hollywood actors have each other's backs. Their unwavering support of one another is a reminder of how strong women are when they stand together.
Fittingly, Messing honored another famous woman during her Walk of Fame speech, according to People. The actor said,
"I think back to when my parents brought my brother and me to Hollywood the for the first time. Of course, we went to Universal Studios and Grauman's Chinese Theater. The Wizard of Oz was my favorite movie and I couldn't believe that [I] was able to put my hand in Judy Garland's hand print. It felt like I had touched her. I smiled all the way back to Rhode Island where my brother and I played Gilligan's Island in the forest behind out house. I always played Ginger because I knew someday I'd be a natural redhead."
Being able to accept her star surrounded by her squad of badass TV women surely made Messing smile almost as much as putting her hand in Judy Garland's hand print did all of those years ago. From the start of her career all the way to now, she's been surrounded by amazing women, and that's one of the many reasons why Messing is one of the greats.