Demi Lovato's Reaction To Joe Jonas & Sophie Turner's Engagement Will Melt Your Heart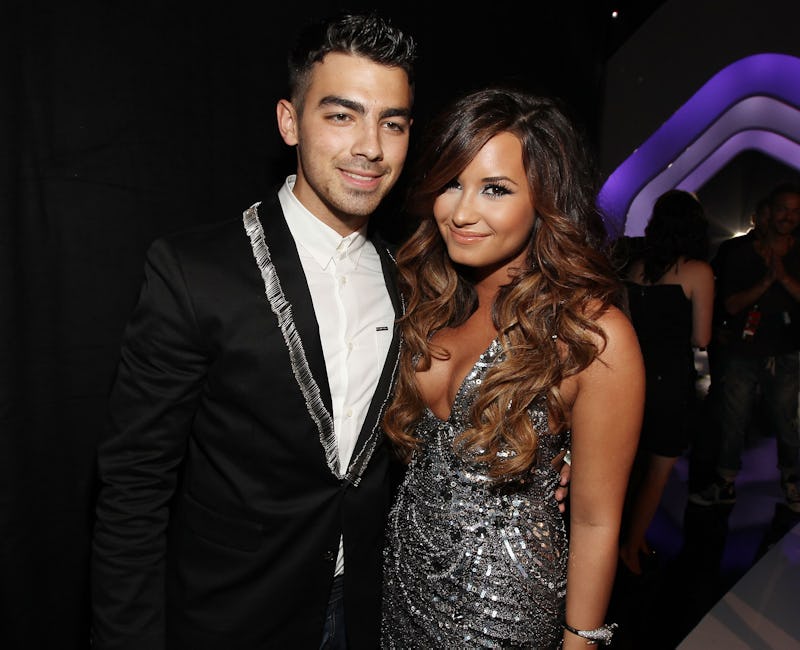 Christopher Polk/Getty Images Entertainment/Getty Images
How does Sonny Munroe feel about the middle JoBro proposing to the eldest Stark daughter? Happy with a chance of congratulatory. If you know anything about their history, then you won't be surprised to find out that Demi Lovato's reaction to Joe Jonas and Sophie Turner's engagement is nothing short of sweet. As Us Weekly pointed out, the DNCE frontman's former girlfriend/former co-star/former tour mate/current dear friend commented, "HUGE CONGRATS!!!!! Sooooo happy for the both of you!!!!" on the picture of the Game of Thrones star's honking ring.
Well, isn't that all things supportive and sweet and lovely. Yeah, their relationship was short-lived, and yeah, they've been strictly platonic pals for several years, but still. It's cool to see famous exes be so, well, cool.
Once upon a time, Lovato and Jonas starred in Disney Channel Original Movies Camp Rock and Camp Rock 2: The Final Jam. They camped, they rocked, and they eventually struck up a romantic relationship. In 2010, the two Disney Channel superstars dated for a few weeks and, as Lovato explains in a clip from forthcoming documentary Simply Complicated, were an item for "like a month." She also points out the movie moment when, as she puts it, "frickin' fell in love with him." Though their relationship didn't work out, their friendship continues to thrive.
When Lovato and Jonas ended their relationship in 2010, they let the world know that they planned on staying friends. As Jonas told People after the breakup,
"Demi and I knew going into our romantic relationship that it may not be an easy one. I realize over the time we have shared together that I feel I care more about our friendship right now. It was my choice to break up but I love her as a friend. She's been there for me when I needed her. I will continue to be her friend and be there for her."
And in a series of tweets, the "Sorry Not Sorry" singer said the following about the split (via People):
"There are so many crazy rumors flying around today. I'd like to clear a few things up. First, Joe and I did split but it wasn't over the phone. Things didn't work out but we'll remain friends. Secondly, I am NOT dating anybody already. Nothing is more important to me than the relationship I have with my fans. Just thought you guys should know this."
That whole bit about remaining buddies post-breakup? They weren't being cordial for the sake of being cordial; Jonas and Lovato sincerely meant it. Fast-forward to September 2016: The two talked to People about their friendship before performing at a Los Angeles concert together. About growing up with the Jonas Brothers, Lovato said,
"It's really great because we all really bonded when we were younger and toured together. We've all watched each other evolve and grow up, and we've been able to be there for one another. It's awesome."
Jonas added,
"It's nice that in this crazy industry we have friends like this. It's genuine. It's not like red carpet friends where you hug them and never talk to them again. We actually get to spend time together, and it makes shows like this a lot of fun."
These two exes really can't say enough kind things about each other. In July 2016, Jonas told Billboard,
"Demi's the best version of herself I've ever known. She's healthy and that's obviously something a lot of the world knows now, but she's gotten over [the really hard part].
He continued,
I know a lot of friends who've gone through similar things and it's when you have to live with your new self for a few years — that comes with a lot of struggle. And being a pop star on top of that, that's a lot of pressure, but she's amazing at speaking truth to what she believes. I wish I could have a bit more of that. Excuse my language, but she doesn't give a f*ck. She goes out there and says, 'This is who I am.' Considering what we've all come from, it's not always easy. We feel like we have to be cautious."
The Jonas star also said Lovato is "like a sister" to him and Nick Jonas now.
Public breakups be darned: All these years later, and Jonas and Lovato's friendship continues to rock, to rock, to rock on.