White Men Are In The Minority As Democratic House Candidates For The First Time Ever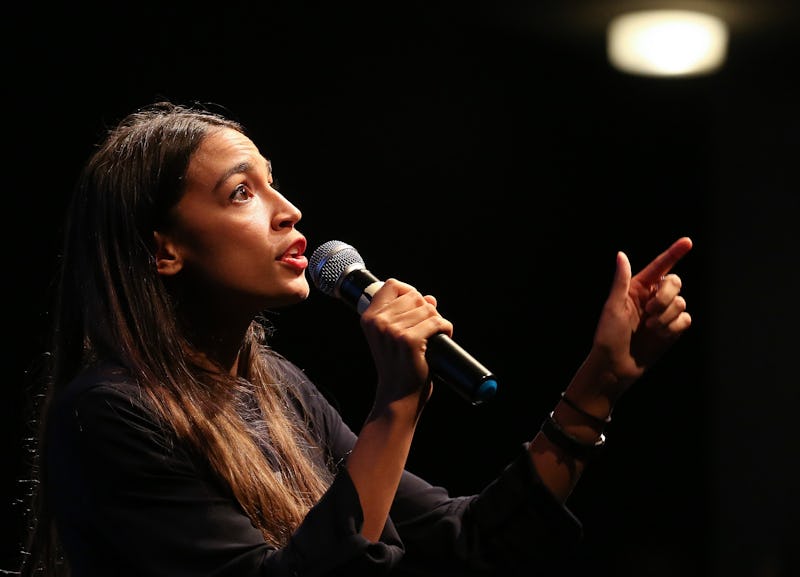 Mario Tama/Getty Images News/Getty Images
The 2018 midterms have widely been characterized as a referendum on President Donald Trump's presidency, but that's certainly not all that's at stake. According to a new report by Politico, the upcoming elections may also represent a watershed moment insofar as diversifying Congress is concerned. There are fewer white male Democratic candidates running for the House in 2018 than ever before, according to the report, which has the potential to represent a major change not only for the party, but for the country.
In total, Politico reports, Democrats have nominated 180 women candidates to the House in this year's round of primaries. But Democrats aren't just making moves toward gender parity — they've also reportedly nominated at least 133 people of color.
A lot of these candidates are first-time contenders, determined to challenge the status quo. Politico reports that there are 125 districts wherein a Democratic incumbent isn't running, or else there are races that pose very real threats to unseating Republicans. The vast majority — 65 percent, to be exact — of those Democrats running for office are women.
This has been a growing trend since the 2016 election. Back in July, EMILY's List reported that over 40,000 women had contacted the organization about running for office since November of 2016. In contrast, they reported, less than 1,000 had reached out during the entire 2016 election cycle.
"Women are watching," Stephanie Schriock, president of EMILY's List, said in a statement at the time. "They're watching as Republicans across the country threaten to overturn Roe v. Wade, strip health care away from millions of Americans, and slash our civil rights."
By and large, Americans watching this demographic shift are pleased with what they see, according to a poll released by the Pew Research Center in August. That poll found that the majority (61 percent) of Americans believe that an increase in the number of women running for elected office is a good thing. In total, the poll found, only five percent of those polled considered the influx of women to be a negative development.
However, the poll also found that whether or not a person supported the idea that more women are running for office had the potential to be divided along party lines. While about 80 percent of Democrats and Democratic-leaning Independents said that they thought more women running for office was a good thing, only about 39 percent of Republicans agreed.
The shift away from mainlining white male Democrats into Congress has increased in steam in recent months. One need not look further than Alexandria Ocasio-Cortez's victory in New York for example, or Ayanna Pressley's historic success in Massachusetts, to see proof of that. And, per Politico, their respective successes may only represent a drop in the proverbial bucket.
Of course, it's not over until it's over, and the path toward true representative diversity will not be accomplished with a single round of midterms. But voters, especially Democrats, have been using their votes to get the message across, and the data shows it: They are tired of business as usual, and they want change.