Kavanaugh Was Asked Over & Over About An FBI Investigation — Here's What He Said Each Time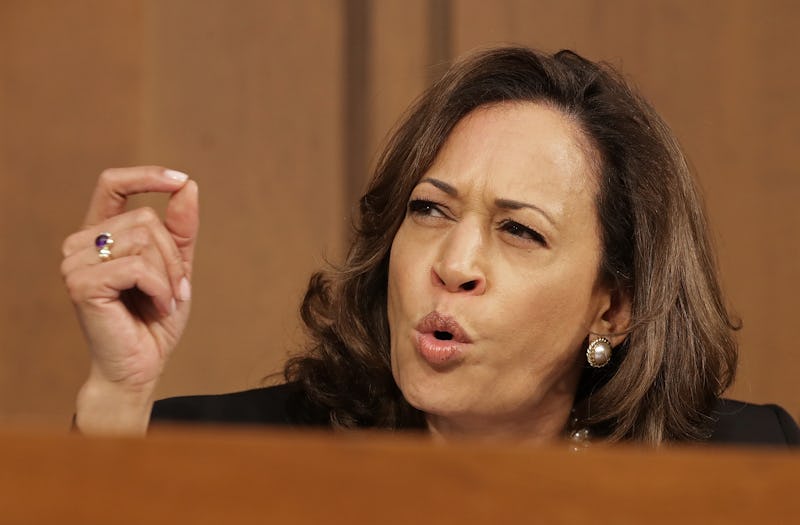 Chip Somodevilla/Getty Images News/Getty Images
On Thursday, one of the most highly-anticipated congressional hearings in years unfolded on Capitol Hill, with Dr. Christine Blasey Ford and Supreme Court nominee Mark Kavanaugh testifying about Ford's claim that Kavanaugh sexually assaulted her when they were teenagers. During the testimony, multiple Democratic senators asked Kavanaugh about a hypothetical FBI investigation into the alleged incident, and whether he believes such an investigation should be carried out. Kavanaugh never answered the question — but had a lot to say in response whenever he was asked it.
Ford alleges that, at a party in the early 1980s, Kavanaugh pinned her to a bed, attempted to remove her clothes, groped her, and pressed his hand against her mouth when she attempted to scream. Kavanaugh categorically denies the claims, but Ford and many Democrats requested that the FBI conduct a probe to determine what exactly happened that night. The White House opted not to authorize such an investigation, however, and one was never carried out.
At Thursday's hearing, Kavanaugh was asked whether he'd support an FBI probe into Ford's claims. He didn't answer — but here's what he did say to each of the five Democratic senators who confronted him on the issue.
Sen. Amy Klobuchar
The senior senator from Minnesota asked whether Kavanaugh thought it would be reasonable for Mark Judge, who Ford named as a witness in her alleged assault, to be interviewed by the FBI regarding the claims. Kavanaugh cut off Klobuchar before she was finished with the question, however, and the following exchange ensued:
KAVANAUGH: I don't mean to interrupt. I guess I am. But Mark Judge has provided sworn statements saying that this never happened, and that I'd never did [sic] or would do — 
KLOBUCHAR: But we would like the FBI to be able to follow up and ask him questions...President George Bush, in the Anita Hill/Justice Thomas [hearing], he opened up the FBI investigation and let questions be asked, and I think it was helpful for people. So, was his decision reasonable?
KAVANAUGH: I don't know the circumstances of that. What I know, Senator, is I'm —
KLOBUCHAR: The circumstances are that he opened up the investigation so the FBI could ask some questions. He opened up the background check.
KAVANAUGH: I'm here to answer questions about my yearbook, or — you know, what I...sports..."
KLOBUCHAR: OK. I'm not going to ask about the yearbook.
Sen. Kamala Harris
The former San Francisco prosecutor and potential 2020 presidential candidate was one of several senators to ask Kavanaugh if he would be willing to ask the White House for an FBI investigation. Kavanaugh deflected several times.
HARRIS: Are you willing to ask the White House to conduct an investigation by the FBI to get to whatever you believe is the bottom of the allegations that have been levied against you?
KAVANAUGH: The FBI would gather witness statements —
HARRIS: Sir, it's — I don't want to debate with you how they do their business. I'm just asking, are you willing to ask the White House to conduct such an investigation? Because as you are aware, the FBI did conduct a background investigation into you before we were aware of these most recent allegations. So, are you willing to ask the White House to do that? And say yes or no, and then we can move on.
KAVANAUGH: I've had six background investigations over 26 years —
HARRIS: Sir, as it relates to the recent allegations. Are you willing to have them do it?
KAVANAUGH: The witness testimonies before you — no witness who was there supports that I was there —
HARRIS: OK, I'm going to take that as a 'no," and we can move on.
Sen. Dick Durbin
Senate Minority Whip Dick Durbin noted that Kavanaugh had said, in his opening statement, that he'd welcome any investigation into the alleged incident, and asked the nominee whether he'd request an FBI investigation from the White House. Kavanaugh responded by repeatedly proclaiming his innocence.
KAVANAUGH: I welcome whatever the committee wants to do, 'cause I'm telling the truth.
DUBRIN: I want to know what you want to do.
KAVANAUGH: I'm—I'm telling the truth.
DURBIN: I want to know what you want to do, Judge.
KAVANAUGH: I'm innocent. I'm innocent of this charge.
DURBIN: Then you're prepared for an FBI investigation?
KAVANAUGH: They don't reach conclusions. You reach the conclusions, Senator.
DURBIN: No, they do investigate questions. You can't have it both ways. You can't say here at the beginning, "I welcome any kind of investigation," and then walk away from this.
KAVANAUGH: This thing was sprung at the last minute after being held by staff. Ya know.
Sen. Dianne Feinstein
Sen. Dianne Feinstein, the ranking Democrat on the Senate Judiciary Committee, also asked Kavanaugh why he wasn't asking for an FBI investigation. In response, Kavanaugh lamented the negative media coverage he's received and said that his family has been "destroyed" by the allegations against him, but didn't reveal his position on a potential FBI probe.
KAVANAUGH: Senator, I'll do whatever the committee wants. I wanted a hearing the day after the allegation came up. I wanted to be here that day. Instead, 10 days passed, where all this nonsense is coming out. You know, that I'm in gangs, I'm in boats in Rhode Island, I'm in Colorado. You know, I'm cited all over the place. And these things are printed, and run breathlessly by cable news. You know, I wanted a hearing the next day. My family has been destroyed by this, senator. Destroyed.
FEINSTEIN: And I —
KAVANAUGH: And whoever wants, you know — whatever the committee decides. You know, I'm, I'm all-in, immediately. I'm all-in immediately.
FEINSTEIN: The question is — and the terrible and hard part of this is, we get an allegation, we're in not in a position to prove it or disprove it. Therefore, we have to rely on some outside authority for it. And it just seems to me that when these allegations came forward, that you would want the FBI to investigate those claims and clear it up, once and for all.
KAVANAUGH: Senator, the committee investigates — it's not for me to say how to do it. But just so you know, the FBI doesn't reach a conclusion...I'm here. I wanted to be here — I wanted to be here the next day. And it's an outrage that I was not allowed to come and immediately defend my name.
Sen. Richard Blumenthal
Connecticut Sen. Richard Blumenthal also homed in on Judge, who released a statement proclaiming Kavanaugh's innocence but has refused to testify under oath.
BLUMENTHAL: Are you saying that [Judge's statement] is a substitute for an investigation by the FBI, or some interview by the FBI under oath?
KAVANAUGH: Under penalty of felony, he said that this kind of event didn't happen, and that I never did, or would have done, something like that.
BLUMENTHAL: As a federal judge, you always want the best information, don't you?
KAVANAUGH: Senator, he has said, and all of the witnesses present — look at Ms. Keyser's statement. She's, she's —
BLUMENTHAL: Let me move on to another topic.
The Senate Judiciary Committee plans to vote on Kavanaugh's nomination on Friday, and a final vote in front of the full Senate could come as early as Tuesday. As of this writing, it's unclear whether or not Republicans have the votes to confirm him.