Why Democrats Are Being Bashed By Liberals For How They're Handling Trump's SCOTUS Pick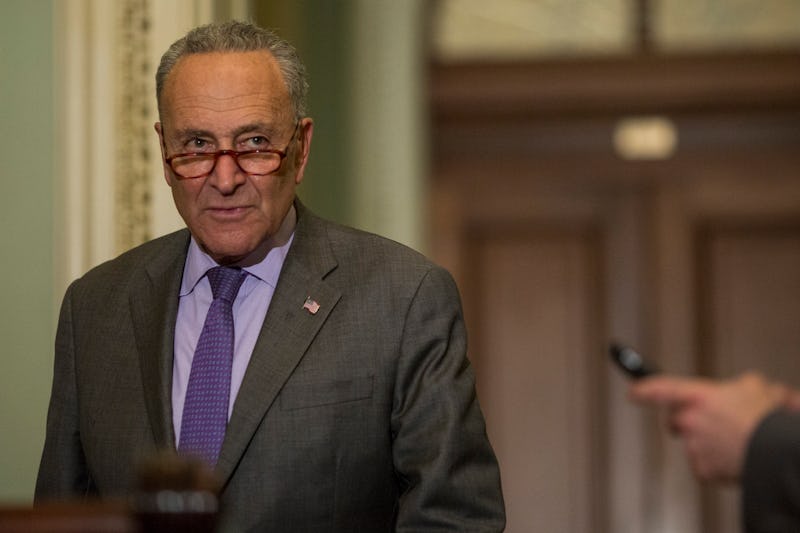 Zach Gibson/Getty Images News/Getty Images
The hearings for President Donald Trump's second SCOTUS nominee are taking place this week and ushering in with them a load of controversy. Some progressives feel that Senate Minority Leader Chuck Schumer isn't doing enough to stop the confirmation. On Wednesday, a coalition of liberal groups wrote Schumer a letter about Democrats' Brett Kavanaugh strategy that lambasted the tactics he's taken so far, Politico reported.
"The Supreme Court is on the line, and you are failing us," begins the letter, which was signed by 13 organizations, including Indivisible, Justice Democrats, and the Women's March. It goes on to say that Schumer's job is to lead the party in "complete opposition" to Trump's Supreme Court nomination — "But unbelievably, nearly two dozen Democrats have still not come out against Kavanaugh."
Schumer's been dealt a tough hand, and conventional wisdom holds that the cards are stacked against him blocking the confirmation. He's trying, though: On the first day of the hearing, the Senate Democrats in the committee staged a protest that he helped organize. Additionally, according to Politico, Schumer's method with Democrats overall was to encourage wavering to hold off on taking a position on Kavanaugh for as long as possible to buy time. He's also opting not to explicitly tell red-state Democrats that they should vote no, seemingly believing that bulldozing them would be counterproductive. These senators maintain that pressure from Schumer won't affect their decision.
"He doesn't come to me and say: 'You've got to vote with us on this.' He knows I'll tell him to take a flyin' leap," Claire McCaskill (D-MO) told Politico. "I'm going to do what I think is right. It has nothing to do with the party."
But the letter, which was also signed by CREDO, Democracy for America, UltraViolet, 350.org, Color of Change, DailyKos, Demand Progress, Friends of the Earth, Social Security Works, and #VOTEPROCHOICE, criticizes this approach. "Every single Democrat [must] hold the line against him — not at the last minute when it's time to vote, but as a united Democratic caucus that proudly stands up for women, Muslims, immigrants, LGBTQ people, people of color, workers, consumers, voting rights, our democracy and our planet."
Democratic senators in red states have many times reached across the aisle to confirm Trump's nominees, apparently believing that doing so will placate their conservative constituents. Liberals fear that they'll similarly vote yes on Kavanaugh. (The Republican caucus can also confirm Brett Kavanaugh by itself if every single GOP senator votes yes.)
The groups, however, argue that red-state Democrats have misjudged the climate around Kavanaugh. "It is wrong to assume that a no vote on Kavanaugh puts red-state Democrats in electoral peril or somehow protects them from Republican attacks," they write. An ABC News/Washington Post poll released Tuesday found that just 38 percent of the public thinks that Kavanaugh should definitely be confirmed, which ABC says is one of the lowest support levels for a top-tier judicial nominee in decades.
Schumer and his caucus decided on their strategy for Tuesday's hearing — the first day in the hearing process — after much deliberation, according to Politico. They opted to disrupt the event as much as possible, firing tough questions about Kavanaugh and interrupting Republicans to draw attention to the fact that 42,000 new pages of documents on the nominee were released the night before. They decided not to boycott the hearing altogether after considering that option.
If at least two of the more moderate Republican senators — like Susan Collins of Maine or Lisa Murkowski of Alaska — can be convinced to flip and vote no, and if all Democratic senators hold the line, Kavanaugh would narrowly miss confirmation. That seems to be Democrats' best chance at blocking Trump's nominee.