Why This Top Senate Democrat Wants To Postpone Kavanaugh's Nomination "Immediately"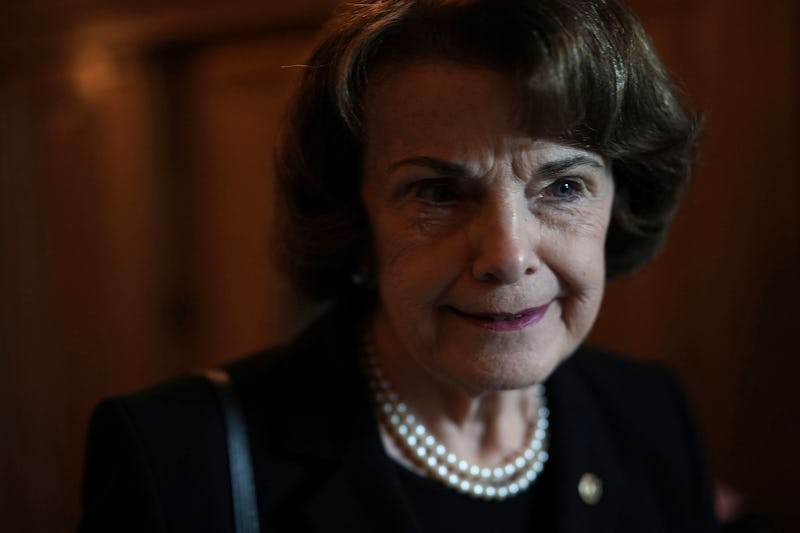 Alex Wong/Getty Images News/Getty Images
On Sunday evening, California Senator Dianne Feinstein said Brett Kavanaugh's nomination process should be postponed ASAP following the revelation of a new sexual misconduct allegation against Trump's SCOTUS nominee. Kavanaugh has staunchly denied these allegations.
Feinstein sent a letter to Judiciary Committee Chairman Chuck Grassley on Sunday requesting "immediate postponement" of Kavanaugh's nomination process, as The Washington Post reported. The New Yorker, which made the allegation public, reported that at least two Democratic senators are investigating claims that Kavanaugh exposed himself to Deborah Ramirez, one of his classmates at Yale University, while the two were at a party during the 1983-84 school year. As The New Yorker's Ronan Farrow and Jane Mayer wrote, "Kavanaugh had exposed himself at a drunken dormitory party, thrust his penis in her face, and caused her to touch it without her consent as she pushed him away."
Kavanaugh vehemently denied these allegations in The New Yorker, saying in a statement:
This alleged event from 35 years ago did not happen. The people who knew me then know that this did not happen, and have said so. This is a smear, plain and simple. I look forward to testifying on Thursday about the truth, and defending my good name—and the reputation for character and integrity I have spent a lifetime building—against these last-minute allegations.
In addition to requesting that the Judiciary Committee halt Kavanaugh's nomination process, Feinstein has also asked Grassley to have the FBI investigate these new allegations, along with another sexual misconduct allegation made previously made against Kavanaugh. The previous allegation was made by Christine Blasey Ford, who claimed in a letter to Feinstein that Kavanaugh physically and sexually assaulted her at a suburban Maryland home in the 1980s. Ford was a high school acquaintance of Kavanaugh's and alleges that the SCOTUS nominee "physically pushed" her into a bedroom and "tried to disrobe" her before she was able to escape from the bedroom.
Kavanaugh has also denied Ford's allegations, with NBC reporting that the SCOTUS nominee said in a statement on Sept. 14, "I categorically and unequivocally deny this allegation. I did not do this back in high school or at any time."
Feinstein is not the only Democratic senator who has spoken out against Kavanaugh's nomination following the emergence of new sexual misconduct allegations. On Sunday, New York Senator Kirsten Gillibrand called for Kavanaugh's nomination to be withdrawn and asked for a new nominee. As the Senator wrote on Twitter:
Enough is enough. One credible sexual assault claim should have been too many to get a lifetime appointment to the Supreme Court and make decisions that will affect millions of women's lives for generations. Two is an embarrassment. It's time for a new nominee. The Senate should not be complicit in supporting a candidate with such serious and credible allegations of sexual misconduct.
Currently, both Ford and Kavanaugh are slated to testify separately in a Senate Judiciary Committee hearing scheduled for Thursday. CNN reported on Sunday that Chairman Grassley indicated that he will "look into" the new allegation of sexual misconduct against Kavanaugh, but, thus far, there are no plans to delay Thursday's hearing.