The Kavanaugh-Ford Hearing Started With A Woman Getting Interrupted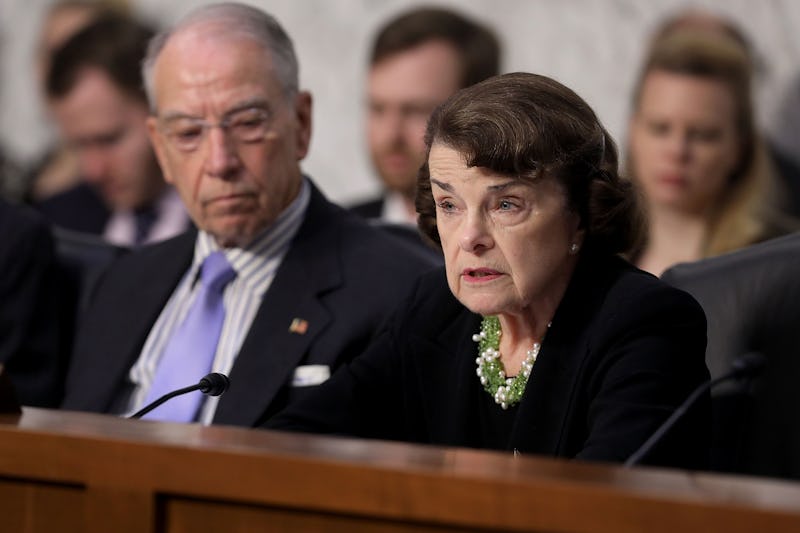 Chip Somodevilla/Getty Images News/Getty Images
During the Senate Judiciary Committee hearing for Dr. Christine Ford and Brett Kavanaugh on Thursday, Sen. Chuck Grassley interrupted Sen. Dianne Feinstein's opening statement. Feinstein began her remarks by welcoming Ford and added, "I think it's important to make sure you're properly introduced." Then Grassley jumped in.
"I was going to introduce her," Grassley interrupted, "but if you want to introduce her I'll be glad to have you do that. But I want you to know I didn't forget to do it, because I would do that just as she was about to speak."
Feinstein said, "Thank you," before continuing on to introduce Ford.
According to Paste Magazine, the formal process in the Senate generally involves introducing the witness at the beginning, which Grassley did not do in his 15-minute long opening statement. Many criticized Grassley for the interruption.
"Let's note Grassley criticized Feinstein, and she waited her turn to speak," Jim Goldgeier of the Council of Foreign Relations tweeted. "Moments into her remarks, he interrupted her." Actor Rob Delaney wrote, "That was some chef-kisses-fingers pure GOP essence: instantly interrupt the first woman to talk at the sexual assault hearing, in the oldest whitest mumbling way possible." (Kavanaugh has denied all allegations of sexual assault.)
After Feinstein's statement, Ford gave her prepared remarks, after which prosecutor Rachel Mitchell began questioning her. Mitchell asked her to correct some discrepancies in the letter she sent to Feinstein in July to notify Congress of her accusations. Ford had noted two of three discrepancies when the five-minute time limit expired and Grassley interrupted again, explaining that he wanted to move on to the period of senators' questioning. NBC News noted that the time limit was seeming "to catch people off guard."
Many on social media criticized Grassley's performance during the hearing. Some argued that it was overtly partisan and did not adequately address the seriousness of the allegations themselves. Some called his remarks "mansplaining." MSNBC journalist Chris Hayes tweeted, "the entire posture is this eye-rolling, exasperated, overly performed 'we're-bending-over-backwards-to-accommodate-you, now spit it out' shtick."
Ford's opening statement followed her prepared remarks. "I am here today not because I want to be," she said. "I am terrified. I am here because I believe it is my civic duty to tell you what happened to me while Brett Kavanaugh and I were in high school."
She described in detail how Kavanaugh allegedly attempted to rape her at a party in the early '80s (Kavanaugh has denied this). Ford also explained the process by which she decided to come forward with her accusations.
"I saw press reports stating that Brett Kavanaugh was on the 'short list' of potential Supreme Court nominees," she said. "I thought it was my civic duty to relay the information I had about Mr. Kavanaugh's conduct so that those considering his potential nomination would know about the assault."
Grassley is a Republican senator from Iowa. He has chaired the Senate Judiciary Committee since 2015 and also questioned Ford during Thursday's hearing.
If you or someone you know has been sexually assaulted, call the National Sexual Assault Telephone Hotline at 800-656-HOPE (4673) or visit online.rainn.org.