'RHOA's Porsha Is Tricking All Of Us With Her Latest Hair Look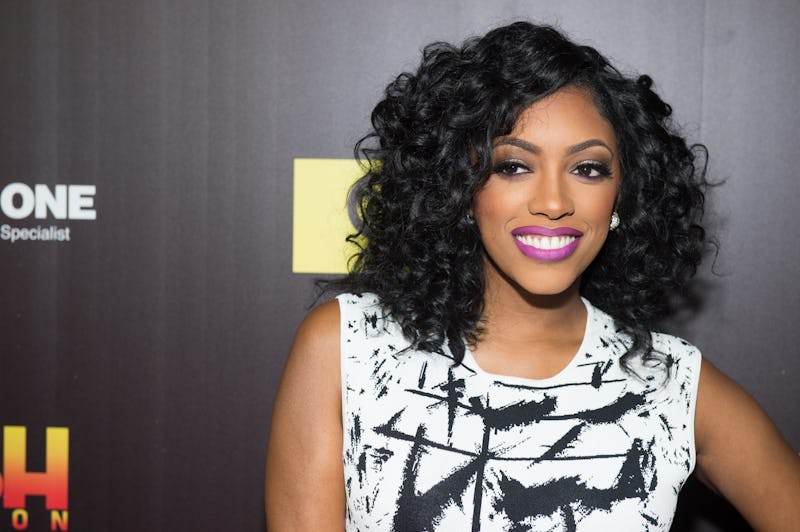 Marcus Ingram/Getty Images Entertainment/Getty Images
The next season of Real Housewives of Atlanta doesn't premiere until Nov. 5, but there's already a major new update from one of the Housewives... or is there? Porsha Williams claimed she shaved her head in a photo and video she posted to Instagram, and the posts do show an entirely different look from what fans are used to. She still looks amazing, but the pictures are not what they seem.
In the two Instagram posts, Williams' showcased her new style. She captioned the snap, "Bald is beautiful...inspo @sanaalathan ... #twocanplayatthatgame...". She also shared a video of her haircut with the caption: "And she gave no fux. Not even one. And she lived happily ever after. THE END❤️ #twocanplaythatgame." Based on the captions it didn't look like Williams shaved her head with a specific cause in mind. Instead, her posts made it seem like it was more of an empowering move for the Housewife. Even with the filters on the pics, she still looks amazing.
But even though Williams is acting like the new look is the real deal, don't expect it to be around for long. The hairstylist the reality star tagged in her Instagram, Kellon Deryck, spoke to BET and revealed that Williams' look is thanks to what is basically a very good bald cap.
"Surprise! Porsha did not cut her hair off! This is a part of the process to install her fabulous wigs!" he told BET. "This is actually a stocking cap that matches her skin." He continued, "This technique is part of my #flawlessillusion technique to make wigs look like they are growing from the scalp. Her hair is braided underneath the cap that is customized to replicate a natural scalp! It's the best way to make your hair unit completely undetectable."
Deryck also explained that what he and Williams were really doing was prepping for her new role in the play Two Can Play That Game, which explains the hashtag in Williams' captions. "This was prep for the ponytail wig that we installed for her stage play that starts this weekend, Two Can Play That Game," he said. "She is playing Gabrielle Union's role, Connie, and in the movie she had a long ponytail. [All of] this was prep for the ponytail wig that we installed."
While shaving her head would have been a surprising move, Williams has been known to sport her fair share of stylish looks on RHOA while she's causing drama with her fellow Housewives. In the reunion episodes for Season 9 of RHOA, Williams had a cropped hairstyle, which was bit outside the norm for the Housewife, too. She is usually sporting long locks, like she was only days before she made the change, as seen in this pic where she posed with former Housewife Kim Fields:
Williams also showed off her natural tresses in an Instagram photo in January 2015. She gave her fans a glimpse of her genuine hair before it was styled with her own collection of hair extensions, Go Naked Hair.
In Williams' Instagram post about her faux-bald style, she claimed that she was inspired by Sanaa Lathan. Lathan shaved her head for a role in the new Netflix film Nappily Ever After. In an Instagram video, Lathan revealed the lovely new look to her followers. In the video Lathan says, "I feel so light I could fly away." The actor has enjoyed showing off her cool new look with multiple videos and photos on Instagram. Even though Williams didn't really shave her head, if she really does admire Lathan's confidence in her new look perhaps she really will take the plunge someday.
And if she does, many of her fans will support her. Some fans who thought the change was for real flocked to her Instagram to show their support. One user said, "Yesss! I'm so glad more women are exploring nontraditional styles #baldisbeautiful". Another user added, "Pretty with every hairstyle".
The next season of the Real Housewives of Atlanta has probably already finished filming, so Williams won't be tricking anyone with her look during the season, but there's always the reunion. Knowing Williams, she'll certainly be making her mark on the reunion episodes one way or another.