DJ Khaled's Son Asahd Rocked A Tiny Gucci Suit At The 2017 MTV Video Music Awards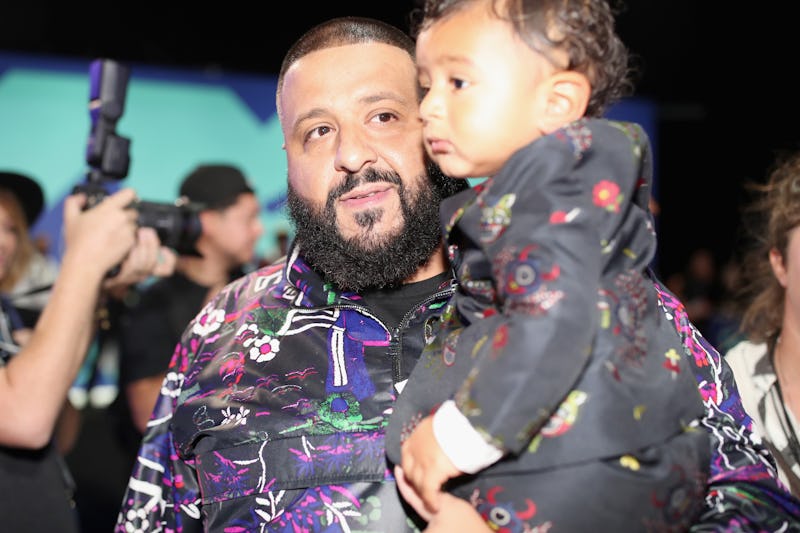 Christopher Polk/Getty Images Entertainment/Getty Images
"My son is a don," DJ Khaled told the world on the 2017 MTV Video Music Awards red carpet. Khaled's 10-month-old son Asahd certainly looked the part, rocking a tiny, presumably custom printed Gucci suit. What's more? His look totally played off of his dad's, an unsurprising sartorial choice for the inseparable pair.
DJ Khaled has had an amazing summer since his album, Grateful, hit the airwaves. With singles like "Wild Thoughts" and "I'm The One" going varying levels of platinum, Khaled is more on top of his game than he's ever been before. According to the artist, all of his hard work and inspiration comes from Asahd — he even made him executive producer of Grateful.
At the 2017 MTV VMA's, Khaled told the red carpet host that it was Asahd who helped him overcome his fear of flying. Khaled posted on Instagram to share a video message with his 7.4 million followers telling fans a detail that many people might not know — Khaled is (or now, was) afraid of flying. "10 years. Haven't flown in 10 years," Khaled said in the video. "Thats the only thing I had a fear of, was flying. Asahd made me overcome my fear of flying."
Fatherhood is clearly a powerful thing for Khaled — and the duo brought some seriously powerful father-son fashion to the red carpet:
Khaled's track jacket is definitely a moment, but there's just nothing cuter than a hip hop heir in a custom, printed Gucci suit. The 2017 MTV VMA's haven't even started, and Asahd has already won the night.