Joe Keery's Social Media Posts Are As Amazing As Steve Harrington's Hair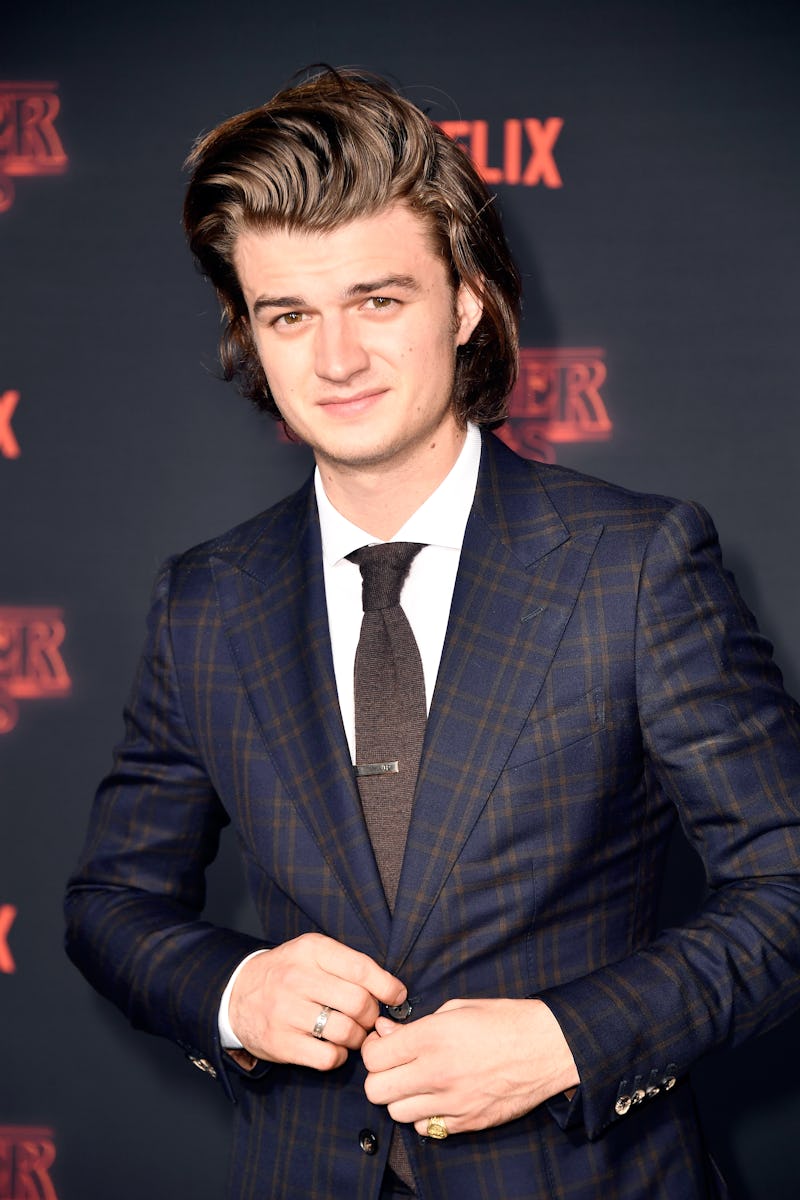 Frazer Harrison/Getty Images Entertainment/Getty Images
If you're all about Steve Harrington since binging Stranger Things Season 2, then you probably are wondering, "Does Joe Keery have Snapchat?" Well, you've come to the right place for the answer. After much research, it doesn't appear Keery takes time to snap. There's always the chance he has an account, but has chosen to keep it private rather than make it public. As disappointing as that news might be to his fans, they shouldn't get too discouraged, because they can keep tabs on him over on Twitter and Instagram.
For those who aren't following him on either social media network yet, you better do it immediately. His Instagram name is "Uncle_Jezzy" and his Twitter handle is "Joe_Keery". That said, it doesn't look like he Instagrams or tweets a ton, but he also doesn't ignore his accounts, either. He's just more selective about what he posts. There are some celebrities who just aren't all about posting on social media 24/7 — and Keery seems to be that type of person.
That said, he still manages to give fans what they want — his witty personality and behind-the-scenes Stranger Things photos. He's already shared quite a few Season 2 pictures on both Instagram and Twitter. As you can imagine, they are fantastic. It appears he's beyond thankful for the love and support he's received since becoming famous for his role as Steve, the character with the best hair around.
After the sophomore season of the show hit Netflix, the 25-year-old actor took to Instagram and posted a handful of photos. Next to one group of images, he thanked fans by writing, "Feeling so lucky. Thanks you so much for watching, without the fans there would be no show. Feeling so thankful to be apart of such a truly wonderful group of people." He continued, "Here are some shots I took along the way. Figured the least I could do is share some of the memories I had working on this dream project. Hope you enjoy them - Love you all -"
For him, becoming famous so quickly is something he's welcomed with open arms, especially since most everyone has been so warm. "It's really cool to have this positive response when just two years ago I was just waiting tables trying to get any acting job — let alone on a show that everyone watches," he told Esquire in an interview released soon after Season 2 premiered. "I mostly just feel really humbled and thankful, because I could be struggling to get any type of job."
The way he posts about Stranger Things and the people he works with shows how appreciative he is to be in the position he's in — and also for all of the fans. That's evident in the photos he tweets. Check out these beauties.
Steve With His Babies
The perfect family photo.
Another Cereal Dinner Date
For those unaware, Keery and Gaten Matarazzo have the best friendship ever.
Missing Another Important Reservation
Can't Dustin and Steve just get some pancakes?
They Really Love To Eat Together
Too bad they're always filming, huh?
This is the type of gold Keery gives his fans. He also posts photos sometimes when he and his co-stars hang out off set. Here he is with Finn Wolfhard and some really cute dogs.
And here he is with Dacre Montgomery enjoying a nice meal together, even though Keery's dish is a lot smaller:
Oh, and he also posts gems like the following, because he is excited about new episodes, too:
Even though Keery doesn't appear to have Snapchat and doesn't post a lot on Twitter or Instagram, when he does, he makes it worth it. Clearly, his social media use is just as perfect as his hair.