Here's How You Can Find Out If Your Senator Plans To Vote No On Kavanaugh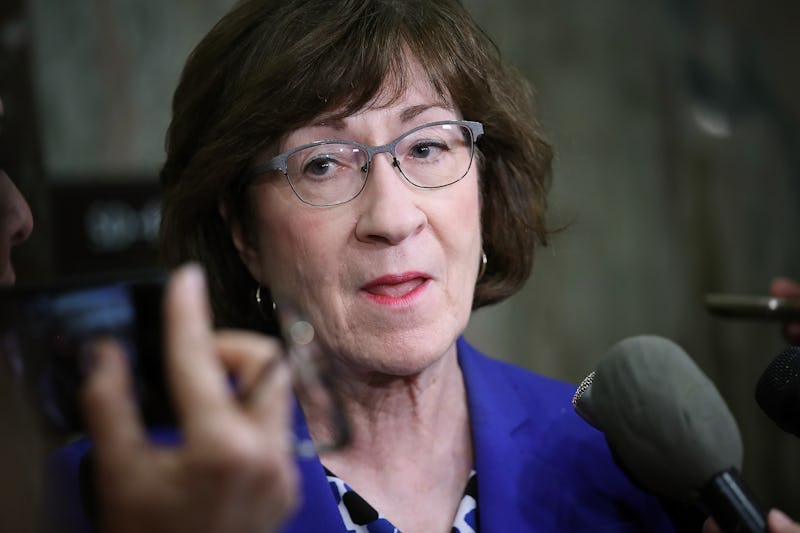 Win McNamee/Getty Images News/Getty Images
With the hearing on the allegation against him scheduled for Monday, you might be wondering if your senator does support Brett Kavanaugh or not. Though several lawmakers have called for an FBI investigation to precede the hearing, it doesn't seem likely. And after that, a vote could take place. In other words, it's now or never if you want to let your senator know how you feel about Kavanaugh's nomination.
But first, you probably need to know whether your senator opposes or approves of Kavanaugh's nomination to begin with. You can find out by taking a look at this Vox breakdown of senators who have spoken about how they intend to vote. You can also see which senators are on the fence about their vote or feeling pressure from their constituencies via this CNBC breakdown. It's important to note, however, that there are two exceptions to Vox's list: Claire McCaskill and Catherine Cortez Masto have both confirmed that they will not be supporting Kavanaugh.
Here are the senators who are currently on the fence over Kavanaugh's nomination, per Vox and CNBC: Bob Corker (R-Tenn.), Jeff Flake (R-Ariz.), Lisa Murkowski (R-Ark.), Susan Collins (R-Maine), Heidi Heitkamp (R-N.D.), Joe Manchin (D-W.Va.), Jon Tester (D-Mont.), Doug Jones (D-Ala.), and Joe Donnelly (R-Ind.).
Corker and Flake are two Republican senators who are retiring at the end of their terms, and who have voiced concerns about Kavanaugh previously. As for Murkowski and Collins, they're notable for being the only pro-choice Republicans, and have received extreme pressure from their constituencies to vote no on Kavanaugh.
On the other hand, Manchin, Heitkamp, and Donnelly, are all "red state Democrats" who are up for reelection in November. This means they might feel pressure to vote for Kavanaugh to satisfy their largely conservative voter base.
In order for Kavanaugh to be rejected from the Supreme Court, at least 51 senators would have to vote "nay." If it were a 50-50 tie, then the vice president gets to cast the deciding vote, and it's not exactly up in the air how Mike Pence would vote on this decision. Basically, every vote counts. For Kavanaugh to lose the vote, it will require all 49 Democratic senators as well as at least two Republicans to vote against him.
So if you have any doubts or frustrations about the manner in which Kavanaugh's hearings have proceeded, it's time to contact your senator's office and let them know before they make a vote.
To contact your senators, all you have to do is use the Senate resource page to find their office phone numbers. However, you should make a point to tell whoever you're speaking to over the phone to confirm that they've written out your complaint and will relay it to your senator.
If you're unsure of what to say, you can consider this sample script offered by People for the American Way. And, no, calling once a day leading up to the final Senate vote on Kavanaugh's appointment isn't going overboard with it.