Find How Your Senator Stands On Trump's Ban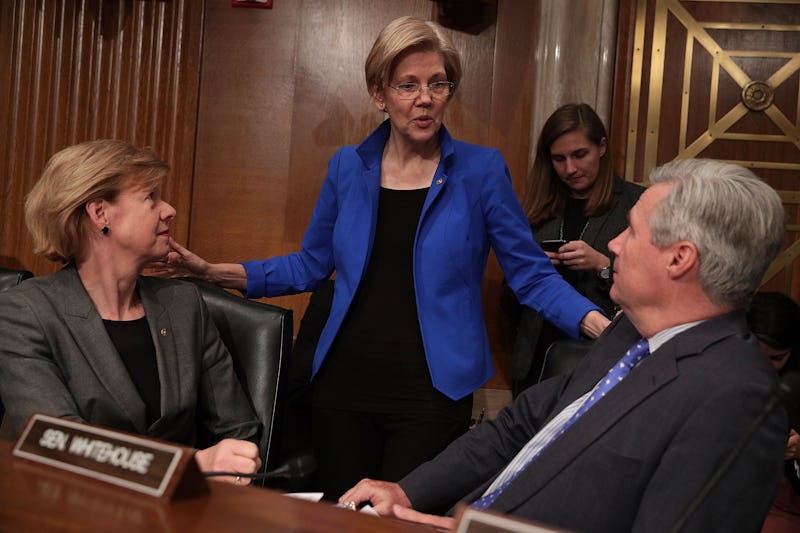 Alex Wong/Getty Images News/Getty Images
With the stroke of his pen Friday, President Donald Trump instituted an immediate 120-day suspension of all refugee admissions, an indefinite suspension of Syrian refugee admissions, and a 90-day ban on citizens from seven Muslim-majority countries entering the United States even if they hold valid green cards or visas. As a result of Trump's executive order hundreds of people were detained upon arrival at airports across the country, sparking peaceful protests and widespread condemnation. Confusion and outrage over the order continued to mount Saturday as many turned to their senators and congressional representatives for help in pushing back against Trump's order. If you're wondering where your senator stands on Trump's executive order, you're in luck. There's a Google Doc for that.
Whether you call, write, email, or tweet, contacting your congressional representatives can be one of the best ways to make your voice heard in Washington, even when you live clear across the country. Phone calls in particular are said to be especially effective at driving legislative change, according to former congressional staffer Emily Ellsworth.
However, before you pick up the phone and dial it's important to know where your congressional representative already stands on the issue you're calling to chat about. If they're stance on the issue differs dramatically from yours, you'll want to be prepared with a few brief points about why you feel the way you do and why you think they need to rethink their position. If they're already with you, you'll want to thank them, communicate your support for their stance so that they know they're representing their constituents accurately, and ask them how they plan to advocate for that position in Congress.
For those looking to contact their state's senators or governor regarding the executive order on immigration Trump signed Friday, this Google Doc makes finding out where they stand on the matter quick and easy. The document contains three separate tabs: one for senators, one for governors, and one offering a script for how to tell your congressional representatives or state legislators that you oppose Trump's executive order on immigration.
Several members of Congress and state legislatures joined protesters at airports in their districts to advocate for those being detained or protest Trump's executive order. In Boston Sen. Elizabeth Warren spoke to protesters Saturday at Logan International Airport. In Seattle, Reps. Suzan DelBene and Pramila Jayapal sought information about those being detained or deported at the Seattle–Tacoma International Airport. Rep. John Lewis was spotted at the airport in Atlanta waiting for information about detainees. New Jersey Sen. Cory Booker advocated for detainees at Washington Dulles International Airport just outside Washington, D.C
On the doc, both senators' and governors' statements regarding the order are listed and sourced while those who have been silent on Trump's executive order are highlighted in yellow. And perhaps most importantly, contact information is provided for each elected official along with any known information about when they will be up for re-election.