How Your Vote Could Have An Impact On Your Student Loan Debt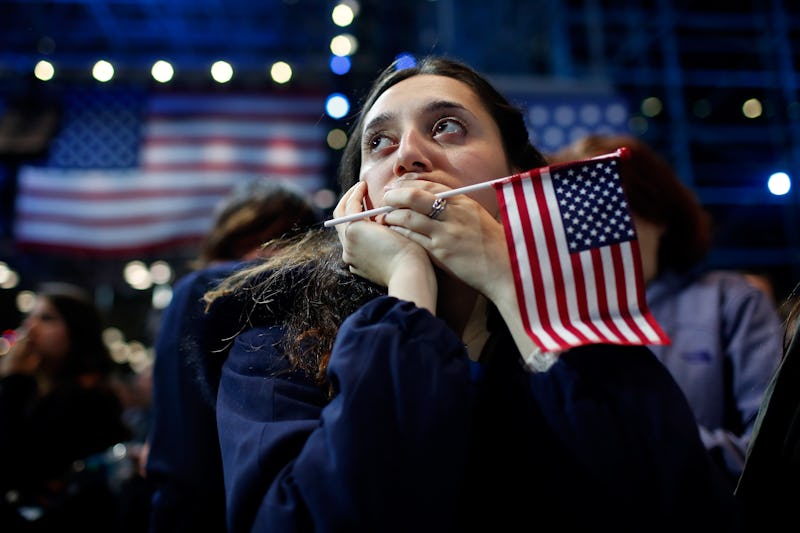 Win McNamee/Getty Images News/Getty Images
For most of us, the extent of our knowledge about the economy comes from how it directly affects our lives. The job market! Retirement accounts! Property values! And, of course, student loans! If student loan reform is an issue dear to your heart, there's definitely something you can do about it: Vote.
While you can't vote directly for student loan reform, it's a huge policy platform for some candidates who you can vote for. The biggest questions are how feasible their plans are and where the money to pay off all those loans would come from.
It depends on the plan, but one big strategy that some candidates have pushed involves creating initiatives like the Public Service Loan Forgiveness program (PSLF). If you're employed by any kind of government organization, a tax-exempt non-profit, or a non-profit that isn't tax-exempt but does provide specific kinds of public services, you can apply to have your student loans forgiven under PSLF. You do have to make 120 monthly payments first, however.
Another strategy that some candidates have cited is Sen. Elizabeth Warren's (D-MA) 2014 plan to tax millionaires and use that money to help people refinance their student loans. Refinancing a loan means taking out another loan with a better interest rate to pay off the first loan. Under Warren's plan, the extra revenue from raising taxes on high earners would help cover the cost of that change. Warren's plan never made it out of Congress, but student loan reform continues to be a huge subject of discussion.
Which candidates support student loan reform?
There are a number of candidates who support student loan reform. In fact, there are a number of candidates who know exactly what you're going through, because they have student debt as well. You can find a candidate in your area whose proposal to reform student loans sounds like it might be effective and cast your ballot for them.
If you're looking for a candidate in your district, use a tool like VOTE411.org to find out what offices and candidates you'll be voting on in November.
Here's a list of some of the candidates you may encounter who have taken a position on the subject. A few Democrats have called for loan forgiveness across the board, while others are looking to help students refinance their loans and increase transparency from lenders. A couple Republicans have also expressed an interest in making college more affordable. If you don't know where your local officials or candidates stand on student loan reform, call or write to them and ask.
Democrats
Republicans
Dan Donovan, a Republican member of the House running for re-election in New York's 11th district, said he paid off his last student loan at age 52 and writes on his website that he wants to "streamline and improve student aid, and protect the 529 plan that helps parents save for their child's higher education."
Jay Webber, a Republican candidate running to represent New Jersey's 11th district, writes that he has "proposed innovative ways to make college more affordable to students and their families, by allowing them to finance their educations in way that will minimize student-loan debt (and control ever-rising tuition rates too!)"