This Is Why The Internet Is Convinced Taylor Swift's New Video Is Actually Slamming Kanye West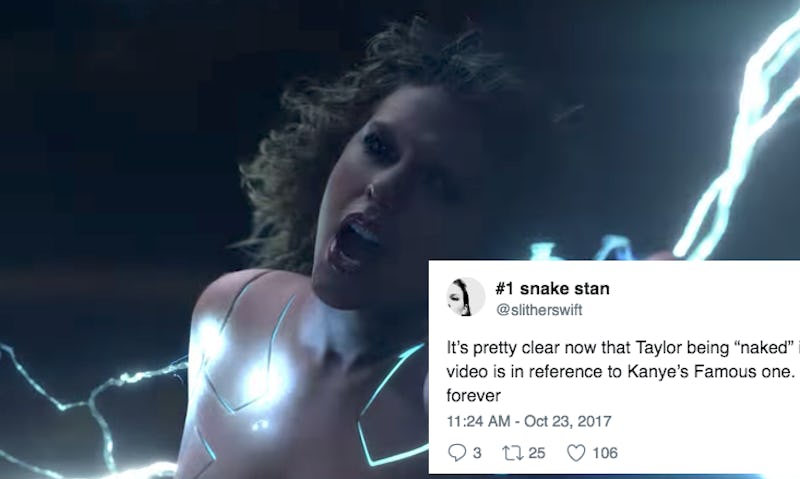 Taylor Swift/YouTube
When the preview for Taylor Swift's next music video dropped on Monday morning, fans were hit with so many details at once in just 15 seconds — including a shot of her in a nude bodysuit. But does that mean Swift's "...Ready For It?" video is referencing Kanye West's "Famous"? Her wardrobe choices could mean anything at this point, but her fans are thinking she's calling out the rapper for his controversial video.
It has yet to be seen whether or not Swift and West's feud will ever come to an end, but last year, it hit its peak when Kim Kardashian released audio of Swift's call with West where they talked about the lyrics in "Famous." Swift later argued that she never fully approved the song because she'd never heard it. And then, his released his video for the song, which featured wax figures of celebrities laying in a bed together, naked, including Swift.
And that all leads us to now, when Swift is gearing up to release another video, which possibly includes a reference to "Famous". In certain scenes, Swift appears to be in a futuristic nude bodysuit that happens to look a lot like the version of her body that appeared in West's video, and it's already sparking speculation.
As soon as the promo hit the internet, fans took to Twitter to point out the similarities between West's version of Swift's body and the version that will be seen in "...Ready For It?" So many people are buzzing about how this could be Swift's way of calling out West yet again — not long after she mentioned his "tilted stage" in the lyrics for her first single from Reputation, "Look What You Made Me Do."
And since her body does look a lot like the way it was portrayed in the "Famous" video, the evidence seems to be pointing that way — especially since Swift has liked posts on Tumblr where fans made the connection between West's interpretation of her naked body and the "...Ready For It?" version, like this one that addresses Swift using her body for self-empowerment and one about how she's taking back her story from those who have used her body without consent, including West.
If Swift is referencing the "Famous" video, it might mean more than just throwing a little shade West's way. It could actually be her way of taking back the narrative, reclaiming her body, and sharing it in the way she chooses, after West used her body in the way he saw fit. After having a camera pan over a recreation of her naked body — even though it wasn't really her — it's totally understandable that she'd want to take control back from West.
Of course, there's the chance that this is all a coincidence and has nothing to do with West at all. Since the video as a whole tends to have a very futuristic theme, it may just be that the bodysuit fits in with the story she's trying to tell. It's also similar to the suit Scarlett Johansson wore in Ghost in the Shell, so maybe that's the reference that Swift is making instead? There are so many ways that this could go, and it's so hard to tell what's really going on from just a 15 second mashup of video clips.
It's impossible to tell how much West actually has to do with Swift's "...Ready For It?" video until the full version drops on Thursday night, when, hopefully, all will be revealed. The video looks incredibly epic, so it seems it'll be worth the wait to have all our questions answered then.
But no matter what happens in this music video, it's clear that the feud between West and Swift isn't coming to an end anytime soon... or at least the public's obsession with it won't.