You Can Bring Your Child To The Women's March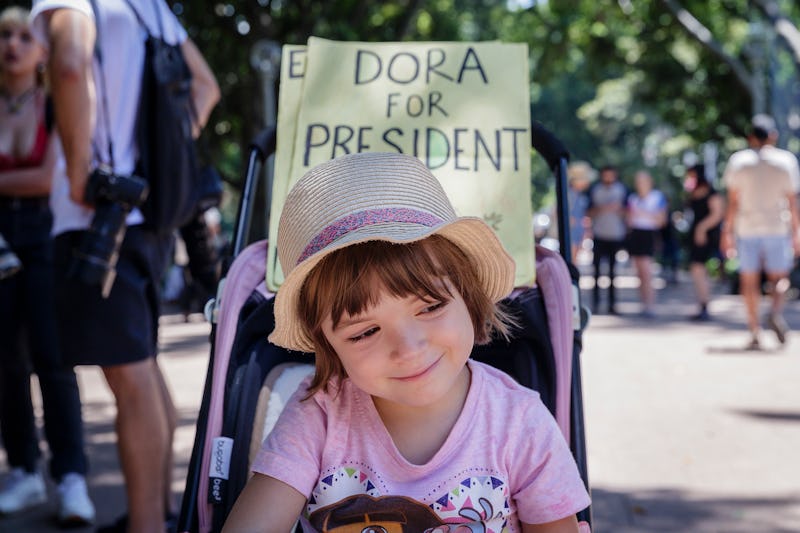 Brook Mitchell/Getty Images News/Getty Images
With over 200,000 Facebook users indicating that they plan to attend the Women's March on Washington on Saturday in D.C., there are probably lots of questions floating around. And if you're wondering whether or not you can bring your child to the Women's March, you'll be happy with the answer.
On its official FAQ page, the Women's March organizers state that bringing your young son or daughter along is entirely up to you:
The WMW has a team of experienced and professional national organizers working to ensure that every safety protocol is followed. We will release specific details on how to stay safe during your time in Washington as we draw closer to the date. The decision to bring your children is a personal one.
In other words, they neither encourage it or discourage it. This is largely because both the size and nature of protests can be difficult to gauge. Though the organizers intend to follow all of the rules and make the event as safe and child-friendly as possible, massive crowds of people can be unpredictable. In the case that a child gets lost in that crowd or needs help, however, the march's organizers have taken safety precautions.
Though the event won't involve a kids' tent, there will be a scavenger hunt to help make it more fun for young children. You can find out more about it via the Women's March app, which you can download here. You can also sign up to receive texts for parents during the march here.
In case your child gets lost, organizers in bright yellow vests will be there to help. There will also be a reunification tent that both you and your child can plan to meet up at in case you lose each other or there's an emergency.
And though the Women's March isn't necessarily geared towards very young children, it does encourage teenagers to become involved through its youth initiative. In fact, Amira Brown, one of its youngest youth ambassadors, is just 10 years old. In that sense, some believe children are never too young to make their voices heard. On Today's Parents, a mother of both a 7-year-old and 3-year-old daughter explained why she's bringing them to her local women's march in Toronto:
One day my daughters will ask what I did to save the world for them, and I don't want to tell them, 'Nothing.' I don't want them to ever think they're too young to start standing up for what they believe in either.
And it's difficult to think of a better way to inspire activism from a young age.