Trump Jr. & Kim Guilfoyle's Montana Rally Won't Go Entirely As Planned — Here's Why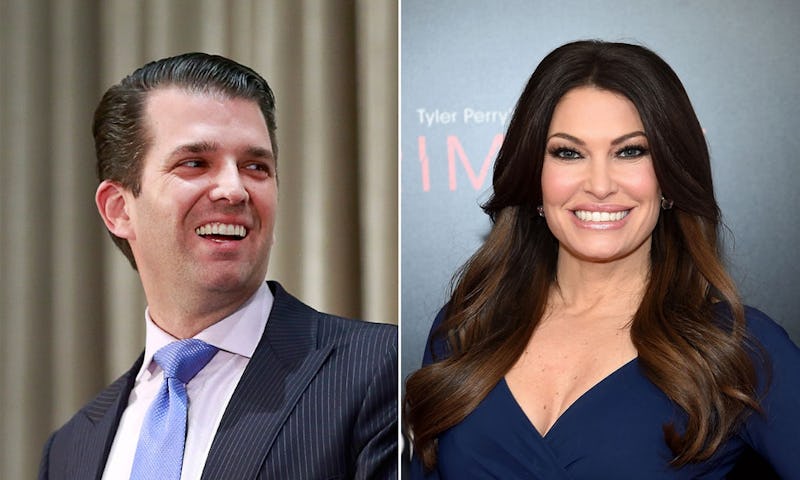 Jeff Vinnick/Getty Images News/Getty Images / Jamie McCarthy/Getty Images Entertainment/Getty Images
The town of Bozeman, Montana only has about 45,000 people living in it, according to the latest U.S. Census numbers, but it'll see some national attention this month. Donald Trump Jr. and Kim Guilfoyle's rally in Montana won't be held where they had originally planned, and it's because the managers of the location want to stay out of politics, according to WULR 8, the NBC affiliate in Billings, Montana.
According to WULR, Trump Jr. and Guilfoyle had originally planned to hold a campaign rally at Midtown Tavern on Sept. 25 for Matt Rosendale, a Republican candidate for the Senate race who calls himself a "Trump conservative" on his campaign website. The plan was announced on Tuesday, but just several hours later, the managers of Midtown Tavern said they were canceling the booking. As WULR reported, the managers of the tavern said they had no idea what the specifics of the event were when the booking was scheduled. When the managers found out, they withdrew, citing a disinterest in taking a political stance.
One of the managers, Jeff Wilcox, called the initial rally announcement a miscommunication, according to Bozeman Daily Chronicle. He clarified that the restaurant does not want to take a side in the U.S. Senate race or any sort of political face-off.
"We definitely don't want to take political sides. That's never our intention," Wilcox said to Bozeman Daily Chronicle, who reported that Wilcox was also apologized for word of the announcement getting out.
"That's just not who we are. We just try to stay politically neutral," Wilcox said. "We're a restaurant."
More than 200 people have reserved tickets for the rally with Trump Jr. and Guilfoyle, a Rosendale spokesman said in an email, according to the Bozeman Daily Chronicle. After the cancellation, the campaign is now searching for a different venue "to accommodate the unprecedented demand."
One Montana reporter believed the new venue would be a "longtime GOP event" space.
Trump Jr.'s visit to Bozeman, which is about a two-hour drive from Billings, comes on the heels of his father's visit a few weeks ago, in early September, according to CBS News. President Trump was also in Billings to rally for Rosendale, who is challenging Democratic Sen. Jon Tester. Trump's visit in September marked the second time he made a trip out to support Rosendale, who is currently the state auditor.
Trump Jr. and Guilfoyle's stop in Bozeman is one of many as they hit the campaign trail ahead of the midterms, the Wall Street Journal reported. The two, whose relationship is often mentioned and highlighted in their political speeches, have a number of cross-country stops planned, according to the Wall Street Journal. The duo have stops planned in Pennsylvania (for a GOP fundraising dinner), Texas (for Ted Cruz), Minnesota (for another fundraising meal), North Dakota (for Rep. Kevn Cramer), and Nevada (another fundraising dinner) as they rally their base ahead of the midterm elections.