Trump Slams GOP Senators As Trying To Start WW3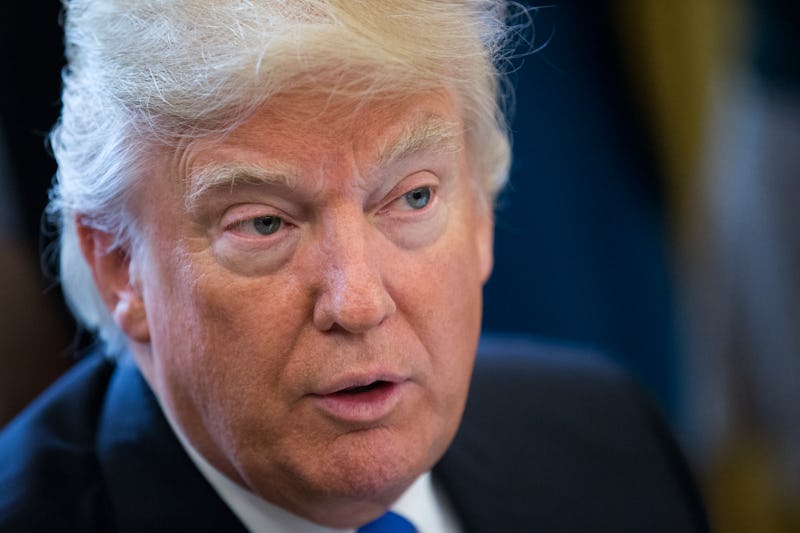 Pool/Getty Images News/Getty Images
In a series of tweets published Sunday, President Donald Trump attacked Sens. John McCain and Lindsey Graham, accusing the two Republicans of "looking to start World War III." Trump's attack came just hours after McCain and Graham had issued a joint statement in which they said they feared an executive order on immigration signed by Trump Friday "[would] become a self-inflicted wound in the fight against terrorism" by serving to aid terrorist recruitment more than it would improve national security.
"The joint statement of former presidential candidates John McCain & Lindsey Graham is wrong - they are sadly weak on immigration," President Trump said in two tweets published to his @realDonaldTrump Twitter account Sunday. "The two Senators should focus their energies on ISIS, illegal immigration and border security instead of always looking to start World War III."
In a statement released earlier in the day, McCain and Graham severely criticized Trump's executive order, which instituted an immediate 120-day suspension of the country's refugee admissions; an indefinite suspension of Syrian refugee admissions; and 90-day ban on citizens from seven Muslim-majority countries entering the United States even if they hold valid green cards or visas. The Republican senators called the order "hasty" and "not properly vetted."
"Our government has a responsibility to defend our borders, but we must do so in a way that makes us safer and upholds all that is decent and exceptional about our nation," McCain and Graham said. "Our most important allies in the fight against ISIL are the vast majority of Muslims who reject its apocalyptic ideology of hatred. This executive order sends a signal, intended or not, that America does not want Muslims coming into our country."
The two senators also criticized the scope of Trump's order and it's failure to differentiate green-card holders. "We should not stop green-card holders from returning to the country they call home," their statement said. "We should not stop those who have served as interpreters for our military and diplomats from seeking refuge in the country they risked their lives to help. And we should not turn our backs on those refugees who have been shown through extensive vetting to pose no demonstrable threat to our nation, and who have suffered unspeakable horrors, most of them women and children."
While the two senators' statement appeared to have struck a chord with the president, it was unclear from Trump's statement what about their criticism of his executive order qualified as "looking to start World War III."