Trump Twitter Uses Photo From Obama's Inauguration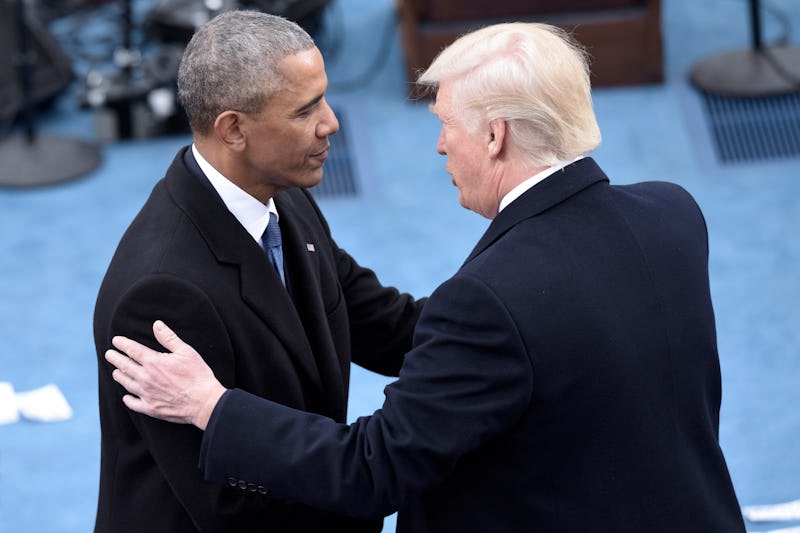 BRENDAN SMIALOWSKI/AFP/Getty Images
The inauguration is over, and new President Donald Trump has taken over the @POTUS handle on Twitter. And quickly, people noticed something strange about Trump's Twitter cover photo: it was from Obama's inauguration.
Of course, it was pretty obvious that someone on Trump's team had used an image featuring attendees of Obama's 2009 inauguration. The photo was quietly replaced by that of an American flag, and then by one of Trump gazing through a window, but not before Twitter users jumped on the Trump team's mistake.
Some pointed out similarities, though to a lesser extent, between Trump's Twitter account using Obama's inauguration photo and First Lady Melania Trump's 2016 plagiarism incident, during which her speech closely resembled one given by former First Lady Michelle Obama in 2008. (Campaign chairman Paul Manafort at the time denied the accusations of plagiarism, telling CNN that "To think that she'd be cribbing Michelle Obama's words is crazy.")
Others pointed out that Trump's inauguration was far less crowded than Obama's; nearly 1.8 million were expected at Obama's 2009 inauguration, versus around 800,000 for Trump in 2016. This, as well as the fact that the weather was much better at Obama's inauguration, could be a potential reason for a Trump staffer to have used the image. But the intent of representing Trump's inauguration in a better light still doesn't excuse the use of a photo from Obama's inauguration.
It took a while for Trump to tweet from the @POTUS account, choosing instead to tweet from his @realDonaldTrump handle immediately after the inauguration. It makes me wonder whether he'll actually use the POTUS account at all; or, if he does, if the content will differ from his usual tweeting habits. The first tweet posted by the @POTUS account was merely a link to a Facebook post with the full text of his inauguration speech.
And while his wife, Melania, has taken over the @FLOTUS Twitter handle, she took a while to publish her first tweet. Actually, Melania hasn't tweeted since November 2016, even on her other Twitter handle, @MELANIATRUMP.
The Donald has already had to make some changes to his tweeting routine; the new president reportedly had to swap his Samsung Galaxy phone with one approved by the Secret Service. Hopefully Trump and his team have learned their lesson and won't make a similar mistake by appropriating another president's photo again.
And we can only hope that as president, Trump will use a less inflammatory style when tweeting from @POTUS, you know, since he's acting as a representative of the United States on an international scale and all that.