Donald Trump Reinstates The Dakota Access Pipeline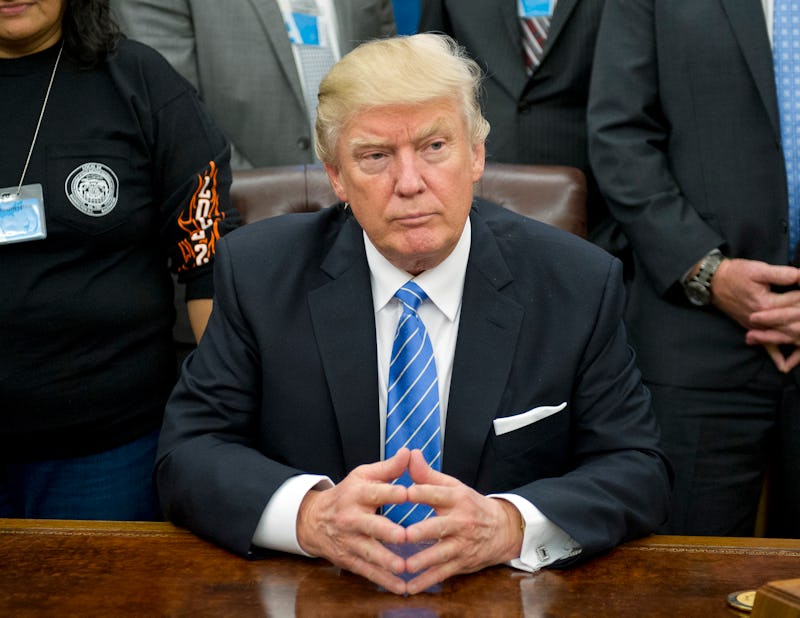 Pool/Getty Images News/Getty Images
According to a report from the Associated Press, President Trump has approved the Dakota Access Pipeline and Keystone XL via executive order, two of America's most controversial oil pipeline projects. The executive order had been rumored and reported prior to the morning of Tuesday, Jan. 24, but that's when Trump apparently put pen to paper. The move likely reignites one of the most fraught, exhaustive, and persevering battles between government and activism in the entire United States ― the conflict between protesters of the DAPL's charted course through the Sioux tribe's land at Standing Rock, and the partnership between the U.S. government and big oil.
In his first official White House press conference (as opposed to his angry, falsehood filled statement to the press corps last week), Press Secretary Sean Spicer teased this announcement. When asked whether Trump would try to move forward with the hyper-contentious projects, Spicer gave a suggestive reply.
I'm not going to get in front of the President's executive actions. But I will tell you that areas like the Dakota and Keystone pipeline, areas that we can increase jobs, increase economic growth, and tap into America's energy supply more ... that's one of those ones where I think that the energy sector and our natural resources are an area where the president is very, very keen in making sure that we maximize our use of natural resources to America's benefit.
Prior to the election, there were concerns that any decision Trump made on the DAPL would raise conflict of interest issues, due to his owning stock in the company behind the project. As The Washington Post reported in late November, Trump campaign spokesperson and current White House director of strategic communications Hope Hicks claims Trump sold that stock in the summer of 2016.
While both the DAPL and Keystone XL pipeline projects have drawn criticism for their environmental impact at a time when America (and the world overall) desperately needs to curb fossil fuel production to alleviate the effects of climate change, the former is even more controversial for the fact that it's charted to run through Native lands.
Protesters at Standing Rock braved icy winter temperatures, water cannons, and tear gas ― and that was all while begging the Obama administration for the pipeline to be halted, which was surely more receptive to such arguments than Trump's administration will be. One protester, Sophia Wilansky, had her arm blown apart, although activists and authorities have argued over whose side was to blame ― the protesters claimed it was done by a concussive grenade, while law enforcement denied this. Her father, however, believed the protesters' account.
A surgeon said he pulled shrapnel out of her arm. It's pretty clear it's a grenade that caused this.
According to Reuters, the Standing Rock Sioux tribe has vowed to fight Trump's DAPL executive order in the courts, although how successful that strategy will be is yet unclear. According to Reuters reporter Catherine Ngai, Vermont Sen. Bernie Sanders has come out forcefully against the move, just one day following his cautionary praise when Trump scuttled the Trans-Pacific Partnership trade agreement.