This Is The Advice Trump Reportedly Gave To Accused #MeToo Perpetrators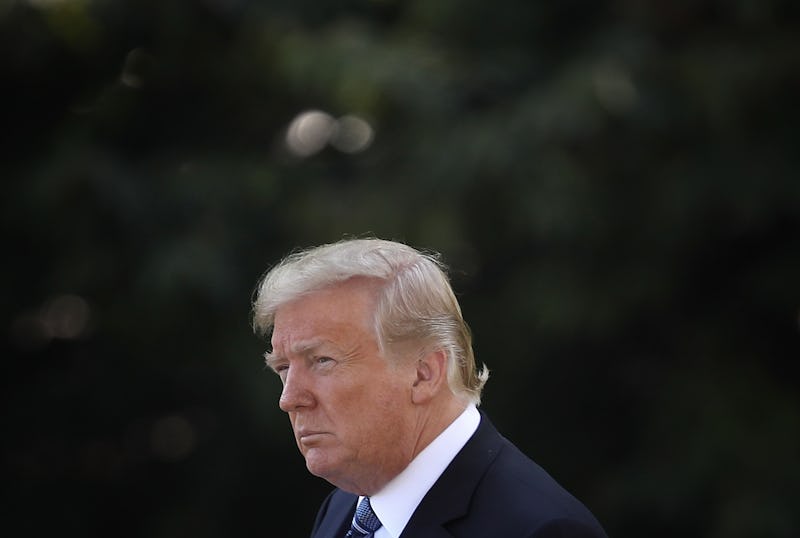 Win McNamee/Getty Images News/Getty Images
Donald Trump made it to the White House even after being accused of sexual misconduct, including harassment and assault, by some 19 women. He denied the allegations from the campaign trail — "total fabrication" — and after his win, the White House said the 2016 election process "answered" those claims. Now, a new book by Bob Woodward suggests that Trump allegedly has #MeToo advice for men who find themselves in the same situation.
President Trump, however, has disregarded the book, Fear: Trump in the White House, as a "joke," "scam," and "barrage of assaults." For days he has denied any of the assertions in the book are true on Twitter. "I don't talk the way I am quoted," Trump wrote. "If I did I would not have been elected President. These quotes were made up."
Here's what Woodward includes in the book, attributing it as advice Trump allegedly gave a friend:
You've got to deny, deny, deny, and push back on these women. If you admit to anything and any culpability, then you're dead. That was a big mistake you made. You didn't come out guns blazing and just challenge them. You showed weakness. You've got to be strong. You've got to be aggressive. You've got to push back hard. You've got to deny anything that's said about you. Never admit.
The White House, though, called the whole book "fabricated stories." That's compounded by the president's own Twitter, where he has referred to it as the "already discredited Woodward book" with "so many lies and phony sources."
Yet, before the attacks on Woodward, Trump had said good things about the Watergate journalist famous for exposing the scandal that brought down Richard Nixon with his Washington Post partner Carl Bernstein.
Trump once even thanked Woodward on Twitter, when Woodward questioned the authenticity of the infamous Fusion GPS dossier on Trump.
"Thank you to Bob Woodward who said, 'That is a garbage document...it never should have been presented...Trump's right to be upset (angry)...," Trump tweeted in January 2017.
Even more of an about-face, though, was the time that Trump attacked the Obama White House for going up against Woodward in 2013. Woodward had written a Washington Post article critical of Obama's role in creating automatic budget cuts that the then administration tried to blame on Congress. Trump called the article a "must read column."
When the Obama White House's opposition to the article became public, Trump went on to tweet, "Only the Obama WH can get away with attacking Bob Woodward."
There is no proving that Trump would give this advice to a friend, given that he's denied the book. But, he has largely followed his own alleged advice. He has denied all the sexual misconduct allegations against him many times and from the get-go. Trump did apologize for the Access Hollywood tape but tried to differentiate "locker room talk" from actions.
Since then he has denied the sexual misconduct allegation leveled at him several times through many different channels. The only related issue he has backtracked on was his knowledge of the payment to Stormy Daniels for her non-disclosure agreement made by Trump's former personal lawyer Michael Cohen.
Trump now acknowledges that he authorized the payment, but he denies any sexual relationship ever took place, writing that the payment was to stop "false and extortionist accusations made by her about an affair."
Or, as the alleged advice in the book says, "Deny, deny, deny."