Donald Trump Calls Jokes About Barron "A Disgrace"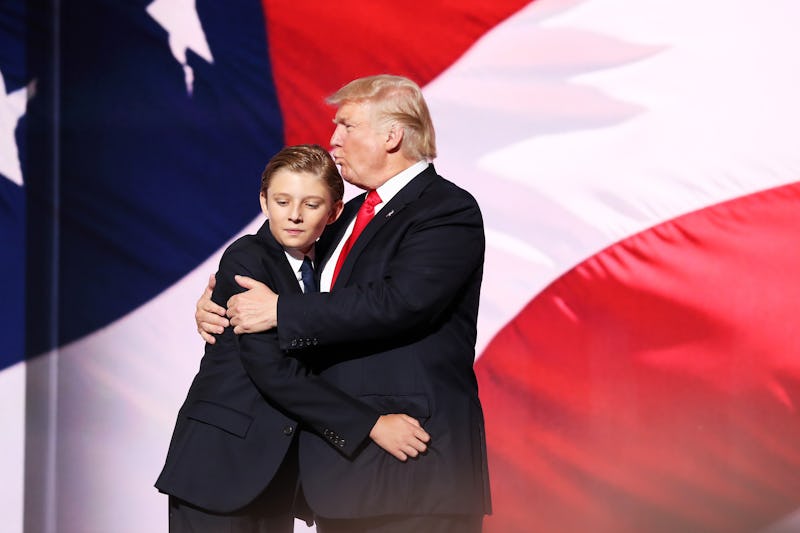 John Moore/Getty Images News/Getty Images
In the seven days since Donald Trump was sworn in as president he's faced a barrage of criticism and scrutiny. But while it's no secret the role of president comes with navigating (or at least weathering) a storm of insults, their children are often considered off-limits. Jokes about Barron Trump, the president's youngest child, have ignited a slew of controversy with Trump criticizing those turning his son into a punchline.
Days after the White House issued a statement asking both the press and the public to respect the privacy of the president's children, Trump condemned attacks on his 10-year-old son Barron, calling them "a disgrace."
"Well a person from Saturday Night Live was terrible," Trump told radio and television host Sean Hannity when asked in a recent interview how he felt seeing his youngest son become the target of jokes and attacks. "For NBC to attack my 10-year-old son is a disgrace. And he's a great boy. It's not an easy thing for him."
While a disappointing number of mean-spirited jokes have cropped up about Barron, Trump was specifically referencing one tweeted by a Saturday Night Live writer during his inauguration last weekend. Saturday Night Live immediately suspended writer Katie Rich after she'd tweeted from her private Twitter account that "Barron will be this country's first homeschool shooter." Since posting her tweet, Rich has apologized and deactivated her Twitter account.
Rich isn't the only one to have taken a shot at the president's 10-year-old son. Modern Family actress Julie Bowen was accused of bullying Barron in a series of Instagram posts in which she paired photos of him at his father's inauguration with comments about his subdued demeanor. "I think Barron is on his Gameboy. Can't say I can blame him," the actress said in one post.
Bowen later took to Twitter to clarify that her posts about Barron had not been an attempt to belittle or poke fun at him. "I love that Barron is just being a kid," the actress tweeted. "My kids would be a horror show at a public event! Just trying to keep it light."
Unfortunately Barron is not the first presidential child to find themselves the target of mean-spirited attacks from members of the press and the public. In the early 90s, conservative talk show host Rush Limbaugh joked Chelsea Clinton was "the White House dog." In 2014, Elizabeth Lauten, the communications director for Rep. Stephen Fincher, attacked Malia and Sasha Obama in a series of tweets mocking their facial expressions and clothing during the president's annual turkey pardoning ceremony.
Yet a history of insulting other presidential children doesn't make jokes at Barron's expense all right. While political discourse is bound to get ugly from time to time, presidential children never deserve to be the butt of anyone's jokes.