'black-ish' Calls Out Society For The Burden It Puts On Black Women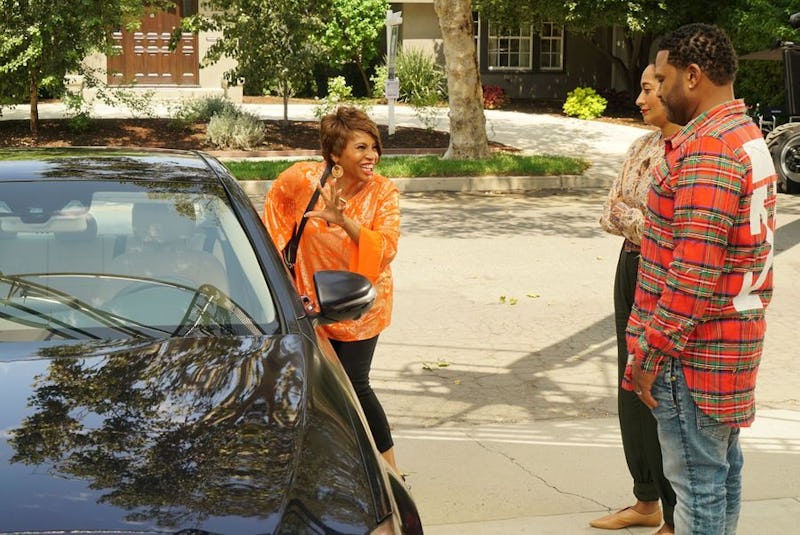 Ron Tom/ABC
Ruby is a huge part of the Johnson family's life, and her care and meddling defines her character. In the Oct. 19 black-ish episode, Dre worries Ruby has dementia, not just because that's a topic that worries many children with aging parents, but because his mom is Dre's hero in so many ways. First of all, Ruby is Dre's primary parent and the person who did everything in order to take care of him, even pretending to be a blind veteran in order to solicit donations. She's the scammer, not the scamm-ee, so for Dre to see her getting "soft" comes as a shock. But, in a larger conversation, Dre seeing Ruby as invincible parallels how black women need to be seen as invincible by society.
There's so much that black women have to fight against, from huge barriers to daily microaggressions, that the image of the "strong black woman" has become a defense against the many indignities they have to battle. And certainly, Ruby, a single working mom in the 1970s and '80s, has had to deal with plenty of issues herself, as Dre slowly realizes at work. Between supporting a family to shooting Pops, Ruby went through plenty of trauma that could leave her in need of some rest and relaxation now that she's reaching retirement age.
Dre's worries that Ruby is suffering from the early stages of dementia are clearly premature, according to the episode, which ends with her getting revenge by tricking her son into buying her a new car, proving that she's still sharp. But Dre reaches out and thinks about his mom getting older, which is still important. Because, were this not a sitcom, this could have been a chance for Dre to tell Ruby that it's OK that she's a little less sharp than she used to be. But Ruby is too slippery to ever be pinned down by a normal discussion. She's routinely running her own scams and tricks, complaining about every grievance as a way to deflect any criticism, and habitually arguing with squirrels.
In this episode, everyone in the family experienced getting older in some way, testing boundaries of their new familial roles. Bow deals with Zoe inviting over her hunky friend; Zoe, navigates having a mature platonic friendship; Diane has her first crush; and Junior starts acting like he's the house mother, tsk-tsking everyone for flirting. This is part of how black-ish is making sure its family is still growing and still changing as the show continues. The twins aren't little kids anymore, Bow is trying to be a less high-maintenance mom, and Zoey certainly is acting grown-ish, which is very appropriate given her spinoff of the same name is due in 2018.
But while all of the members of the Johnson family are affected, overall, this episode is all about how tough it is on both sides of the "strong black woman" archetype. It's been hard for both Ruby, who's getting older and being taken less seriously — as demonstrated by Jenifer Lewis' fantastic speech near the end of the episode — and for Dre, who's unwittingly relied on this stereotypical view of what makes his mom "strong" to inspire him and give him strength without remembering to think about the consequences for her. black-ish is broaching these topics in a totally unique way, figuring out how to pair the incredible responsibility and strength of black women with the tough discussion of what to do with aging parents. It's an unconventional pairing, but Ruby is an unconventional sitcom character, and it's interesting to see the intersection of aging and black womanhood that she represents.