'Dynasty' Is Filled With Rich People Problems, But That's Why You Should Give It A Chance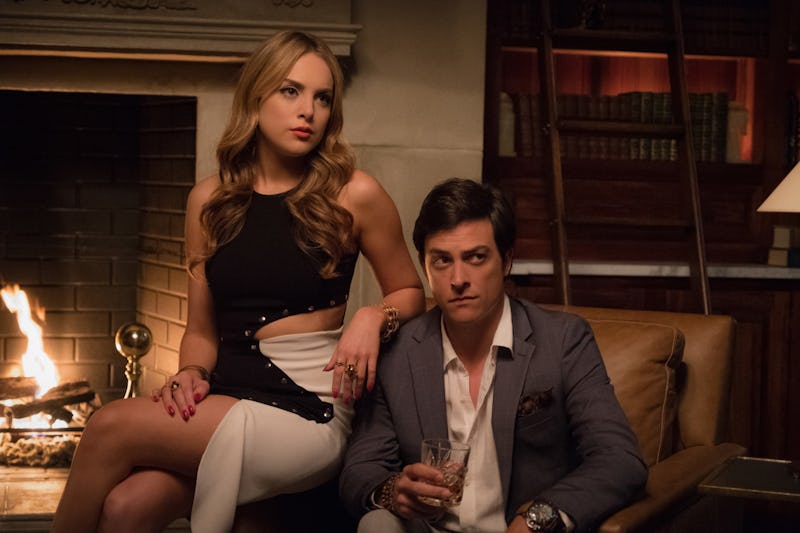 Mark Hill/The CW
The era of peak TV has seen the advent of many impactful, of-the-moment series: The Handmaid's Tale skewers the patriarchy among other things, Transparent sheds insight on the complexity of gender identity, Orange Is the New Black captures the injustice of the prison system and the wide-ranging, multi-dimensional women that populate it. It may seem difficult, then, to understand why people should care about a show like Dynasty, The CW's reboot of the 1981-born nighttime soap. Like its predecessor, it offers a melodramatic glimpse into the decadent, greed-driven lives of two obscenely affluent American families — the ever-sparring Carringtons and Colbys — though with a few modern liberties. The cast is more diverse, the setting is in Atlanta rather than Denver, and Blake's formerly derided son, Steven, is openly gay and accepted as such.
To that end, star Elizabeth Gillies — who plays Fallon Carrington, an ambitious, headstrong heiress — says Dynasty can be viewed in two ways: As deliberate and unabashed escapism, or as a self-aware reflection of the darker realities of wealth. "The world is tough enough as it is. If you want to sit down and look at a pretty mansion for a couple hours, [so be it]," Gillies says, speaking to Bustle at the CW Upfronts red carpet. But peel back the layers, she explains, and you might see something deeper.
"On top of that, we have all walks of life in the show. Yes, it centers around these two families that are extraordinarily wealthy and they're battling around for riches and all that ... [but] it's not all about that," she continues. "It shows that these people are so wealthy, and yet they're so miserable sometimes. [Fallon's] just so unhappy, really. She wants to be taken seriously by her father. It doesn't matter how much money you have. It's sad to see how inside you can just crumble while you have this castle around you. It almost makes it worse."
In fact, Grant Show and Alan Dale — who play energy company tycoon Blake Carrington and his judgmental butler, Joseph Anders, respectively — think watching rich people flounder on-screen couldn't be more aptly timed. "We're watching a bunch of rich people messing up the White House at the moment," Dale says, with Show adding: "I think it's a perfect time to see a bunch of old, rich people. When we're having a hard time is when we want to see a bunch of rich people with all their glamor and then all of their foibles."
Those are shrewd points, and as noted by The New York Times, the pilot indeed tips its hat to the real-life dynasties that currently preside over the country: the Kardashians, the Murdochs, the Trumps. But how you ultimately view the series will depend on its execution. Reviews thus far have been underwhelming, with the Times' James Poniewazik calling it an "obvious' retelling that does little to reinvigorate old plot lines, and Variety's Maureen Ryan writing that despite the show's intentions, its earnest approach lacks the intrigue and flair that made its creators' past work (The O.C., Gossip Girl) so compelling.
But that's based solely on the single episode provided to critics, and if The CW's take is anything like the original, it may take some time to find its footing. After all, it wasn't until the villainous Alexis arrived in Season 2 that Dynasty was considered a hit. In such a saturated TV landscape, the reboot may not have that much time, but it's certainly owed a chance. It may not have the sort of profound, deep-cutting storytelling we've become accustomed to, but at the very least, it could be an enjoyable guilty pleasure, and at the most, it may surprise you.
Additional reporting by Sage Young.