These Easy 'Westworld' Halloween Costumes Will Have You Park-Ready In No Time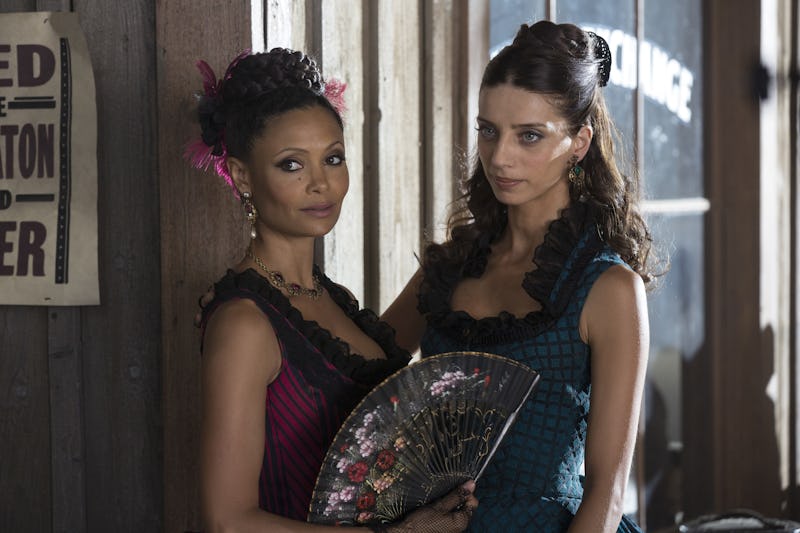 HBO/John P. Johnson
The HBO hit may have gotten snubbed at the Emmys this year, but that doesn't mean one of these easy Westworld Halloween costumes won't be award-worthy. One of the greatest things about being a character from Westworld is that whether or not others actually watch the show, most costumes are recognizable from being inspired by the iconic Wild West era. And other costumes that aren't Wild West-themed will still make anyone who wears them feel like a badass straight from the fictional park.
An element about Westworld that sets the sci-fi series apart is its unbelievably designed costumes. (It was even nominated for an Outstanding Costumes Emmy this year.) But don't be fooled by the intricate and carefully detailed wardrobe pieces, such as the female hosts' full, floor-length dresses and the male hosts' multi-layered cowboy attire. Most of these looks can be simplified and achieved in no time.
Main characters like Dolores (Evan Rachel Wood) and Maeve (Thandie Newton) have multiple looks that fans can channel, depending on their mood or favorite scene. There are also supporting characters like Charlotte Hale (Tessa Thompson), Clementine (Angela Sarafyan), and Hector (Rodrigo Santoro) who all have unique outfits that shouldn't be overlooked. And as far as the Man in Black (Ed Harris) and ringleader Dr. Robert Ford (Anthony Hopkins), their characters may be complex, but their outfits are completely doable.
Yes, Westworld characters are complicated, but their Halloween costumes don't have to be.
1. Dolores' Staple Look
After just one season of the HBO hit, its lead's staple attire became instantly recognizable and iconic. There's also an option to pair it with cowboy boots and take the look the whole way.
What you'll need: Women Casual Vintage Long Sleeve Shirt Dresses, $17, Amazon | Women's Sleek Faux Leather Belt With Oval Buckle, $15, Amazon | Bobby Pins, $5, Amazon
2. Dolores' Pants Look
Join the Westworld hosts' revolution with Dolores' badass pants look. Like Dolores, anyone who channels this mindset and wears this get-up is not to be messed with.
What you'll need: Red Kap Women's Specialized Pocketless Work Shirt, $16-$25, Amazon | Wide Wale Corduroy Fly Front Pants, $60-$70, Appleseed's | Spite Women's Saddleup Western Boot, $17, Amazon | Gun Holster Costume Accessory, $14, Amazon
3. Maeve Pre-Revolution
Take pride in being the most hardheaded and fabulous brothel madam in town — the one who's about to change the game for all of Westworld. Even in a dress.
What You'll Need: Sakkas Amara Batik Handkerchief Hem Dress, $30, Amazon | Fibo Steel 4MM Stainless Steel Necklace Twist Rope Chain, $10, Amazon | Sexy Lace Gloves Halloween Accessory, $6, Amazon | Women's Fascinators Hat Hair Clip Feather, $10, Amazon | Miraculous Garden Women's Silver Plated Shell Pearl Drop Earrings, $9, Amazon
4. The Man In Black
No Westworld lover has to be a man to channel the mysterious "man in black." for Halloween. Plus, who doesn't need a little more black in their wardrobe (if they don't have tons of it already)?
What you'll need: Adult Black Cowboy Hat, $9, Amazon | Maurices Women's Ellie Plus Size Slim Boot Jeans, $13, Amazon | Cruiize Button Down Lightweight Bomber Corduroy Jacket, $22-$24, Amazon | SUNNYTREE Womens Fashion Scarf Solid Color, $10, Amazon
5. Armistice
Armistice is the take-no-prisoners cowgirl with an edge, and her wardrobe certainly reflects that. Being this host for Halloween also means gathering great pieces to wear separately even after the holiday (maybe except for the fake gun belt holster).
What you'll need: SUNNYME Unisex Faux Felt Classic Western Cowboy Sun Hat, $12, Amazon | FLORIA Women Faux Leather Jacket w/ Zipper Closure, $29-34, Amazon | Eye Candy Women's L/S Scoop Neck Henley Top, $18, Amazon | Plain Solid Color Scarf, $7, Amazon | Jyn Erso Belt Holster Costume Accessories, $35, Amazon
6. Charlotte Hale Look 1
Charlotte Hale is as sleek and sophisticated (most of the time) as her wardrobe. This look entails rocking a uniquely colored dress that's also work-appropriate, of course.
What you'll need: Sundown Mustard Midi Dress, $44, Tobi | Delicious Women's Jaiden Faux Nubuck Leather Wide Strap Single Sole Heels, $15- $40, Amazon
7. Charlotte Hale Look 2
Charlotte may be conniving and whatnot. But no one can deny her outfits — the ones she wears taking down Westworld one scheme at a time — are awesome. This other option displays her classy and distinct taste.
What you'll need: Women's Sleeveless Faux Suede V Neck Pockets Shift Dress in Rust, $25-29, Amazon | DailyShoes Women's Classic Fashion Stiletto Pointed Toe, $13 - $40, Amazon
8. Charlotte Hale Look 3
If blue (and being totally ruthless) is for you, this Charlotte look is super simple to pull off. Being at the office doesn't mean having to tone down looking sexy.
What you'll need: Shifting Sides Navy Suede Shift Dress, $35, Tobi | Riverberry Women's Gaby Pointed Closed Toe Stiletto Pump Heels, $20 - $27, Amazon
9. Maeve In Her Nightgown
It's very simple (and comfortable) to be Maeve during her interrogation while she's in a night gown. Just use a pair of scissors to slice small slits along the top of the gown and pull the pink lace through. Voilà, you're on the brink of the revolution.
What you'll need: Shadowline Women's Silhouette 53 Inch Sleeveless Long Gown (sizes S-3X), $26-$51, Amazon | Solid Color Satin Ribbon (dark pink), $4, Amazon | Scissors
10. Hector Escaton
Hector is like a hybrid of fellow host Armistice and the man in black. Get the best of both worlds while channeling this sexy host cowboy.
What you'll need: Forum Novelties Men's Adult Suede Cowboy Hat, $13, Amazon | Bernardo Ladies' Fashion Jacket (Grey), $30 - $35, Amazon | Women's Plus Size Tall Slim Fit Ponte Knit Pants, $34, Amazon | Army Bullet Belt, $6, Walmart | Steampunk Toy Theater prop gun, $17, Amazon
11. Clementine
Clementine's extravagant and detailed dress on the show shouldn't steer fans away from being her for Halloween. Any lookalike dress will do, especially when paired with some late 1800s accessories and cowboy boots.
What you'll need: Beyove Women's V Neckline Sleeveless A-Line Floral Lace Party Cocktail Dress (Navy Blue), $32, Amazon | Fever Women's Fingerless Lace Gloves In Display Pack, $6, Amazon | Colorful Rhinestone Crystal Long Dangle Statement Tassel Earrings Wedding Drop Chandelier Earrings, $8, Amazon | Soda Women's Reno Western Cowboy Pointed Toe Knee High Pull On Tabs Boots (Black), $10-60, Amazon
12. Dr. Robert Ford
Sometimes it's fun to be the dark, twisted, brooding bad guy. Get his sophisticated and devilish look with a few simple pieces.
What you'll need: Vocni Women's Fully Lined 4 Button V-Neck Economy Dressy Suit Vest Waistcoat, $17 - $24, Amazon | Women's Formal Work Wear White Simple Shirt (XS-XL), $12-16, Amazon | Mens Solid Color 2.75" Slim Tie, $2, Amazon | Roman Design Pocket Watch with Chain, $16, Amazon
13. Park Employee
This character may not have had the most screen time, but that doesn't mean it wouldn't be fun to portray. Pair the sleek look with a pulled-back bun to really let people know you mean business.
What you'll need: X-Future Women Halter Sleeveless Sequins Racerback Stripe Bodycon Club Dress, $7-$9, Amazon | Women's D'Orsay Style Pointy Pumps Classic Stiletto Heel, $28-30, Amazon
14. Lawrence
Lawrence is a cowboy with a pop of color, because kicking butt is totally doable in purple. He may not be the most well-known character, but this outfit is still a statement.
What you'll need: Cottory Men's Top Designed V-neck Sleeveless Casual Slim Fit Skinny Dress Vest Waistcoat, $15-20, Amazon | Port Authority Women's Long Sleeve Easy Care Shirt, $8-40, Amazon | Cowboy Pistol and Gun Holster Set, $21, Amazon
15. Mae On The Loose
Just two easy pieces are all it takes to portray the badassery that is the Westworld revolution. Mae's on a mission in this epic finale scene and this outfit (paired with a top bun) reflects that.
What you'll need: MakeMeChic Women's Short Sleeve Classy Solid Stretchy Wear To Work Pencil Dress, $10 - $18, Amazon | Molodo Women PU Leather Big Shoulder Bag Purse Handbag Tote, $25, Amazon
Now who's ready to tackle Halloween, Westworld style?