Ed Sheeran Reveals That Substance Abuse Issues Led To His 2016 Hiatus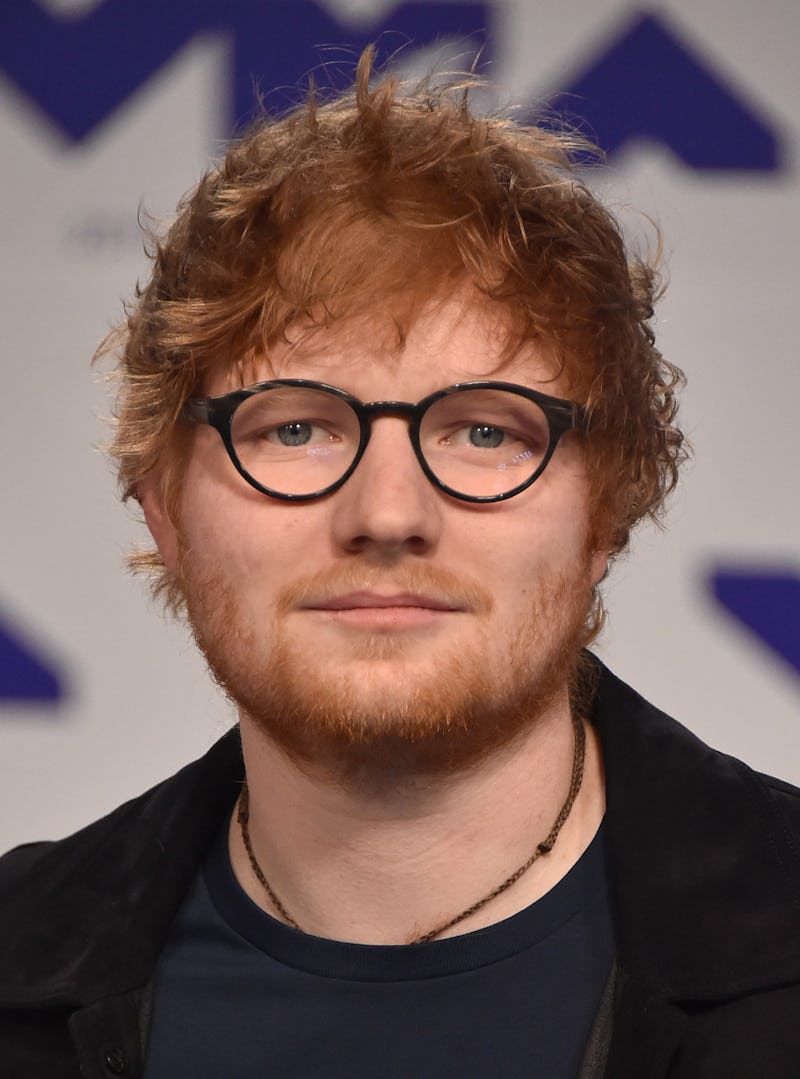 Frazer Harrison/Getty Images Entertainment/Getty Images
In October 2015, Ed Sheeran announced he would be taking a year off. And according to a People exclusive, the singer has now revealed during an upcoming episode of The Jonathan Ross Show that this hiatus was for Sheeran to deal with substance abuse issues. This revelation feels bigger than just an explanation of where the star was during 2016 — Sheeran's revelations are a lesson in self-care for anyone who has trouble prioritizing their health over their career.
According to MTV, in 2015, the singer stated that he would be taking a year off to "get rid of my iPhone, get rid of internet, get a Nokia 3310 and just go off into the wilderness somewhere for a bit." The website also reported that Sheeran stated that his life during this time consisted of texting and answering emails and this was what prompted him to get rid of his phone.
However, according to the star's new television interview (which, according to TVGuide.co.uk will air on Saturday, October 21 on British channel ITV), there was a different cause. He stated:
I think you need to, when you get into the industry, adjust to it — and I didn't adjust because I was constantly working on tour. And all the pitfalls that people read about, I just found myself slipping into all of them. Mostly, like, substance abuse. I never touched anything. I started slipping into it, and that's why I took a year off and buggered off.
He explained the entire process didn't happen overnight; things happened gradually, until "some people took me to one side and were like, 'Calm yourself down.'"
"It's all fun to begin with, it all starts off as a party and then you're doing it on your own," Sheeran said.
Thankfully, the star explained that this had been a wake-up call, leading to his year out of the spotlight. Counterintuitively, one helpful factor in his recovery from abusing, or starting to abuse, the unnamed substance was his work — he described how he found it difficult to compose music under the influence, so writing songs (rather than performing) became a refuge. He also cited his girlfriend, Cherry Seaborn, as another positive influence. "I was a 25-year-old in the music industry on tour so I just needed someone to balance me out," he said.
While the singer doesn't name a substance, Sheeran's March 2017 cover story for Rolling Stone alluded to the star's heavy alcohol consumption, with him drinking "espresso martinis and rum-punch shots at dinner, gin and tonics at the bar" and encouraging his friends to down pints to a drinking song. The piece also detailed his songwriting partner Johnny McDaid's concern about his drinking when he saw the Brit in Hollywood in 2015. The article quotes McDaid as saying, "I sat him down and said, 'Look, man, please have all the fun in the world. But be careful because if that elastic snaps, it could take a long time to recover from it.'"
Given the 26-year-old's prolific output in the years leading up to 2016 — he released albums in 2011 and 2014 and single "Rudimental" in 2015 — it implies how hard it must have been to take a year off from being a musician in the public eye. As such, it feels inspiring to learn that him feeling he was "slipping into" substance abuse — rather than hitting rock bottom — was a signal for him to take some time out purely to focus on himself, to re-calibrate, to focus on the things that make him happy (from the sounds of things, crafting songs, spending time with the person he loves most) rather than maintaining his professional image, whether via playing shows or posting on social media.
Not having to operate as a famous musician as he would do at work, but getting the chance to take some real time off just like anyone else would seemed important to the star. According to E! Online, in a BBC Radio 1 Breakfast Show interview, he explained that on traveling, he deliberately chose to head to Japan because "no one really cares about [him] in Japan."
"I specifically picked places that I wasn't really liked," he said.
This also feels like an important aspect of self-care when you're engaging in destructive behavior, potentially related to work stress — turning off your ego as a way of being kind to yourself. It's easy to end up fielding work calls at 11 p.m. or pulling weekend shifts because you feel like you're essential to a project turning out OK. But as Sheeran's year off suggests, the world will keep turning, even without your input.
If, as according to Forbes, "the male musician with the biggest first week in history" in the United Kingdom can prioritize himself and his mental health over his incredible career, then so can any of us. Turn off your phone more. Don't respond to that work email until Monday. Carve out time and space to adjust to the pressures of whatever industry you work in. And if you're a fan of Sheeran, you can know it's what your favorite songwriter would suggest, anyway.