Elizabeth Warren Grills Betsy DeVos — VIDEO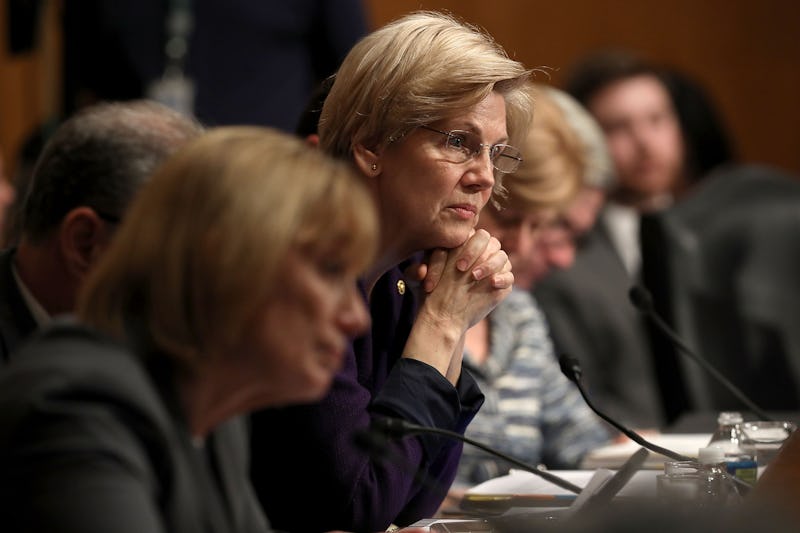 Chip Somodevilla/Getty Images News/Getty Images
Another day of cabinet hearings, another Trump cabinet choice getting picked apart by the Democratic senators on the committee. In a move that was a surprise to exactly zero people, Democratic attack dog Elizabeth Warren grilled Betsy DeVos, Donald Trump's nominee for Secretary of Education, particularly over the issue of college tuition.
While Sen. Warren's positions already made it likely that she would be tough on DeVos, she left no one in doubt on Jan. 9 when she released an open letter laying out the questions that she would expect DeVos to be able to answer. According to a press release sent out by Sen. Warren's office, the senator felt it necessary to send the letter in advance to address "questions about DeVos' experience, positions, and priorities."
Each senator was only given five minutes to question DeVos, a decision that Democrats, including Sen. Warren, strongly objected to. With that rule in place, Sen. Warren was only able to ask a fraction of the questions from the 16-page letter she had sent to DeVos. She chose her words wisely, nailing DeVos directly on her lack of experience both with public education and with government-funded student loans to pay for college.
As DeVos said during the hearing, she had never taken out a student loan, nor had her children. She also had to admit that she had never run a loan program of any kind, much less one that manages $1 trillion.
"So you have no personal experience with college financial aid or management of higher education," Sen. Warren said to sum things up, before moving on to a discussion of how DeVos would deal with fraud and abuse of funds.
As Sen. Warren was rightfully pointing out with her first line of questioning, DeVos has absolutely no personal experience with the predicament that students struggling to pay for college are in. DeVos is a billionaire herself, an attribute she shares with many of Trump's cabinet picks. As numerous Democrats have pointed out, this doesn't exactly put any of them in a position to empathize with the people who they are claiming to represent and fight on behalf of.
It's a particular shame in DeVos' case, because student loan debt is such a huge problem in the country. Right now, about 44 million people are paying back student loans. That's a significant chunk of the American populace who are having to hand over hundreds of dollars every month to pay for the education that they got — an experience that DeVos has never seen first hand herself. Trump promised to surround himself with the best people — and as Sen. Warren helped point out, DeVos is miles away from being the best pick to head up the Department of Education.