This Book Is A Guide To Telling Your Story When You Don't Know Where To Start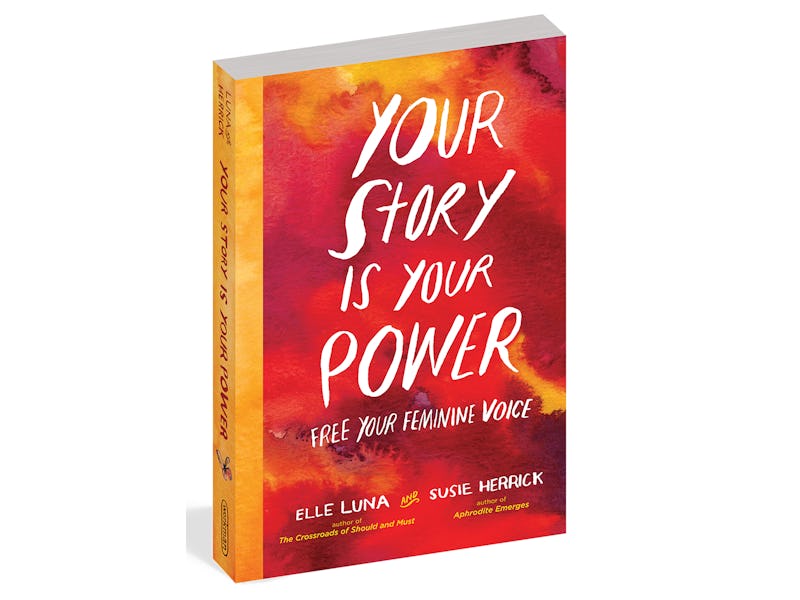 We have spoken a lot in recent years about the power of telling our stories to spark action and change the world. The push for more diverse, Own Voices and feminist books in the publishing industry has definitely reflected this, as readers continue to celebrate, elevate, and fight for stories about people who are still underrepresented and unequal elsewhere. To tell our stories is to gain strength from them — as individuals and as a communities — and it's that which author Elle Luna and psychotherapist Susie Herrick have turned to in their new book Your Story Is Your Power: Free Your Feminine Voice.
Your Story Is Your Power asks readers to harness the power of their own story—and challenges them to use that story to cultivate their own feminine power and move forward both as an individual and as part of a larger empowered female community seeking positive change in the world. The books hopes to demonstrate how women in particular can use psychological exercises to uncover their own history, stories, and motivations — both the positive and the negative — in order to better shape their future, while also confronting the many ways women are kept from our full potential by these cultural messages of what we "should" do, "should" be, "should" say.
It sounds like exactly the sort of exercise we could all use moving forward, as we seek to strengthen our individual resolve to fight for ourselves and for so many others. And when you take a look at the gorgeous cover below, you won't hesitate to add it to your bookish wish list when it hits shelves in March 2018.
Just a cursory look at some of the biggest news stories of the year (from the Harvey Weinstein allegations to the continuing fight against Trump's anti-women administration) are evidence of how valuable, and powerful, it is when women speak up and speak their truths. And Luna and Herrick are building on that here, giving guidance and inspiration to all women who are seeking to uncover their own histories, stories, and motivations—both the positive and the negative—in order to shape a better future for everyone.
And the best part? Your Story Is Your Power is not only useful, it's beautiful, too. Think impeccable hand-lettering and design, with inspirational prose you'll want to turn to day after day. Luna, whom you might know from her viral #100dayproject in which she encouraged people to create something every single day for 100 days, is obviously no stranger to making cool stuff with a message. Just check out these Instagram videos of Luna working on the cover concept for Your Story Is Your Power below.
And here is Luna adding the gorgeous watercolor look we see on the final cover...who knew cover design could be quite so mesmerizing?
Your Story Is Your Power is the perfect combination of heartfelt advice and inspirational creation—which is definitely a message that will resonate with so many women and the vibrant community we are building every day.
Your Story Is Your Power by Elle Luna and Susie Herrick, $18, Amazon