EMILY's List Hopes Women Don't Just March, But Run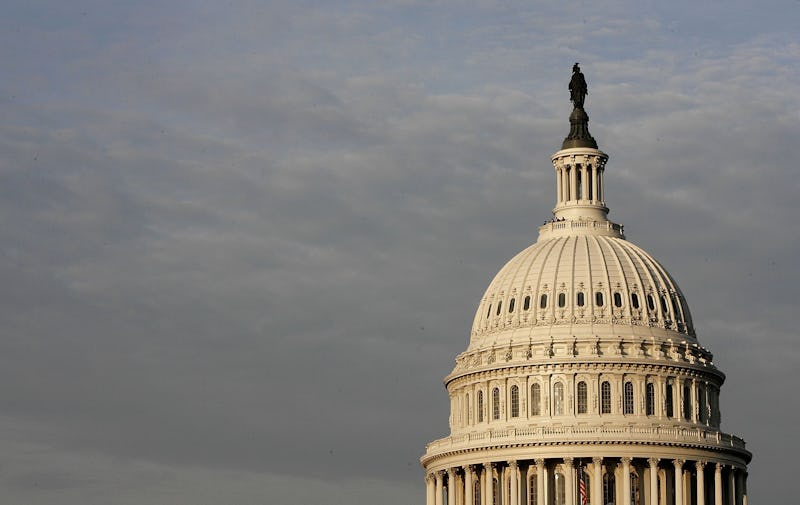 Win McNamee/Getty Images News/Getty Images
Thousands of women are expected to converge on Washington, D.C. the day after President-elect Donald Trump is sworn into office as part of a protest aimed at sending the new administration a bold message about their commitment to protect and advance women's rights. But one official sponsor behind the Women's March on Washington wants women to do more than just march, they want them to run. In an effort to encourage more women to get into politics, EMILY's List will hold a training session for women looking to run for office the day after the Women's March on Washington.
As the largest national resource for Democratic women in politics, EMILY's List helped 12 new women win elections to the House and Senate in 2016. But EMILY's List organizers are hoping the Women's March on Washington inspires a whole new set of female leaders to come forward.
"We are thrilled to partner with national progressive allies to train our future women leaders," EMILY's List President Stephanie Schriock said in a statement. "Women are watching the Trump presidency and Congress, and we're going to be ready from day one to stand up against the GOP's dangerous agenda. That starts with marching and continues with recruiting and electing more Democratic women to offices across the country."
At least 500 women will reportedly be able to attend EMILY's List's "Getting Ready To Run" training session on Jan. 22 in downtown Washington, D.C.; EMILY's List does not specify that training session candidates are required to have a specific career or educational background and interested women are asked to sign up online.
According to Buzzfeed, the "Getting Ready to Run" training session will include advice on when and where women can run for office as well as valuable "how to" lessons on running a successful campaign and networking with supporters, donors, and partner groups. EMILY's List has partnered with the Latino Victory Project, the Gay & Lesbian Victory Institute, the New American Leaders Project, Higher Heights for America, and Emerge America to host and run the training session.
EMILY's List has sought to increase the number of "pro-choice Democratic women" in local, state, and federal government since 1985.
"Local offices are ground zero for legislation aimed at stripping our rights, disenfranchising progressive voters, and ensuring a Republican majority for generations," an announcement of the training session on EMILY's List official website said. "We need women running for every office at every level. We need you talking to your neighbors, organizing your communities, debating your opponents, changing the conversation — and winning."