Emma Cline's Ex-Boyfriend Is Suing Her For Plagiarism & Everything About It Is Infuriating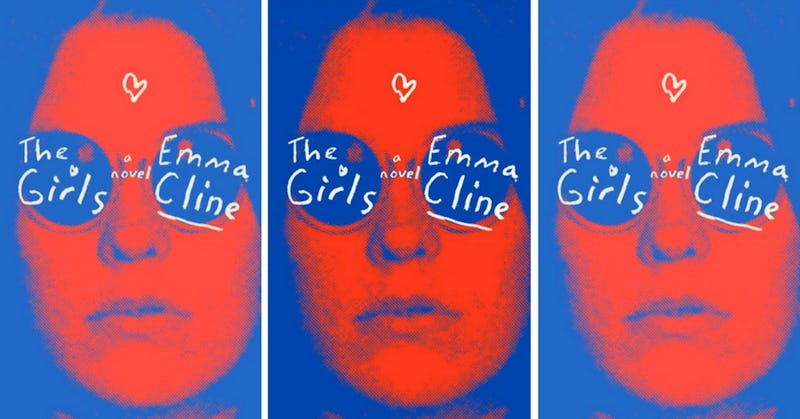 Since its publication in 2016, the global bestseller The Girls has hurtled author Emma Cline into the literary spotlight. This week, though, the critically acclaimed writer, heralded as one of America's best young novelists, is the center of attention for some unsavory reasons: Cline is being accused of plagiarism by her former boyfriend, who claims the author used spyware on a shared computer to steal his writing. In a federal court in San Francisco on Wednesday, both Cline and her ex filed clashing lawsuits that that shined a public light on a years-long private battle over intellectual property, money, abuse, and sex.
In his lawsuit, Cline's former boyfriend Chaz Reetz-Laiolo claims the author stole material from his computer, including unpublished screenplays and email correspondence, and used it in multiple scenes in The Girls. The suit, which was filed by Boies Schiller attorneys on behalf of Reetz-Laiolo and two other women who Cline is accused of spying on, also names Penguin Random House, Cline's publisher, and her literary agent, as defendants and asserts both parties knowingly and willingly published plagiarized material. The attorneys representing Reetz-Laiolo formerly represented accused sexual predator Harvey Weinstein, and have been known to use women's sexual past against them in legal battles.
At the same time Boies Schiller filed their lawsuit against Cline, the author filed a countersuit that asserted the plagiarism accusations are false, and part of Reetz-Laiolo larger "two-year assault on Cline's mental health and literary reputation." The countersuit also clarifies that any purported plagiarism is a result of Cline and Reetz-Laiolo's shared life, past conversations, and previous workshopping the two did together when they were dating in 2009.
The Girls tells the story of Evie Boyd, a lonely teenager in Northern California whose life is irreparably changed when she meets Suzanne, an older girl who draws her into a fictional cult based on the real-life Manson family. Cline's debut was published to instant critical acclaim and spent 12 weeks on the bestseller list. It was named one of the best books of the year by The Washington Post, Entertainment Weekly, Glamour, and NPR, among others, and a The New York Times Book Review Editors' Choice. Producer Scott Rudin even bought the film rights to the novel back in 2014, two years before The Girls was published. Cline's debut novel is rumored to have earned the author over $2 million as part of a three-book deal with Random House.
The Girls by Emma Cline, $15.48, Amazon
News of plagiarism accusations and Reetz-Laiolo's lawsuit, however, reveal that Cline's rise to literary star status has been a rocky one plagued with personal turmoil as well as legal troubles.
In February 2017, Cline was presented with a lengthy letter from Boies's law firm that detailed 15 different accusations, including stealing work from her former boyfriend and spying on him and two other female friends using spyware on a laptop computer she later sold to Reetz-Laiolo. After several months of negotiations between both parties' attorneys, Boies Schiller responded to Cline's attorney's claims of physical abuse and infidelity on the part of Reetz-Laiolo with a drafted complaint they intended to file in court if a settlement couldn't be reached. Included in the document was a section dedicated to Cline's sexual history that included naked photographs, intimate conversations with sexual partners, and private diary entries.
According to Cline's attorneys, Boies Schiller collection of extremely personal and embarrassing sexually explicit information about the author was presented in a package meant to scare the author into settling with their clients. "Legal complaints are public record," explains Carrie Goldberg, one of Cline's attorneys, to The New Yorker, "and, basically, they're saying, 'Hey, if you don't give us what our client wants, we're going to put this very personal information out into the open, and the whole world is going to know the inner workings of your sex life and your sexual history and every proclivity that you have.' "
Boies Schiller and its founder David Boies, whose name appears on the initial letter sent to Cline laying out Reetz-Laiolo's complaint but not on the suit filed this week, have received a lot of attention following their participation in the Harvey Weinstein scandal. Boies, who gained notoriety after representing Vice-President Al Gore in the 2000 Presidential-election vote recount, and for his role in passing constitutional protections for gay and lesbian marriages in the state of California, spent many years in the spotlight as one of the country's most widely admired lawyers in the country. Lately, however, critics, including The New Yorker's Ronan Farrow, have been drawing attention to the questionable methods Boies and his lawfirm use when representing men engaged in legal disputes with women.
According to a detailed article by Farrow, Boies used several different private investigators to dig up dirt on Weinstein accuser and outspoken actress Rose McGowan in an attempt to discredit her and her claim that the Hollywood magnate raped her. Although Boies has since apologized for his controversial actions and cut ties to Weinstein, news of his involvement in the lawsuit against Cline and the details of his firm's tactics indicate that Boies is still trying to leverage women's sexual histories against them in attempt to get a win for his male clients.
The lawsuit filed this week by Boies Schiller did not include the intimate sexual information about Cline the original draft did, but it did accuse the author of "systematically surveil[ing the plaintiff's] private email obsessively over a period of years," as well as plagiarising Reetz-Laiolo work.
The countersuit filed simultaneously by Cline's attorneys on Wednesday assert that Reetz-Laiolo's baseless claims are a mere attempt to intimidate the author into giving him money. It seeks to"put a stop to an escalating campaign by her abusive ex-boyfriend to extract millions of dollars by intimidation and threat, all under the auspices of frivolous claims of copyright infringement, a long-stale complaint that Cline 'invaded' his privacy, and a ludicrous theory that she hacked into and stole unpublished written work from his computer." Cline's suit requests a declaration that no copyright infringement took place, and seeks damages of at least $75,000.
In an email to Sheelah Kolhatkar of The New Yorker, Cline expressed the emotional and professional distress the plagiarism claims and associated lawsuit has caused her. "I never, in any scenario, could have imagined publishing a novel would have resulted in a bunch of lawyers combing through records of my porn habits, or choosing which naked photo of me to include in a legal document," Cline said. "Whatever independence I gained, as a writer and as a person, felt meaningless in the face of this kind of onslaught."