Eric & Lara Trump Revealed They're Expecting Their Second Child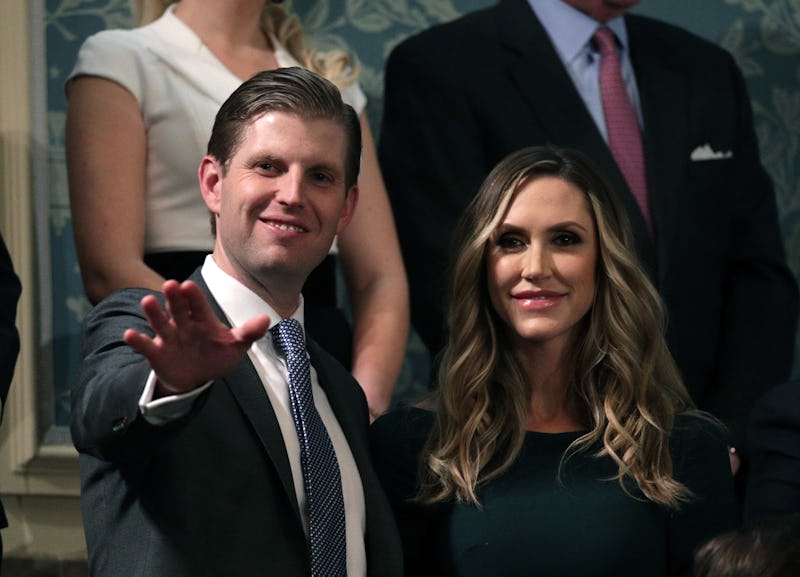 Alex Wong/Getty Images News/Getty Images
On Wednesday, two of the Trumps took a break from politics to announce some personal news: a new baby will be joining the extended first family. Eric and Lara Trump are expecting their second child, which they each revealed in separate tweets and Instagram posts.
"Lara and I are excited to announce that we will be adding another member to our family in August!" Eric wrote on both Twitter and Instagram. "Luke will be a great big brother!" The couple has a 1-year-old named Eric Trump, but they call him Luke.
Lara also posted the news to her social media accounts. "Baby number two coming this August!!" Lara wrote with a baby emoji on Twitter. "All of the boys are excited to become big brothers!!" she continued, adding another baby and two puppy emojis in reference to the family's two dogs, which were also in the multiple announcement pictures. On Instagram, Lara also wrote, "We're all very excited to add one more to our family!"
Though the new addition will be Eric and Lara's second child, for President Trump it will mean 10 grandchildren in total. Don Jr. and his ex-wife Vanessa have five children, while Ivanka and Jared Kushner have three.
President Trump hadn't commented publicly on the news as of Wednesday afternoon, but in the past, he hasn't sounded too excited about being a grandfather.
"I guess I'm getting a little bit older but it's a wonderful thing," Trump said on Fox & Friends in 2013, when he only had five grandkids. "The psychology of a grandfather tends to bother me a little bit because it tends to represents lots of good things but one not-so-good thing. But that's OK. We're very happy about it."
Lots of others were happy for the couple, though. On social media, the well wishes were quick to roll in — and it was a bit of a who's who of the Trump administration. "So excited for you both as your sweet family grows!" wrote Ivanka on Instagram in response to Lara's post. In addition to being family — she'll be an aunt for the seventh time — she's an adviser to the president.
White House staff chimed in, though. "Congratulations!!" wrote Press Secretary Sarah Huckabee Sanders on Lara's Instagram post. "So excited for your family!"
Even a former ambassador joined in on the celebration. "Congratulations on the new sweet addition to the family!" Nikki Haley, who represented the U.S. at the United Nations for the Trump administration until October, wrote with celebratory emojis, including a heart in pink and another in blue.
Congratulations from the public came both via Instagram and Twitter, where the messages seemed never-ending. Lara's Twitter post had hundreds of comments, most of them some form of congratulations.
Eric Trump's Twitter post had far more responses, but many were sarcastic commentaries quoting some of President Trump's recent quotes. A good portion were a take on "we're full" following the president's assertion — challenged by many — that there is no room for more migrants and refugees in the United States.
The break from politics didn't last long, however. About three hours after posting the pregnancy announcement, Lara retweeted a post from President Trump's campaign manager talking about a possible investigation of Mueller's probe into the 2016 Trump campaign. It was quickly back to business as usual.