Twitter Is Blasting Eric Trump's Latest On-Air Comment As Anti-Semitic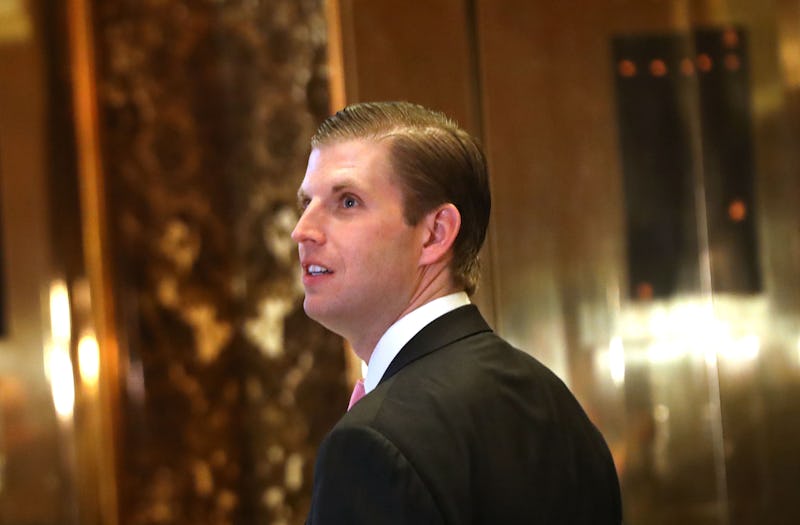 Spencer Platt/Getty Images News/Getty Images
On Wednesday, first family member Eric Trump was accused of using anti-Semitic language while criticizing Bob Woodward's new book Fear: Trump In The White House. Calling the book "nonsense," Eric said that Woodward was just trying to "make three extra shekels" by allegedly fabricating stories about his father's administration.
"You can write some sensational, nonsense book [and] CNN will definitely have you on there, because they love to trash the president," Eric said on Fox & Friends. "It'll mean you sell three extra books, you make three extra shekels."
Shekels are the ancient and national currency in Israel. Keegan Hankes, senior research analyst at the Southern Poverty Law Center's Intelligence Project, told Huffington Post that the term is often used by white supremacists to reinforce the longstanding anti-Semitic stereotypes — namely, that Jews are greedy money-grubbers who control the world economy. The Daily Stormer, one of the largest neo-Nazi websites on the Internet, has the phrase "shekels plz goyim" printed above its fundraising section.
"Shekels is a derogatory term used by white supremacists that ties into the myth that Jewish people only care about money," Hankes said, adding that it's "used constantly by the extreme right and particularly neo-Nazis." He said that Eric's use of the term "certainly seems like a dog whistle" to the president's neo-Nazi and white supremacist supporters.
Bustle has reached out to the Trump Organization, of which Eric is an executive vise president, for comment on his remarks. On Twitter, however, Eric was thoroughly scolded for his use of the term.
"Just in time for Rosh Hashanah comes more Trump family Anti-Semitism," radio host and columnist Dean Obeidallah wrote in a tweet linking to the video.
"Eric Trump saying Woodward wrote his book to make 'three extra shekels' is incredibly anti-semitic & intentional," wrote Kaivan Shroff, a former staffer on Hillary Clinton's presidential campaign. "There's no reason to refer to an Israeli money unit other than to resort to hate-mongering stereotypes of a 'greedy Jewish media.' Red meat for the deplorable base.
Not everyone took issue with the comment, however. Eric's remarks were celebrated over at /pol/, the 4chan message board that's popular among neo-Nazis, white nationalists, Donald Trump supporters and various other alt-right trolls.
This isn't the first time member of the Trump family has been accused of blowing an anti-Semitic dog whistle. During the campaign, Donald tweeted a picture of Clinton with with a Star of David superimposed in front of her and a pile of money in the background. Inside the star were the words "Most Corrupt Candidate Ever!"
It was later reported that the image had been posted 10 days earlier on a white supremacist message board. The Trump campaign denied that the picture was anti-Semitic, but didn't explain where Donald found the image.
Later in the campaign, Donald released a campaign ad that many accused of having anti-Semitic undertones. The commercial features him condemning "global special interests" and people who "don't have your good in mind" while images of prominent Jews in the banking world are displayed on screen.
More generally, Donald has repeatedly and regularly refused to condemn anti-Semitism in general and the white supremacists who support him in specific. When asked a month into his presidency about the rise in anti-Semitic hate crimes since he launched his campaign, Donald responded by incorrectly stating the number of electoral votes that he won and claiming that he has "many friends" who are Jewish. When asked to speak to supporters of his who sent anti-Semitic hate mail to a Jewish reporter, he replied that he "doesn't have a message" for his fans and criticized the reporter in question.