Here's What Type Of Manicure Meghan Markle Will Probably Have On Her Wedding Day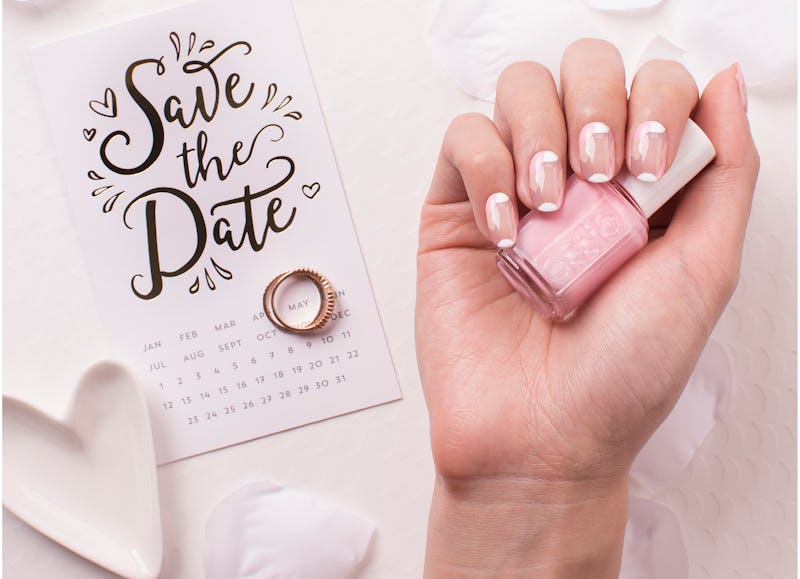 Essie
May 19 is only a couple weeks away, and as a result, royal wedding fever continues to get hotter and hotter. It seems like everyone is trying to predict how Meghan Markle will look on her wedding day, from what gown(s) and shoes she'll be wearing to how she'll do her makeup. Experts are even chiming in on how Markle will paint her nails, which is actually a very important part of every bride's look, even though it is the most subtle. There will be plenty of close-up shots of the bride and groom's hands with their new wedding rings, after all, so deciding on a nail look is rather important — especially if you are about to become a royal highness.
"A bridal manicure fit for a princess could go in a few different directions. I predict she will keep it simple and modern with a classic sheer pink such as 'ballet slippers' or 'mademoiselle,'" celebrity manicurist Michelle Saunders predicts in an interview with Bustle. (Fun fact: Ballet Slippers is the only nail polish Queen Elizabeth wears!) However, with all of her rule-breaking ways, Saunders says she wouldn't be surprised if Meghan Markle decided to stray from the traditional one-color manicure and surprise us all with some fun and elegant nail art.
Saunders worked with Essie to create exclusive nail art inspired by the upcoming royal wedding using 10 existing shades, including "blanc," "much-muchi," "lady like," and "topless & barefoot," all of which were hand-picked to highlight iconic favorites of both the royals and everyday brides. (Each polish is $9 and sold separately, though you can purchase them all here.) All of the nail polish colors fall in line with the rather strict royal dress code, which prohibits any bold or bright nail polish hues to be worn at official royal events. While Kate Middleton did wear a sheer nail polish on her wedding day, according to Marie Claire, the Duchess is rarely ever seen wearing nail polish out in public ever. But as we all have learned, Meghan Markle isn't afraid of being untraditional and bending the rules a bit. Could she wear a more daring nail polish look on May 19? Or even spice it up with a design, as Saunders hopes? Although Markle did keep it pretty safe for her engagement announcement, she has been seen wearing bright nail polish colors in the past (especially for a red carpet event).
To accompany the bundle launch, Saunders created an easy scalloped outlined manicure "to mimic the neckline of a wedding dress" that she thinks would look incredible on Markle.
But you don't have to be an heiress to the throne to "nail" this look. Here's exactly how you can recreate this Royal Wedding-inspired manicure at home.
Step 1
First, start with clean nails. Then, paint all 10 nails with your favorite base coat such as "first base" (if you want a clear base) or "mademoiselle" (if you want a sheer pink base).
Step 2
Next, use a white nail polish, like "blanc" near the cuticle and the tip to create small moon-shaped scallops.
Step 3
Follow the same moon-shaped scallop pattern by alternating different shades of pink and nudes, like "muchi muchi," "topless," "topless & barefoot," and "lady like."
Step 4
To complete the look, create a scallop at the top of your nail perimeter in white to match the first scallop you created at your cuticle. Seal all of your nail art in with a clear, shiny top coat. If Meghan Markle doesn't end up wearing this at the Royal Wedding, we hope someone who attends does!