Over A Million People Have Been Ordered To Leave Their Homes For Hurricane Florence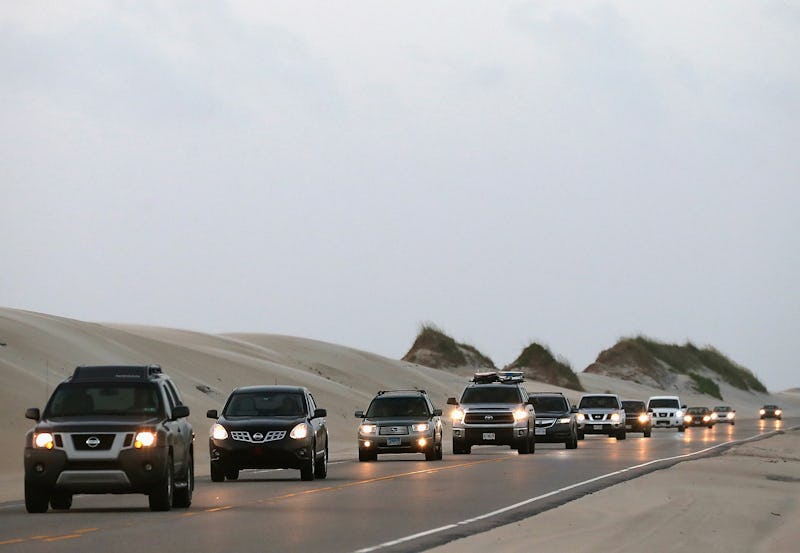 Mark Wilson/Getty Images News/Getty Images
If you live along the Carolina coastline, the authorities really don't want you to stay there at the moment. Currently, mandatory evacuation orders because of Hurricane Florence are in effect for most of the South Carolina coast, all of North Carolina's coastline, and even part of southern Virginia. In total, the people ordered to evacuate their homes number well over one million.
The storm is expected to make landfall late Thursday night or early Friday morning, according to ABC News, but the Carolinas could already start seeing the storm surge — that is, rising seawater on the coast as the hurricane approaches — on Tuesday and Wednesday. The National Hurricane Center's Tuesday morning notes on Hurricane Florence really communicate the gravity of the situation facing Carolina and Virginia residents. The NHC warns of a "life-threatening storm surge" for the area, in addition to "life-threatening freshwater flooding," which it warns could even extend inland for hundreds of miles as a result of heavy rainfall.
"There could be devastating floods well in from the coast back in the hills and mountains of North Carolina, Virginia and West Virginia," said Joel N. Myers, president and founder of AccuWeather. According to his organization, almost the entirety of North Carolina is at risk for "catastrophic" flooding, along with significant areas of both South Carolina and Virginia.
AccuWeather also warns of the unprecedented nature of this storm.
"There's never been a storm like Florence. It was located father north in the Atlantic than any other storm to ever hit the Carolinas, so what we're forecasting is unprecedented," said Marshall Moss, AccuWeather's Vice President of Forecasting and Graphics Operations. "Also, most storms coming into the Carolinas tend to move northward, and this storm looks like it's going to stall over the region and potentially bring tremendous, life-threatening flooding."
In order to keep as many citizens safe as possible, the governors in Virginia and the Carolinas aren't taking any chances with the evacuation orders. In South Carolina, the mandatory evacuation orders for numerous counties in the state are in effect as of Tuesday at noon, giving people plenty of time to get out. North Carolina Gov. Roy Cooper issued mandatory evacuation orders beginning as early as Monday afternoon, according to ABC 13 News.
"We face three critical threats from Florence: ocean surge along our coast, strong winds, and inland flooding from heavy rain," Gov. Cooper said in a statement. "Wherever you live in North Carolina, you need to get ready for this storm now and you need to evacuate if asked to."
People sometimes don't follow mandatory evacuation orders, as USA Today wrote, and there are several reasons for that. Some would struggle financially to do so, others don't want to leave their homes or pets behind, and some simply don't believe the warning, USA Today explained. In most cases, there's no punishment for people who disobey a mandatory evacuation order, making it essentially unenforceable — but USA Today reported that in North Carolina, those who disobey mandatory orders could be subject to fines and misdemeanor charges. According to the News & Observer, not all of the North Carolina counties urged to evacuate are under mandatory orders — but certain residents and visitors could face punishment if they decide not to leave the beach.