Pence Once Called Trump's Ban "Unconstitutional"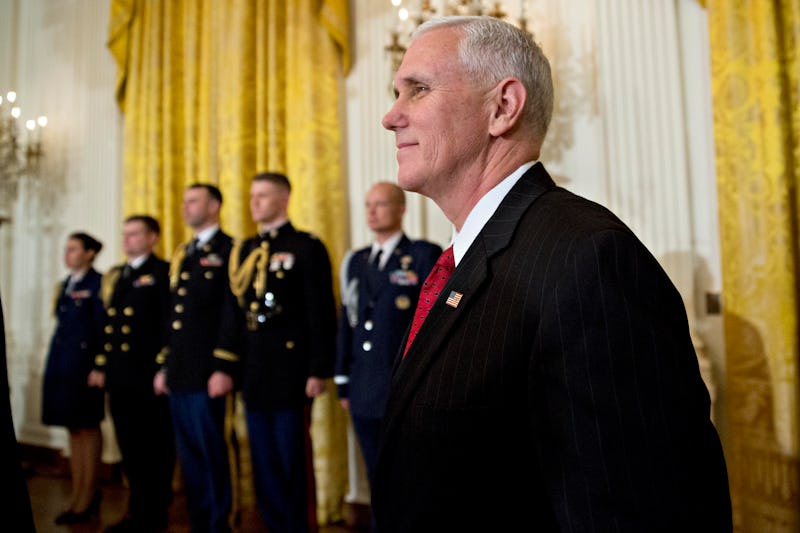 Pool/Getty Images News/Getty Images
As he does, President Trump stirred up a new batch of controversy on Friday when he announced an executive order intended to curb the influx of immigrants and refugees from certain countries. In response, Americans have challenged Trump in court, gathered in protest, and otherwise spoken out against the new policy over the weekend. And wouldn't you know it, even Vice President Mike Pence once called Trump's immigration ban unconstitutional.
The executive order, as signed by Trump on Friday, temporarily bans individuals from seven countries from entering the United States, whether for immigration or non-immigration purposes. In other words, for 90 days from Friday, people from Libya, Iran, Iraq, Somalia, Syria, Sudan, and Yemen cannot enter the U.S., unless they have a special visa, as noted the executive order. The order also limits the number of refugees allowed to enter the U.S. this year to 50,000, and it places new regulations on the visa process. For instance, the order requires that all people applying for a non-immigrant visa undergo an in-person interview.
All in all, the executive order is likely to make it much more difficult — if not impossible — for many refugees to enter the country legally. Although it doesn't specifically ban Muslims, the law is seen as Trump's fulfillment of his campaign promise to ban Muslims from entering the country. That's a move that his vice president may take issue with.
In late 2015, Pence sent out a tweet from his gubernatorial Twitter account, saying, "Calls to ban Muslims from entering the U.S. are offensive and unconstitutional." The tweet was published on Dec. 8, 2015 — a day after then-candidate Trump called for his infamous Muslim ban. You likely remember the statement from Trump's campaign — it read:
Donald J. Trump is calling for a total and complete shutdown of Muslims entering the United States until our country's representatives can figure out what is going on.
It's important to note, once again, that now-President Trump's executive order does not exclusively target Muslims. However, the countries subject to Trump's travel and immigration ban all have Muslim majorities in their populations. Whatever the language, the executive order may target those refugees who need asylum most at this time, as it temporarily bans people from Syria, where millions of asylum-seekers are still waiting for refuge.
As of Sunday, Pence hadn't publicly commented on the executive order signed by his boss. He was present when Trump made the announcement, which likely symbolizes his support for the measure. But his 2015 words could still suggest an ideological division in the White House.