Every 2020 Candidate's Gun Control Stance, In One Big List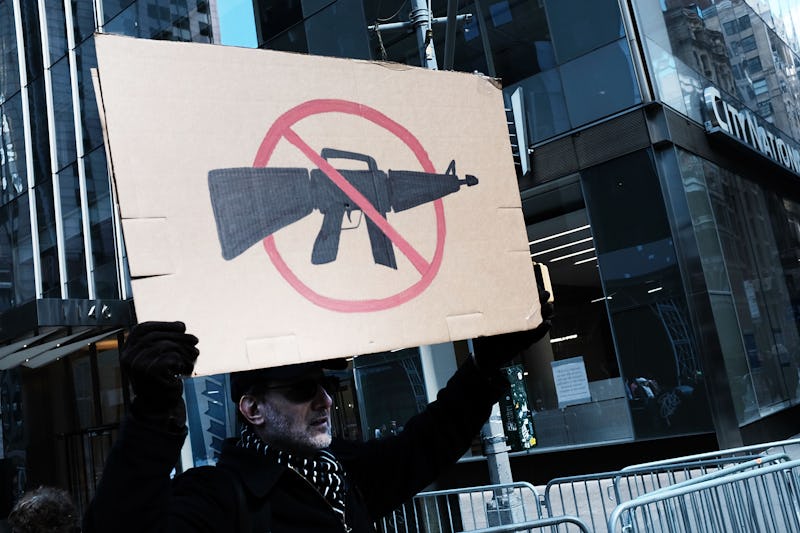 Spencer Platt/Getty Images News/Getty Images
The mass shooting in Virginia Beach that left 12 victims dead at the beginning of June began another wave of tweets and statements from politicians denouncing the status quo and calling for stricter gun laws. But, like after most such shootings, the laws in the country have not moved an inch. Most of the people running for president promise they would change that, and many have their own plan to combat gun violence in America. Here's where every 2020 candidate stands on gun control.
The status quo — at least for the Democrats — may be two bills that the House passed in February. Neither have much chance of being picked up by the Republican-controlled Senate or being signed by President Trump. But it does show where the Democratic party largely is on gun policy.
The first bill, the Bipartisan Background Checks Act of 2019, which was supported by a handful of Republicans, too, would expand background checks to every sale in the United States — even those sold privately online or at gun shows. Another bill passed by the House in quick succession would extend the waiting period for federal background checks when buying a gun to 10 days.
The policies proposed by the candidates for the Democratic nomination largely fall in line and build off these policies. Some even go much further, suggesting innovative ways to keep guns out of the wrong hands and to prevent further mass shootings and gun violence in the country. Here's what every 2020 candidate has to say.