Ranking All 23 Songs From The 'Jonas' TV Show, From Most Forgettable To Totally Infectious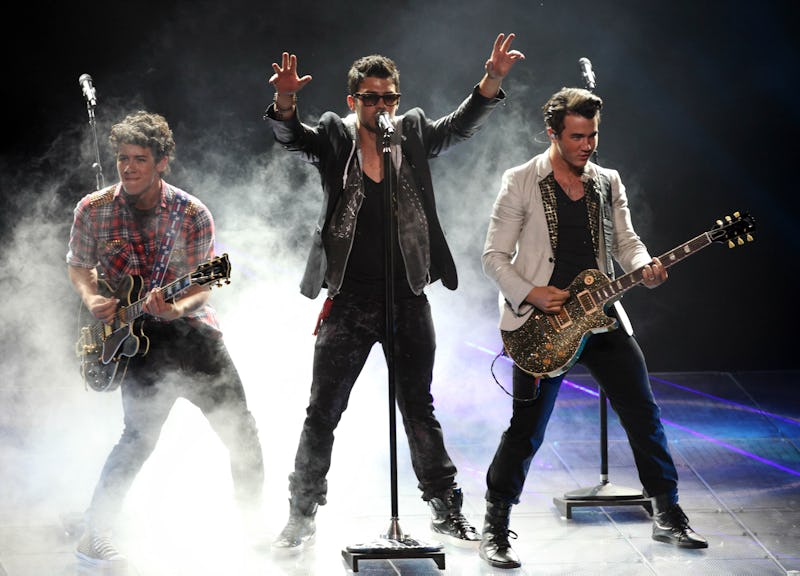 Tasos Katopodis/Getty Images Entertainment/Getty Images
We're living in the era of the Jonas Brothers 2.0. Since the band announced their reunion in February, they've released two new singles, "Sucker" and "Cool" — the first music they've made together in six years. So while fans are celebrating the second coming of the former Disney darlings (Pastel suits! More explicitly sexy lyrics! Sophie Turner sipping champagne in a bathtub!), we're also looking back to their previous time in the spotlight. And that includes the Disney Channel original series Jonas, which premiered 10 (!) years ago, in May 2009, and starred Kevin, Joe, and Nick as... themselves? Sort of?
In the show's first season, the boys played a successful band who still, for some reason (probably the cute, preppy uniforms), attended high school — sort of Hannah Montana-ish, except everyone there knew who they are. Yet when the show came back for Season 2, the concept had changed completely. Now called Jonas L.A., the band ditched school and moved to Los Angeles, along with their friend/stylist Stella (Chelsea Kane) and friend/superfan Macy (Nicole Anderson).
What stayed consistent across the show's short life were the original songs featured in every episode. Because why give a bunch of pop stars a series if they're not going to sing? Sure, Jonas won't go down in history as the best Disney sitcom of all time, but it did expand the band's discography and birthed some legitimate bops. In honor of the anniversary, I've ranked all the songs performed on the show, (minus the covers), from "most forgettable" to "most likely to stick in your head until you finally get to see the Jonas Brothers in concert again."