Every 'Zoey's Extraordinary Playlist' Cover Song So Far — Ranked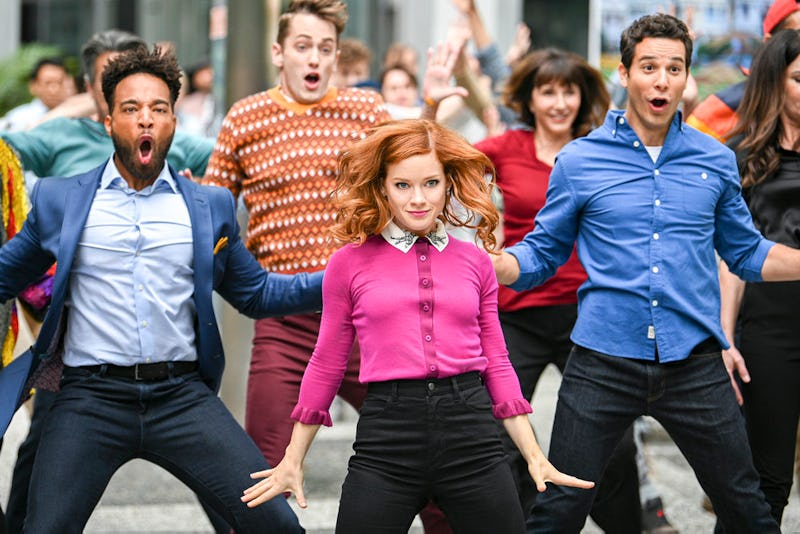 Sergei Bachlakov/NBC
If you're still waiting for the inevitable Glee reboot that's surely coming to FOX any day now… well, you'll have to wait a bit longer. But in the meantime, you can enjoy the songs on Zoey's Extraordinary Playlist, NBC's new musical series. Former Suburgatory star Jane Levy stars in this quirky, colorful show as the titular Zoey, whose world is consumed by song and dance numbers not because of her participation in an underdog show choir, but because of a mysterious mishap with an MRI machine.
Yes, really. After a series of headaches make Zoey worry that she's suffering from the same degenerative brain condition as her father, she goes into the hospital to have her head checked. Right as the machine starts whirring and the technician starts blasting some tunes, San Francisco is hit by a small earthquake. The music jumbles, Zoey's scan flares, and suddenly, she can hear everyone's innermost thoughts communicated to her through elaborately choreographed flash mobs and emotional power ballads.
This development proves to be simultaneously alarming, embarrassing, and (surprisingly) healing for Zoey, as her newfound gift both allows her to be ambushed by strangers' feelings and have heart-to-hearts with those closest to her — through the iconic lyrics of artists like Salt-n-Pepa, natch.
Here's every song covered on Zoey's Extraordinary Playlist so far, from Céline to Cyndi:
This article was originally published on