How To Get Involved With 2020's Biggest Gender Equality March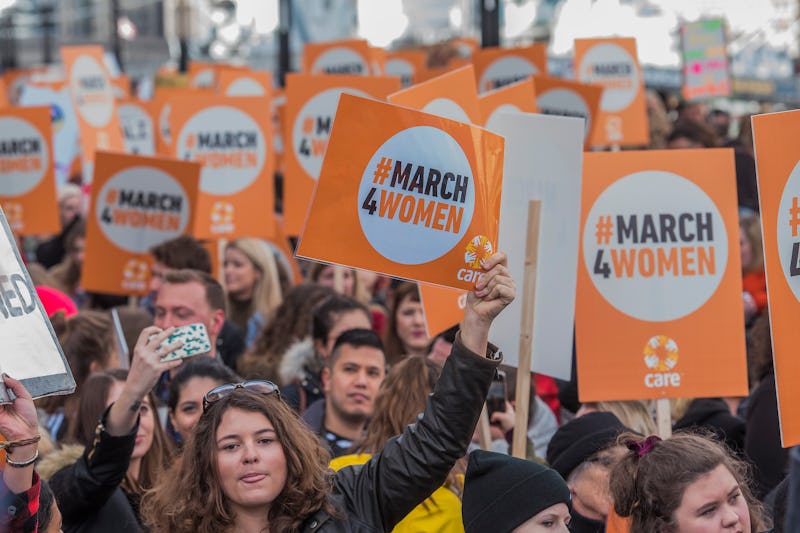 Guy Bell/CARE
For almost a decade, #March4Women has taken over a corner of the English capital, calling on world leaders to make gender equality happen. Organised by charity CARE International, this year's march combines gender justice with climate justice (and is aptly taking place on International Women's Day). With celebrity guests, well-known activists, and an indoor rally, London's #March4Women 2020 couldn't be a better place to make yourself heard. Here's everything you need to know about getting involved.
When is #March4Women 2020?
Held on Sunday, March 8, the #March4Women 2020 will start at London's Southbank Centre. From 12 p.m., the indoor event — located in the Royal Festival Hall — will be hosted by BBC presenter Emma Barnett. Tickets cost £5.
Expect musical performances from the likes of Emeli Sandé and Raye, and empowering talks from activists like Helen Pankhurst, Bianca Jagger, and climate scientist Dr. Tamsin Edwards. A bunch of other famous faces are also scheduled to attend, including Game of Thrones' Natalie Dormer, Love Island's Camilla Thurlow, and Yesterday's Himesh Patel.
Where will the crowd march?
As soon as the rally's done, the crowd will be led over the river to Whitehall Place to start the 1:30 p.m. march. If you just want to join the march, this is your time to appear. (The sign-up sheet is here.)
A final closing rally will be held at the end of the march, in Parliament Square from 2:15 p.m. Again, there'll be a host — Sandi Toksvig — and more performances. Speakers will include Mayor of London, Sadiq Khan, actor George Mackay, and teen climate activist Scarlett Westbrook.
What is the march fighting for?
"This year's march and rally will call for action on the double injustice of climate change and gender inequality," CARE's head of advocacy and policy, Katherine Nightingale, said in a statement. "Around the world, the burden of dealing with the impact of the climate catastrophe falls hardest on women and girls, as carers less able to run from floods or fires, living in the most at-risk environments, given the worst areas to farm and the most informal and volatile jobs on the outskirts of the economy.
"Women and girls in emergencies are less likely to stay in school, get educated, and more likely to be married earlier," Nightingale continued. "And yet where they are speaking out, women and girls are also the ones calling out injustices that have led us to this crisis point, and they are playing a critical role in building the resilience needed to respond." 
The 2020 #March4Women has four main demands:
Shift to net zero emissions as soon as rapidly as required.
Set "new and ambitious" national plans to respond to the climate crisis by Sep. 2020 with a focus on gender justice.
Boost funding for climate measures around the world that help all poor and vulnerable people, including women and girls.
Give specific funding to women's groups and local female leaders who are already dealing with the effects of climate change.
Similar events are taking place in around 50 countries across the globe. So if you're able to join the London locale, set your alarm for March 8.
This article was originally published on