Fashion Designer Marc Jacobs Proposed To His Boyfriend Via A Flashmob At Chipotle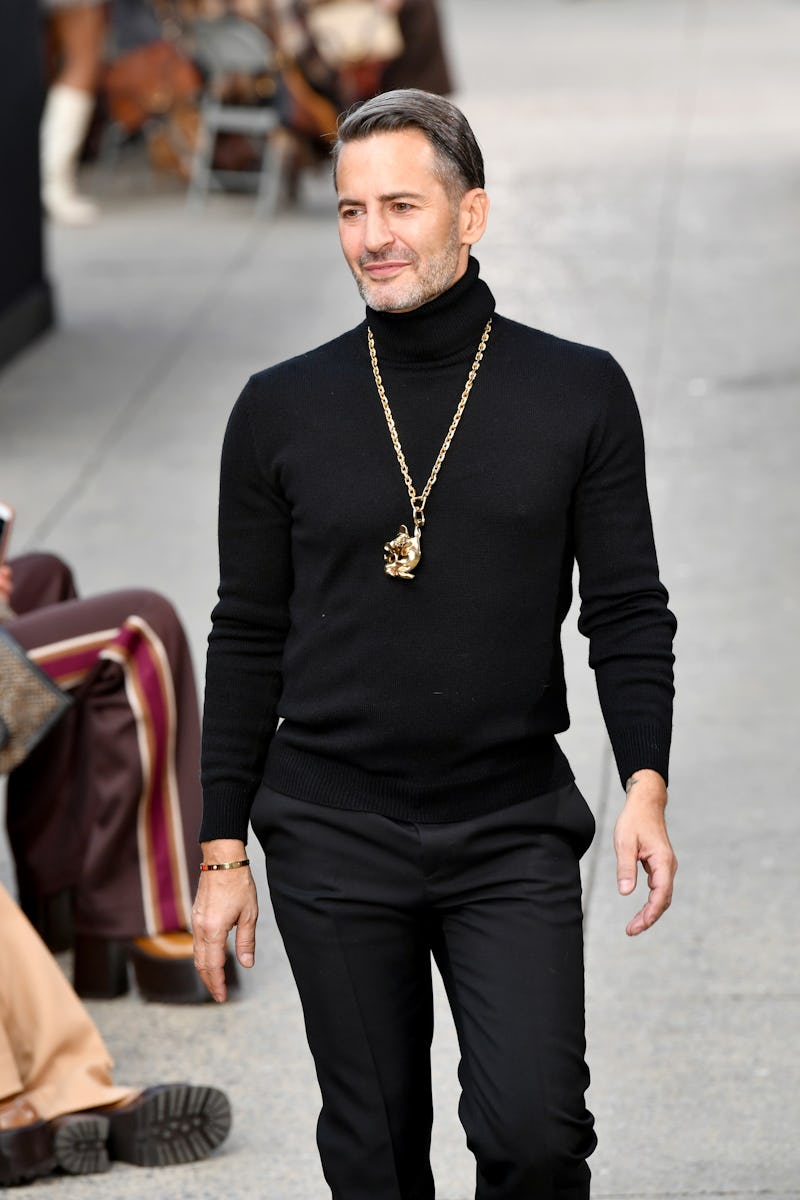 Slaven Vlasic/Getty Images Entertainment/Getty Images
Marc Jacobs isn't just a recognizable name in the fashion industry (though he is arguably one of the most recognizable). He's also made a name for himself in the beauty space. Now, though, he's making headlines for something totally different. On Wednesday, Marc Jacobs proposed via a flashmob at Chipotle, and it's honestly one of the greatest things ever.
In a video posted to his personal Instagram account, Jacobs revealed that not only did he propose (which is a total swoon fest in general because love is great), but he did so at everyone's favorite place to get a burrito: Chipotle. If that weren't enough to be like, "Yeah, this is definitely my brand, too, Marc," the designer took it one step further and added a flash mob dancing to Prince's "Kiss." It's basically the dream come true that you never knew you needed to see come true.
Of course, Jacobs' boyfriend, Charly Defrancesco, said yes. After a flash mob and may some guacamole (hopefully purchased by Defrancesco's now fiancé Jacobs because guac is extra, y'all) who wouldn't be smitten enough to head off on the journey to marriage?
Honestly, the video of the flashmob is kind of a marvel. Who wouldn't say yes?
Of course, with a name as well known as Jacobs', Twitter quickly latched onto to the story, and the reactions were a mixed bag of joyful celebrations of romance, a little bit of light shade, and admiration for Jacobs' decision to propose in such a way.
Of course, Chipotle had to congratulate the happy couple. Someone should suggest a lifetime supply of burritos and free guacamole as a wedding present, right?
Of course, they did offer to cater the wedding which is pretty good as well. Plus, think about how happy the wedding guests will be to not have to eat rubbery chicken and cold green beans.
After all, Twitter users are now associating Chipotle with romance, and while someone buying you extra guac is pretty clutch, the burrito giant doesn't exactly scream candlelit and roses.
Jacobs and Defrancesco are redefining romance.
Some were in straight up tears over the adorable flashmob proposal.
If you're not a fan of viral sensation proposals, you may want to check this one out. Even the most skeptical of internet users seem to be smitten with this look at a real life romantic moment (even if it does take place at Chipotle).
Despite being a multi-millionaire with an ultra successful fashion and beauty brand, Jacobs basically just made himself the most relatable man in the world. Really, who doesn't love Chipotle?
Some people are actually craving chipotle now. Steak burrito, anyone?
While engagements are great, some really just want to propose to Chipotle itself. A marriage that gets your free burrito bowls for life sounds kind of great, right?
Of course, it's hard to deny the perfect time. Today, Apr. 5 is National Burrito Day, and a Chipotle proposal the evening before just seems like some sort of fantastic serendipity.
What's more likely than a proposal for National Burrito Day? A birthday proposal. According to Jacobs' Instagram account, he just celebrated Defrancesco's birthday a day ago. That seems like far more than coincidence.
Whether you love Chipotle or hate it, it's hard to deny that the planning it takes to stage a flashmob and proposal inside what seems to be a rather small building is pretty romantic. Now, it's just time for everyone to wait and see what these grooms wear and whether or not Chipotle actually does cater the wedding (or at least the rehearsal dinner).