Judge Orders Iranian Resident Be Let Back In US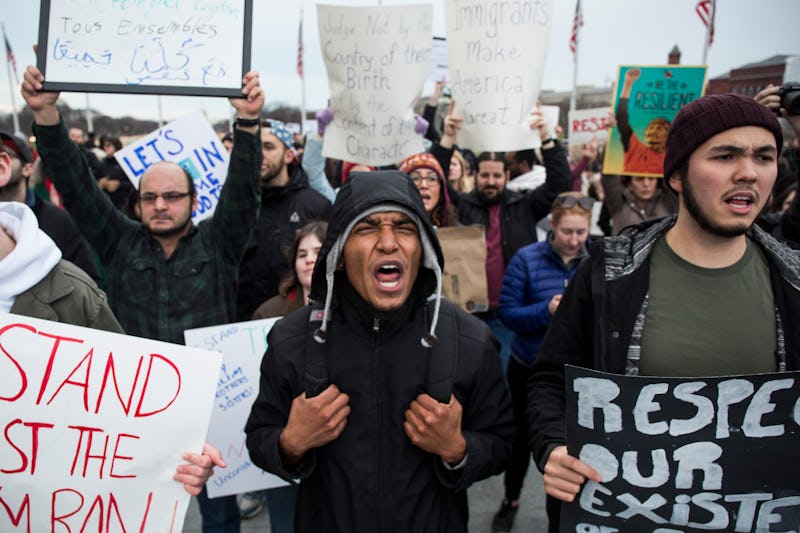 Zach Gibson/Getty Images News/Getty Images
A federal judge has ordered that an Iranian resident of the U.S who was sent back yesterday under President Trump's Muslim ban be allowed to reenter America, several journalists reported Sunday. Iranian citizen and U.S. visa holder Ali Vayeghan was denied entry to the country after landing at Los Angeles International Airport, and flown to Dubai on Saturday for transfer to Iran. But on Sunday, U.S. District Court Judge Dolly Gee ordered that Vayeghan be allowed to return to the U.S., according to court documents.
Vayeghan's niece Marjan told the Los Angeles Times that her uncle arrived in the U.S. on Friday night to join his wife and son, who'd already moved to the country and are living in Indiana. But he was detained at customs, and although the ACLU eventually secured a court ruling that would have prevented his deportation, that paperwork didn't arrive at the airport until 45 minutes after he'd been sent to Dubai.
On Sunday afternoon, Gee issued a ruling ordering that Vayeghan be allowed to return to the U.S. — but by that point, he was already on a plane headed to Tehran. As of this writing, his fate is uncertain.
"He's literally crying in the airport in Dubai asking them to send him to any country other than Iran," Marjan told the Times before her uncle was deported back to Iran.
This was only the latest legal setback to Trump's immigration actions — or, to put it differently, this was at least the third federal judge in 24 hours to declare that the Trump administration acted illegally when it unilaterally banned all passport holders from seven majority-Muslim countries from entering the country.
On Saturday evening, U.S. District Judge Ann Donnelly issued an emergency stay against the bulk of Trump's executive order; the same night, Judge Leonie Brinkema of Federal District Court in Alexandria, Virginia ordered the government to allow detained travelers access to attorneys. However, border patrol agents at Dulles International Airport have defied Brinkema's court order, a clear violation of the law that has arguably resulted in a Constitutional crisis.
The Trump administration's travel ban — which it enacted without consulting the Justice Department's Office of Legal Counsel, a highly unusual move — have resulted in protests at airports around the country. After these demonstrations were hitting their apex on Saturday, Trump told the White House press pool that the travel ban was "working out very nicely."