Felicity Huffman & 12 Other Parents Will Plead Guilty In The College Admissions Scam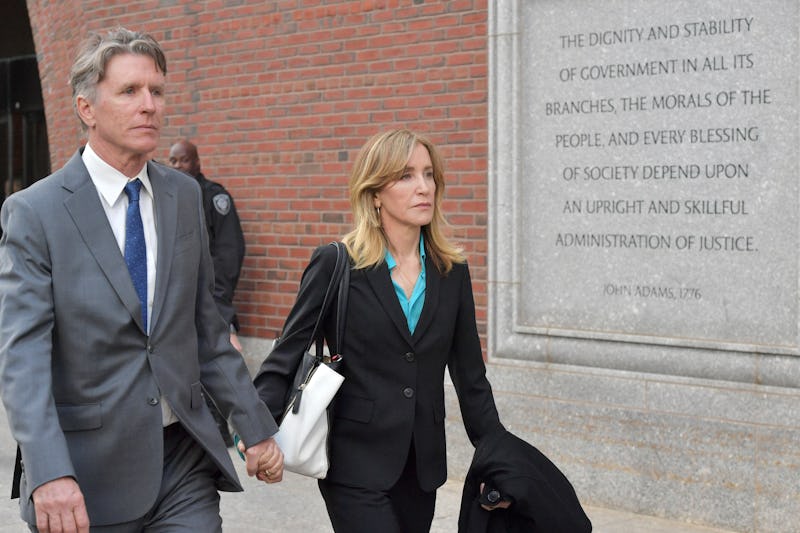 Paul Marotta/Getty Images Entertainment/Getty Images
On Monday, ABC News reported that more than a dozen defendants, including actress Felicity Huffman, will plead guilty in the college admissions scandal. Thirteen parents and one coach will plead guilty in total, including "to charges of mail fraud and honest services mail fraud," per the Massachusetts Department of Justice (DOJ).
"I am in full acceptance of my guilt, and with deep regret and shame over what I have done, I accept full responsibility for my actions and will accept the consequences that stem from those actions," Huffman said in a statement shared by ABC News. "I am ashamed of the pain I have caused my daughter, my family, my friends, my colleagues, and the educational community."
Per the Massachusetts DOJ, conspiracy to commit mail fraud and honest services mail fraud carries a maximum sentence of 20 years in prison, and can also include three years of "supervised release," as well as hefty fines. It's too early to know what sentence Huffman and the other defendants who plan to plead guilty might receive.
The Massachusetts DOJ also published a copy of the affidavit detailing how Huffman coordinated plans with William "Rick" Singer, the college admissions counselor who has been characterized by most reports as the mastermind behind the scandal. (Singer pleaded guilty to money laundering, racketeering, obstruction of justice, and tax evasion on March 12, per The Boston Herald.)
According to the affidavit, Huffman and Singer planned to have Huffman's eldest daughter take the SAT with a proctor who then corrected her answers when the test was over. According to Huffman, her daughter didn't know what was going on behind the scenes.
"My daughter knew absolutely nothing about my actions, and in my misguided and profoundly wrong way, I have betrayed her," Huffman said in her Monday statement. "This transgression toward her and the public I will carry for the rest of my life."
Per the affidavit, Huffman paid $15,000 to Singer in order to participate in the test aspect of the scam. The affidavit includes clips of emails between Huffman and Singer.
In her statement, Huffman said she wanted to apologize to the parties her actions may have hurt, and "especially, I want to apologize to the students who work hard every day to get into college, and to their parents who make tremendous sacrifices to support their children and do so honestly."
So far, at least two students have been expelled from their universities as the fall-out from the admissions scandal continues to unfold. Those students, whose names have not been released, attended Stanford University and Yale University, respectively.
The scandal's full scope includes not only doctored test scores, but also bribery and falsified application profiles, according to prosecutors. Many of the schools named in the scandal have prestigious reputations and are known for their competitive admissions processes. Such schools include not only Yale and Stanford, but also Georgetown University and the University of Southern California, among others.
The scandal has renewed discussions about wealth, elitism, and privilege, especially with regard to higher education. At least 50 people, according to NBC News, have been charged in connection with the scheme so far.