You May Never Be Able To File Your Taxes Online With The IRS, Thanks To Congress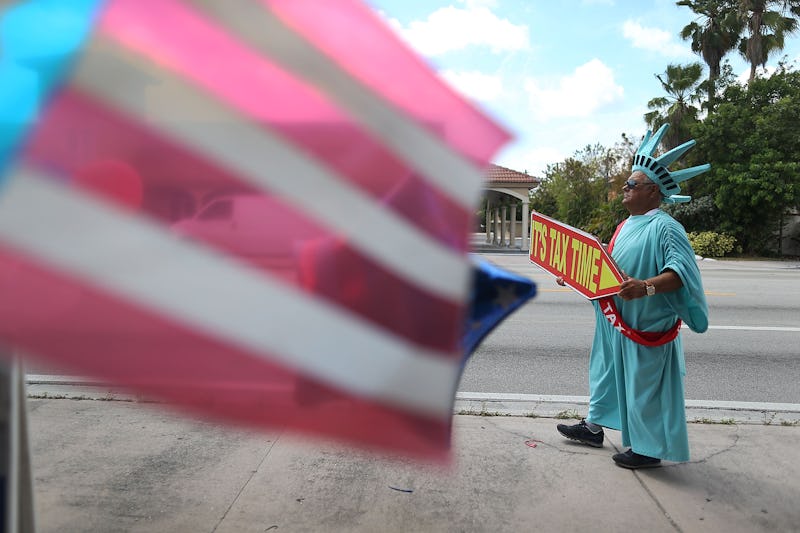 Joe Raedle/Getty Images News/Getty Images
Congress appears poised to pass an Internal Revenue Service (IRS) reform bill with bipartisan support. ProPublica reports that, among other things, the bill bans the IRS from providing online tax filing software directly to taxpayers, a controversial move for those who believe the government could offer a more accessible system.
Preventing the IRS from providing free tax filing software is controversial because, as ProPublica reports, many experts believe that the agency could make tax filing a much less complicated — and costly — process for many taxpayers. Private tax filers, like Intuit — which makes TurboTax — or H&R Block have long pushed for Congress to prevent the IRS from doing so because they stand to benefit from providing that service, per ProPublica.
Some Democratic critics of the bill ultimately argued that, while they thought that the bill had flaws, it was worth supporting, in general, according to The Washington Post. Namely, per the Post, the bill included protections from private debt collectors, as well as assistance for lower-income taxpayers, which Democratic lawmakers wanted to see put in place.
"In this freshman class, I and many of my colleagues were sent to reject corporate influence and stand up for people. This puts us in a difficult spot," Rep. Katie Hill said of the bill, according to The Hill. "But the rest of this bill is too important."
Although the bill received pushback from some Democrats, it was supported by others. Rep. John Lewis, for example, helped sponsor the bill, according to the Post.
"They were persuaded to see that stopping passage based on one objection would kill highly palatable aspects of the bill," Lewis' spokesperson Brenda Jones told the Post. "Those members recognized that these provisions were meaningful and that we might lose the opportunity to move these salient features forward indefinitely, so they agreed to allow the bill to pass on a voice vote."
Essentially, according to ProPublica, this bill would cement an arrangement that is already in place. As of now, the IRS has a memorandum of understanding with the Free File Alliance, a group of tax preparation companies, that prohibits the agency from making its own system available, so long as those companies provide their programs to lower-income folks, according to Fortune. This potential legislation would codify that agreement.
The bill's passage in the House comes as the recently-implemented tax overhaul has produced significantly lower tax returns for many taxpayers. Reports released earlier this week indicated that the IRS has paid out billions less in refunds compared to the same time period last year, per The Hill.
And while some initial critics of Tuesday's IRS bill ultimately dialed back their opposition, they still took issue with some aspects of the would-be legislation. Among those were Rep. Alexandria Ocasio-Cortez.
"With this bill, I would like to again commend the advancements that we have made for working-class people," Ocasio-Cortez said, according to The Hill. "But long term, we should be looking at a solution where everyday people do not necessarily have to spend hours every year preparing tax returns when the majority of Americans have relatively simple and straightforward returns."