The Creator Of 'Jersey Shore' Has A New Reality TV Show Coming & It Is... Something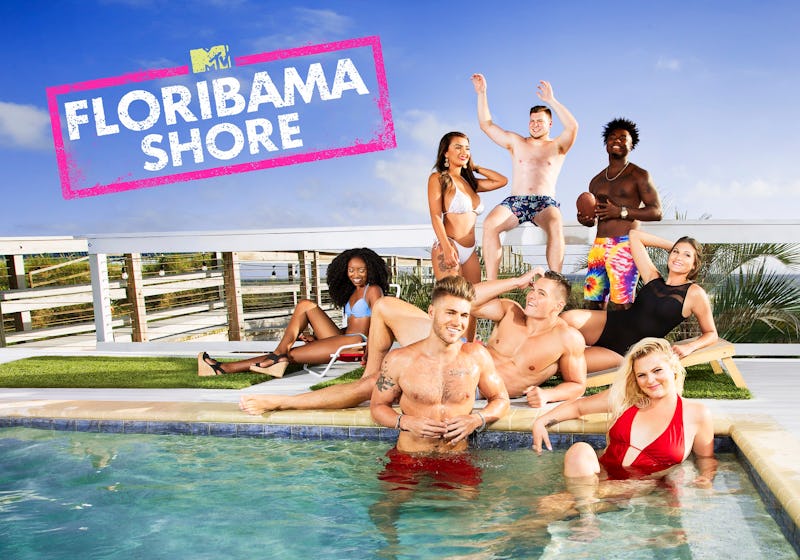 MTV
Has it really been half a decade since Jersey Shore was canceled? Well, it doesn't matter because MTV is bringing back the Jersey Shore (well, at least the spirit of the series) in an entirely new show, Floribama Shore. Deadline reports that the creator/executive director from your former favorite reality show, SallyAnn Salsano, was on hand for the filming that took place this summer "in the hottest beach town on the Gulf Coast, Panama City Beach." Much like the Guido-focused series of yesteryear, the new show will follow eight young people in close proximity to a body of water.
As MTV has reported, Floribama Shore is set to premiere on Monday, November 27 at 10 p.m. EST. From the sounds of things, there'll be drama galore in the eight episode-long series, with the producers telling Deadline that each cast member is at a crossroads in their life "whether it's ending a relationship, tasting independence for the first time, or trying to escape the past." Besides which, it'll be a bittersweet look at that mix of freedom and loneliness that can constitute life as a person in their early 20s, with the producers describing it as capturing "the very real thrill and angst of being young and trying to figure out the future with a group of people you'll come to call family."
If you're worried that this sounds much more poignant and poetic than a series in which Snooki stripped to her thong underwear to hit the hot tub and in which Angelina gave us the eternally-relevant response, "How do you go in a (bleeping) Jacuzzi with a thong and a bra? Wear a thong bikini. That's a little bit more classier," fret not. Check out the teaser above. Notice anything? It looks like Snooki's duck phone (something which featured prominently in the premiere) is getting a new incarnation for its brand new series. Forget about quacking jokes over the telephone; this time round the eight Southerners will presumably be picking up a crocodile phone, which is every bit as kitschy fabulous as the original.
Which isn't the only reason you should be very, very excited for November — as Deadline has already observed, this marks Salsano's first series at MTV since Jersey Shore spin-off Snooki & JWOWW, which concluded in February 2015. Yes, even Siesta Key, a summer reality series following a group of 20somethings at the beach that aired in 2017 and which clearly had designs on replicating the success of Snooki, The Situation, and the gang, was curiously Salsano-free.
Still, the genius TV creator's return to MTV felt quasi inevitable. In 2016, when asked by Complex if she'd ever go "down that Jersey Shore road again," her response was brisk: "Why not? It works." However, she also gave a sense of how much work her shows entailed in the same interview when she talked about casting for reality shows. Salsano rejected the idea of casting villains and goodies, instead arguing that, "You can't just put up a website and call it a casting. You have to delve in. I look for people that are authentic, real, and good. And honest."
Maxim has described the Floribama Shore cast as "hard-partying," and it would make sense for a show that's supposed to be a follow-up from Jersey Shore — on which, you might recall, Snooki drank so much that she passed out and then vomited the next morning in Episode 1. The International Business Times has also published a bunch of social media from the Floribama Shore cast which suggests a similar vibe to the OG cast of your favorite show. There's some very The Situation-esque stacked dudes, lots of kids knocking back drinks with their friends and there's at least one girl with aspirations of making it into Maxim's Finest (which echoes the eventual career trajectory of Jersey Shore cast members like JWoww, who made the cover of Maxim in 2012).
It's hard to conceive of a show that could match the trashy brilliance of Jersey Shore. But it sounds like MTV is giving it their best shot.