Forever 21's Black Friday Sale Includes $10 Cozy Sweaters $10 & $20 Bomber Jackets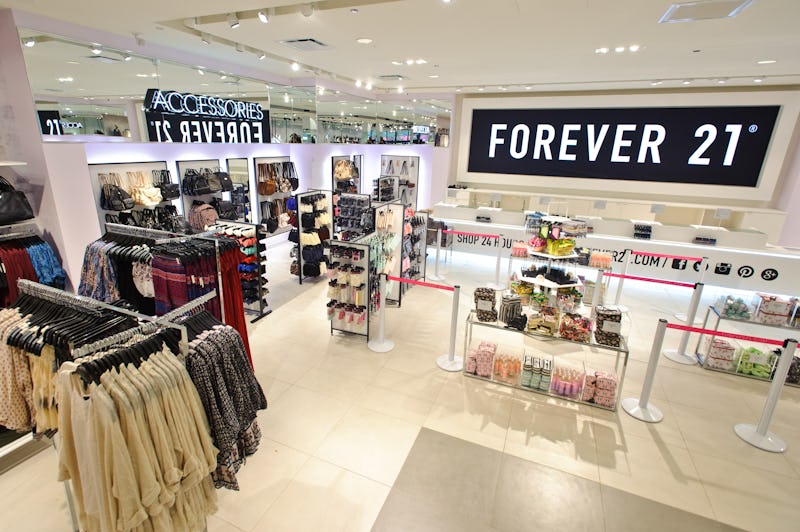 Timothy Hiatt/Getty Images Entertainment/Getty Images
Winter is coming, but it might as well already be here with the way the wind's been blowing. This year though, you'll be sure to stay cozy all throughout cuffing season (with or without a bae) because Forever 21's Black Friday and Cyber Monday deals and sales are fall-approved to keep you comfy. And of course saving on gifts.
Some shoppers may think Forever 21 (offers sizes XS to 3X) is out of their age demo, but the sales going on for Black Friday and Cyber Monday are good enough to make you turn back time on your wardrobe. According to a brand representative, starting from Thursday, Nov. 22 to Friday Nov. 23, the iconic fast fashion brand is offering an in-store deal of 30% off your entire purchase. And not only that, but there are also going to be stupid cheap deals select styles of $10 tops and bottoms, $4 cold weather accessories, $10 sweaters, and $20 jackets. So get in, loser, you're going shopping.
As for Cyber Monday shoppers who'd much rather keep their butts out of the cold and their hands near the fireplace, they have the opportunity to snatch up some goodies for 30% off the entire online purchase.
Just so you don't miss out on the really good stuff, here are the best picks.
Double-Breasted Shirt Dress
A jacket dress for the fall is kind of like a must have outfit in your closet. This one will come down from $38 to $26 for you to strut in the streets like you're Samantha Jones.
Coalition Apparel Plus Size Faux Fur-Trim Coat
Fur trim is pretty much always a show stopper, and this faux fur trim one from Forever21 only comes in black. You don't have to ask. It's so predictable, sis.
Faux Suede high-High Sock Boots
One more pair of black boots wouldn't totally kill your budget, especially when they're as bold as these thigh high sock boots. In some cases, they make the outfit.
Faux Leather Culottes
Culottes can literally go from day to night with a simple shoe change. If you're feeling festive, the fall colored shades they come in may just make you love fall foliage.
Plus Size Scuba-Knit Bodysuit
Some body suits are basic and others are purely the main event of the entire ensemble and this scuba-knit bodysuit is on the extra side of the spectrum.
Velvet Surplice Jumpsuit
Ringing in the New Year doesn't have to be done in an all sequin suit. Sometimes, a velvelt jumpsuit like this, knocked down from its original $42 price tag, is all it takes to get a smooch at the end of the night.
Plus Size Fuzzy Sequin Mini Cami Dress
For something a little more slinky, this cute fuzzy sequin dress could be the go-to dress for a New Year's brunch. This is very much the kind of dress to impress.
The holidays are just days away and you're not the only fashion guru with good taste in clothes. So if you really want a new wardrobe to match next year's "new you", get to the Forever 21 doors quick, girl.