Ben Higgins' Latest Post-'Bachelor' Endeavor Will Make You Cringe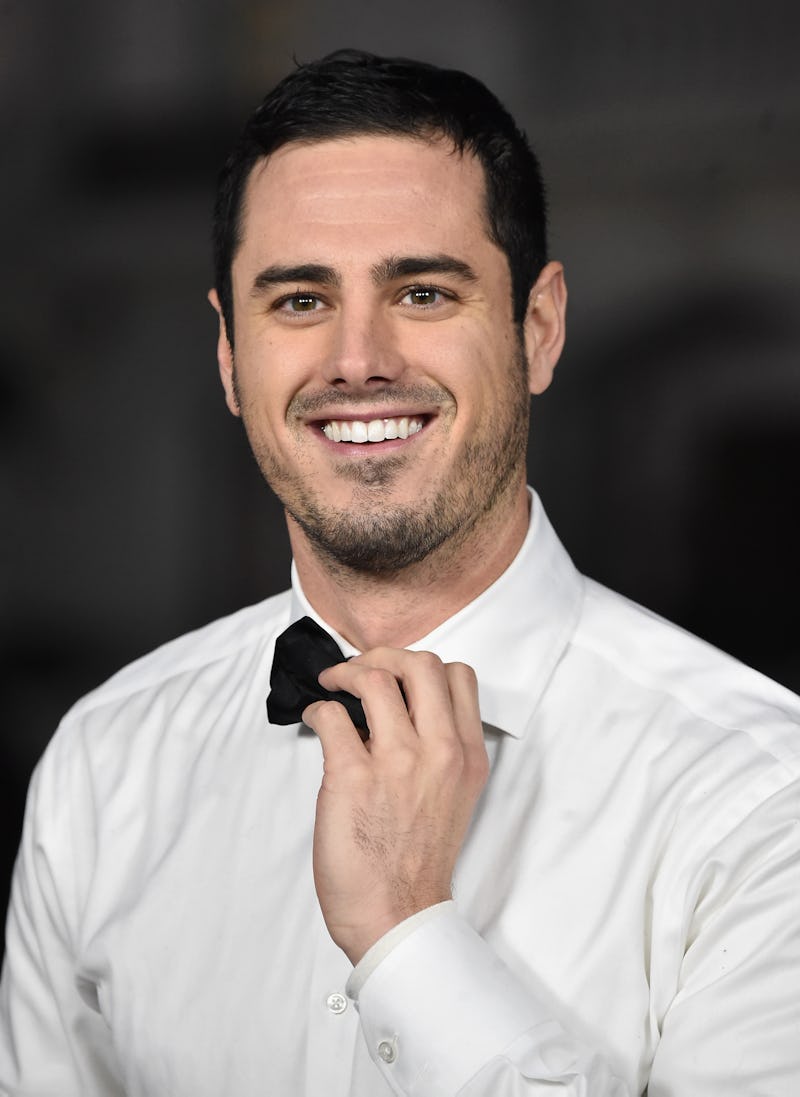 Alberto E. Rodriguez/Getty Images Entertainment/Getty Images
Out of everyone from the Bachelor franchise, Ben Higgins seemed like the least likely person to have entertainment-related career aspirations, but he's really branching out these days. Ben Higgins is about to make his debut as a stand-up comic, according to The Denver Post. Yes, Ben, of all people, is about to take the stage in a comedic setting and it's being recorded. Did he even tell one joke on The Bachelor or The Bachelorette? Hell, did he even tell a joke on that failed spinoff show he had with his ex Lauren Bushnell? If he did, it clearly wasn't memorable.
There are a lot of funny people in Bachelor Nation. Wells Adams would be a great stand-up comedian. Alexis Waters would have the crowd in stitches laughing. Ben Higgins? That's debatable. Ben has a lot to offer, but comedic chops are not at the top of the list (or even on the list, for that matter).
Props to Ben for stepping out of his comfort zone, but this just seems so random and so not the Ben who viewers got to know and love during his stints on reality television. According to The Denver Post, the former Bachelor star will make his stand-up comedy debut at Comedy Works in Denver, Colorado at 8 p.m. on Oct. 24. He will be doing a five-minute set, which honestly seems like a very long time to be up on stage in front of an audience.
Higgins will have what sounds like a very small amount of preparation for the performance thanks to a three-hour crash-course with the women of Denver's P*ssy Bros. troupe. Even though Ben will have some coaching, he is expected to show up with his own joke ideas, according to the Denver Post article, so it's safe to expect a lot of self-deprecating jokes about still being single after searching for love on reality television. For anyone who is outside of the Denver area, the performance will be recorded for the NBC travel show 1st Look and will be aired on a currently unspecified date.
In all honesty, Ben and comedy do not sound like a match made in heaven, but maybe that's the point. The venue could be hoping to draw in some audience members who are fascinated by the fish out of water concept. He could be a total dark horse and pull through or even just entertain the crowd accidentally if he ends up crashing and burning.
Christie Buchele, who performs with the Pussy Bros. troupe even told The Denver Post, "I don't want him to bomb too hard and then (the producers) are like, 'Well, they didn't really know what they were talking about.'" The Comedy Works owner Wende Curtis added, "But it's tricky, since part of the entertainment is that he will bomb a little bit." She even specified why the performance was capped at five minutes: "It will be too uncomfortable. Trust me." Bachelor viewers are very much aware.
After looking for love on reality television, Ben didn't embark on a career as an Instagram poster (unlike many other franchise alums). Sure, he had that (boring and overly contrived) "reality" series with Lauren, but for the most part he lived a normal life as a software sales rep in Denver. Well, it was a relatively normal life that was filmed for a reality show after Ben decided to and then changed his mind about running for on a seat in Colorado's House of Representatives.
But these days, he's going to Bachelor events all the time and even vacationing with his fellow reality TV alums. So yes, this comedy set seems like a very random thing to try given Ben's personality and his post-Bachelor existence, but he's been living a very public life ever since his split with Lauren. He is now hosting a podcast with the queen of capitalizing on the Bachelor franchise Ashley Iaconnetti called The Almost Famous Podcast With Ben & Ashley I. Ben barely did press after his Bachelor season ended, now he's interviewing Bachelor alums every week for his own show.
Aside from the podcast, Ben will appear on an upcoming episode of Lip Sync Battle to compete against the most recent Bachelorette star Rachel Lindsay. Ben dances now? Since when? Not only that, but he brought along fellow Bachelor Nation stars Wells Adams and Nick Viall to the taping.
Sure, Ben doing stand-up comedy is a far cry from the man the viewers met on The Bachelorette Season 11 back in May 2015, but then again who is the exact same person that they were over two years ago? No one. Ben has been breaking out of his shell and trying new things for the past few months, so maybe for him, stand-up comedy was just the next natural step.