Frances McDormand Just Explained Her "Inclusion Rider" Comment From The Oscars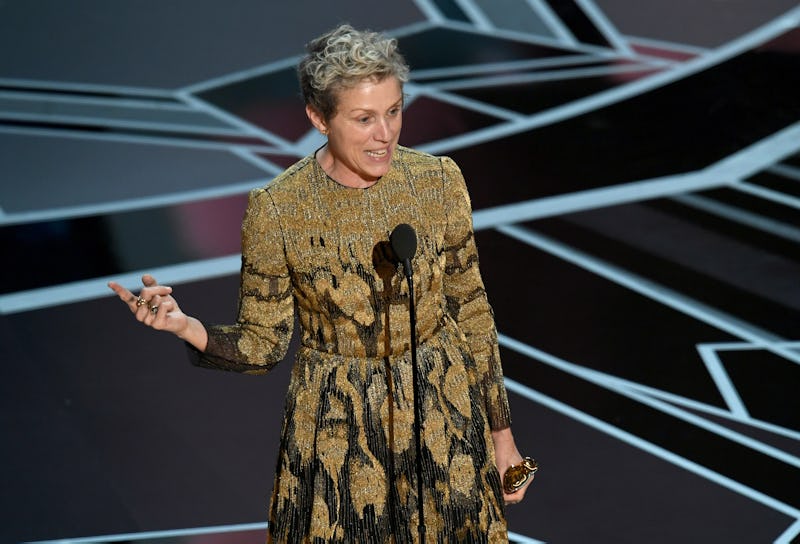 Kevin Winter/Getty Images Entertainment/Getty Images
There weren't many surprising or shocking moments during the 90th annual Academy Awards. But Frances McDormand, who won the Oscar for Best Actress in a Leading Role, left audiences a bit perplexed when she concluded her speech with: "Two words: Inclusion Rider." Luckily, the Three Billboards Outside Ebbing, Missouri actor explained her comment backstage after the show, and as it turns out, McDormand's Inclusion Rider comment could majorly affect film and TV.
She explains: "I just found out about this last week. [The Inclusion Rider] has always been available to all — everyone. You can ask for, or demand, 50 percent diversity in the cast or the crew. The whole idea of women trending? No. African Americans trending? No. It changes now. I think the Inclusion Rider has something to do with that."
So what exactly is an Inclusion Rider and how would it affect film and television moving forward? The rider is a clause that any actor can insist be included in their contract. It requires the cast and crew on a film to meet a certain level of diversity.
Stacy Smith, who gave a TED talk on the concept in 2016, explains how the rider actually works: "An equity rider by an A-lister in their contract can stipulate that those roles reflect the world in which we actually live. The typical feature film has about 40 to 45 speaking characters in it. I would argue that only 8 to 10 of those characters are actually relevant to the story. The remaining 30 or so roles... there's no reason why those minor roles can't match or reflect the demography of where the story is taking place."
McDormand suggests that more actors take advantage of this rider and implement it in their contracts. Perhaps if they did we would see more diversity in film across the board. The world is not white, and films shouldn't be either.
Actor and comedian Whitney Cummings took to twitter to explain McDormand's statement further. She tweeted: "An inclusion rider is something actors put into their contracts to ensure gender and racial equality in hiring on movie sets. We should support this for a billion reasons, but if you can't find a reason to, here's one: it will make movies better."
Backstage after the award show McDormand expanded on the idea of inclusion, saying: "I only show up [to award shows] when I want to, but I was there at the Golden Globes. There's an arc that started there... it didn't end there. We're going to be one of the small industries that try to make a difference. The commission that's being started by Anita Hill... we didn't just put out commercials about it, we actually started a conversation that changed something."
McDormand is of course referring to the Commission on Sexual Harassment and Advancing Equality in the Workplace, a commission spearheaded by prominent women in Hollywood (like Lucas Film's Kathleen Kennedy) and beyond (The Nike Foundation's co-chair Maria Eitel, for one). The commission was created to tackle sexual abuse and harassment in the media and entertainment.
The final words of McDormand's Oscars' speech could be an important next step in securing not only inclusion on screen, but better treatment of women (and everyone) in film and TV as well. If A-list actors put this clause into practice regularly, representation in film and television could change drastically. As it stands now, the majority of characters portrayed in both mediums are white, male, and straight. Clearly this does not represent the world we live in, and the rider could alter the diversity audiences consume in a major way.