This Body Scrub With A 30,000 Person Waitlist Now Comes In A Brand New Form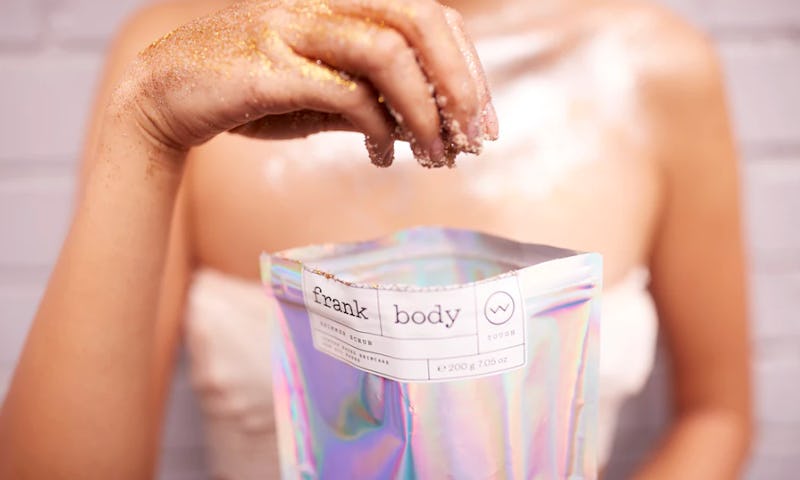 Courtesy Frank Body
If you have been looking for an all-natural, cruelty-free lip scrub to get your lips summer-ready for all the bright pink and cool lilac colors of the season, then you'll be excited to hear about Frank Body's new Shimmer Lip Scrub. Not only will it get your pout smooth and exfoliated, but it will also leave behind a playful sparkle.
Frank Body is an Australian-made and -owned indie beauty brand that focuses on making products with all natural ingredients. Their claim to fame is the coffee body scrubs that have taken over Instagram the last couple of years, filling up feeds with beauty lovers covered in what looks like coffee grounds but is a scrub delivering antioxidants and fatty acids for smooth, soft skin.
Since the original product hit store shelves, the brand has expanded into a bunch of other fun body scrub reiterations, including coconut, whipped (which makes it less messy to apply), and shimmer. That shimmer scrub is what has brought us to this new line launch today.
Knowing their customers' love for anything that sparkles, Frank Body released a limited edition Shimmer Body Scrub last spring that exfoliates, moisturizes, and leaves your skin with a shimmering, translucent glow. While it's back in stock now for around $20, the first time it hit shelves it, sold out in three weeks and had a 30,000-person wait list. Everyone wanted to get their hands on it.
Sensing how much their customers love their shimmer, the brand has now expanded the collection into an all-natural Shimmer Lip Scrub and a Shimmer Lip Gloss.
The world's first shimmer lip scrub, the grainy balm is made to buff and soften lips, leaving them with an icy sparkle. Smelling like lemonade, the scrub uses salt and sugar to slough off the dry skin on your pout, grapeseed oil and Vitamin E to hydrate your lips and keep them soft, and a hint of mica as the glow dust to leave your lips glistening.
If you want even more of a sparkle on your smile, you can couple the scrub with the Shimmer Lip Gloss, which will leave you with a glassy glow without the sticky finish. Also smelling like lemonade (so your two scents don't clash if layered), it can be layered on to make your lipstick pop or slicked across to hydrate your lips like a balm. Made with lanolin for intense hydration, grapeseed oil and Vitamin E to soften your lips, and mica to get your smile glittering, it's just the thing to slick on during the summer. And this particular product can work double duty: You can also use it as a dewy highlighter.
You can buy these separately or you can bundle them for less, where you could get the duo for $23.95, a $4 discount.
But there is one catch! Both of these products are available for sale starting June 4, but you can actually snap them up earlier if you're a loyalty program member. Called "Hotel Pink," the loyalty program is free to sign up for and will allow you to earn rewards, like discount codes, free products, and the access to try out new products before they hit store shelves.
There are four levels of Hotel Pink, and each one offers more perks than the last. They are "the lobby," "the pool deck," "the junior suite," and "the penthouse," and you move up by purchasing items, referring friends to the brand, and leaving reviews. To give you an idea what each level offers, the lobby gets you product emails and "double point" nights, where you earn double the points on purchases, and the penthouse gets you free, unreleased samples sent to your door, asking you for your feedback.
Whether you get the scrubs now or wait until it comes out in June, this is a pretty, all-natural way to add some shine to your summer look.