This Sold-Out Glitter Body Scrub With A 90,000 Person Waiting List Is Back In Stock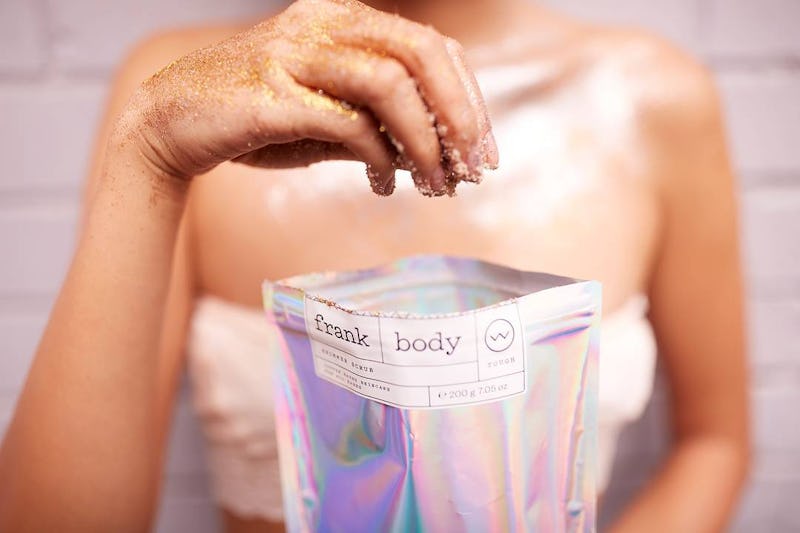 Frank_Bod/Instagram
Love it or hate it, the glitter beauty trend is not going away anytime soon. But if you're not interested in applying the sparkly material to your tongue, there's an easier, safer, and much more fun way to embrace the trend. Frank Body's Shimmer Scrub is finally back in stock in all its shiny glory after selling out only 10 days after its launch earlier this spring. Since flying off the shelves, the Australian-made body product has garnered a 90,000 (!!!) person waiting list from fans, according to the brand. While that number may be hard to believe, one peek at the brand's Instagram comments will prove that frank body customers have been begging the Australian brand to bring back the now cult-favorite scrub for months now.
Beginning Oct. 25 at 6 p.m. ET, glitter enthusiasts can sign up for a VIP, "Priority Access" wait list. Once you're accepted onto the wait list, you'll be able to shop the coveted Shimmer Scrub before anyone else can for 48 hours from Nov. 1 through Nov. 3. On Nov. 4, the Shimmer collection will be available to the masses and if it's anything like the last shimmer launch, the products will probably sell out quick.
If you need some convincing whether you should purchase the Shimmer Scrub or not, check out Bustle writer Kali Borovic's review of the product, which she claims really lives up to the hype.
Shimmer Scrub, $19.95, frankbody.com
If you're on the fence about the Shimmer Scrub, but like to shine bright like a diamond, there's some good news for you. Frank body has rewarded its loyal and patient followers by expanding the product into a larger Shimmer collection so you can literally sparkle from head to toe.
Here are the two new products that have been added to round out the Shimmer Collection.
Illuminator
Illuminator, $16.95, frankbody.com
In addition to the Shimmer Scrub, frank body has created the Illuminator, a coconut-oil based highlighter that is made with a blend of gold and silver mica and can be used all over your body.
As is everything in frank body's collection, the Illuminator is 100 percent natural, so you can feel great using it pretty much anywhere you'd like. If you need some guidance, they suggest using it where you would your other highlighters — your cheekbones, cupid's bow, brow bones, your nose, and wherever else you'd like to bring attention to. Pro tip: Add it to your moisturizer for that dewy, lit-from-within glow.
Magic Shimmer Oil
Magic Shimmer Oil, $21.95, frankbody.com
The second addition is the Magic Shimmer Oil, a dry oil that they claim will "blur imperfections" and also add a luminous, but subtle shimmer to your body.
If you feel like your skin is feeling dull and tired-looking, frank body suggests using this product to give your body a real-life "Insta filter." If you're worried about the bronze hue getting all over your clothes, don't: It's not tinted, nor is it sticky. In fact, it's super hydrating and will give your skin a subtle shimmer without looking too much like a disco ball. It is also vegan, nut-free, and cruelty-free.
If you're on a shimmer kick, you can grab all of the products as a set.
Shimmer Bomb Kit
Shimmer Bomb Kit, $49.95, frankbody.com
The kit will come with all three products — the Shimmer Scrub, the Illuminator, and the Magic Shimmer Oil, but for less than what it would cost you if you bought the products individually — about $8.90 less, to be exact. Use your savings to treat yourself to a cocktail or dessert and celebrate your future super sparkly and super soft self.
The entire Shimmer collection, including the Shimmer Bomb Kit, will also be available for pre-sale from Nov. 1 through Nov. 3, if you sign up for VIP access, and on Nov. 4 to the public.
To learn more about the brand's other offerings or to go on a shimmer/coffee-infused body shopping spree, head over to their website here.